Ahead of this weekend's LFC Legends match at Anfield, two former favourites have given commentary a go, albeit without much success!
It promises to be a great occasion on Saturday afternoon, as a Liverpool team of past heroes take on a star-studded Bayern Munich Legends side that includes Xabi Alonso, who will also appear for the Reds.
Robbie Fowler and Dirk Kuyt are two of Liverpool's most popular players of the last 25 years, and both will take to the Anfield turf this weekend.
Prior to the game, the pair have taken a look back at last year's Legends match between Liverpool and Real Madrid, from the warmth of a makeshift commentary box.
It's fair to say Fowler and Kuyt are not exactly naturals in the role, but it makes for entertaining viewing, with 'God' immediately highlighting how tight the players' kits are, following some retirement weight-gain.
He also takes time to point out one man in particular for his influence on the game—himself—joking: "Everything good that we see in this game is coming from the No.9…whoever he is!
"For me, he should still be playing!"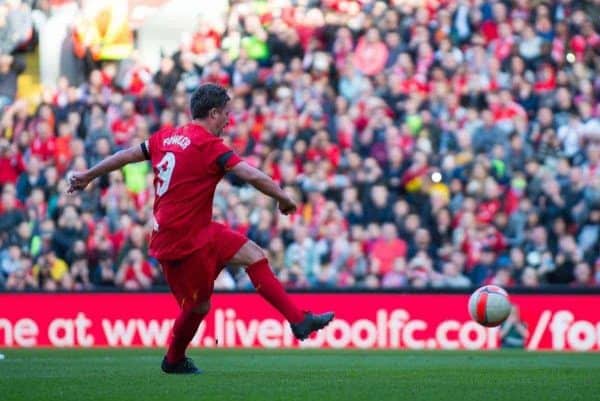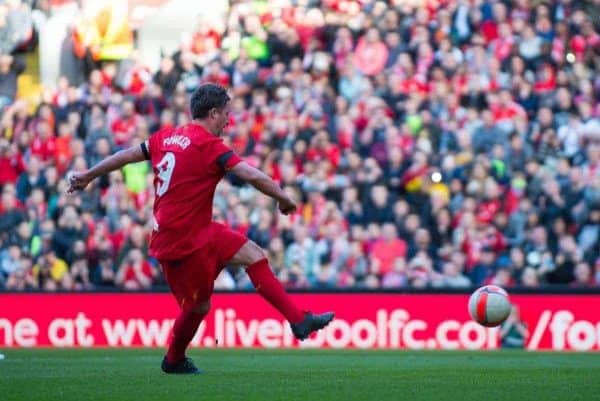 There is plenty of mockery in the direction of both Phil Babb and John Aldridge, as well as Steven Gerrard, who Fowler claims was the first go down with cramp, despite only recently hanging up his boots at that point.
The legendary striker fires a penalty past Istanbul hero Jerzy Dudek, who played for both clubs, before claiming it was "a waste of time" for the Pole to even think about diving to save it.
Liverpool eventually won the game 4-3, although their 4-0 lead evaporated quickly, which Fowler is quick to blame on Jason McAteer.
"Jason McAteer never started, and he was devastated—he thought it was real professional game," he added.
"He came on when we were 4-0 up and it ends up being 4-3, and he's still got a cob on that he's not started."
It is an entertaining watch, even if Kuyt remains almost mute for much of it, and it whets the appetite ahead of the next Legends' instalment.