Half time, 3-0. Steven Scragg loves it when teams roll into to Anfield thinking they've already seen and heard it all.
Anfield pulsates on a big European evening. Anfield inspires and petrifies on a big European evening.
People who haven't had first-hand experience of Anfield on a big European evening nod along to what they perceive to be a myth, as if the concept sits alongside other fanciful and unrealistic notions such as Santa Claus, the Easter Bunny, the Tooth Fairy and Boris Johnson.
Then they come to Anfield on a big European evening, and it hits them like a sledgehammer.
Jose Mourinho once proclaimed the power of Anfield on a big European evening was magnificent.
John Terry was reduced to tears.
The great and the good of world football have passed through Anfield on big European evenings and been gripped by the electricity which is generated.
Many members of the Manchester City team had a haunted look in their eyes, as Anfield embraced a whirlwind opening that saw Liverpool average a goal every 10 minutes during the first half hour.
It Ain't Over 'Til It's Over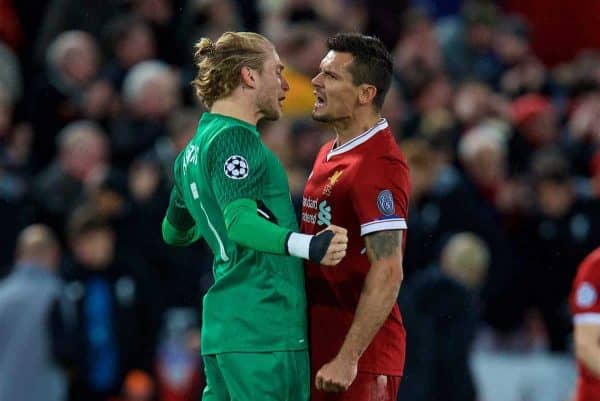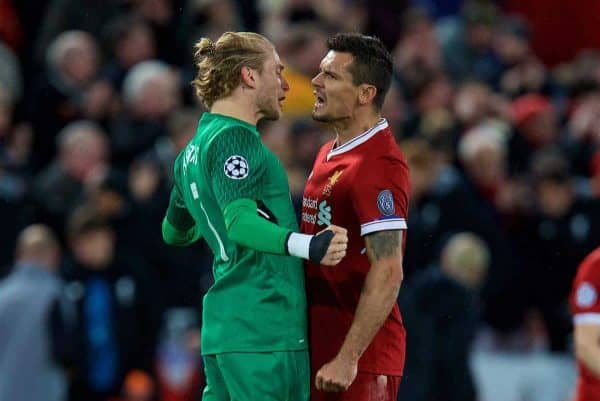 Of course, it is only half-time in this quarter-final.
Manchester City can pull rabbits out of hats just as adeptly as we can. They can create a binge of goals of their own and we will need to be fully switched-on next Tuesday.
One goal of our own will leave Pep Guardiola's side needing to score five, however.
This gives us a variety of ways in which we can approach the second leg.
Sit back and absorb the onslaught, or take the game to them? Recreate the protective shield we put up during the second half at Anfield, or put them on the backfoot from the off?
Either option, it is Man City who will be walking the tightrope, Man City who will be paranoid over conceding the dreaded away goal.
That Said…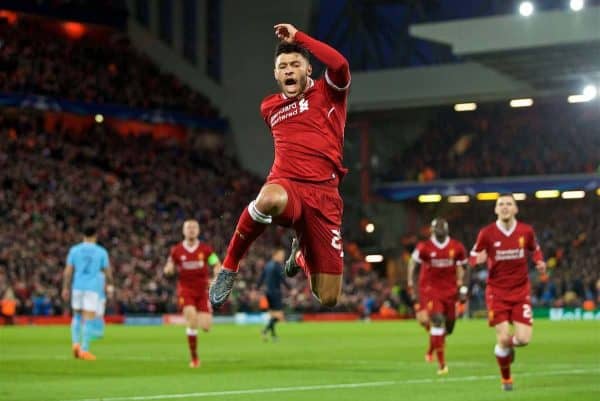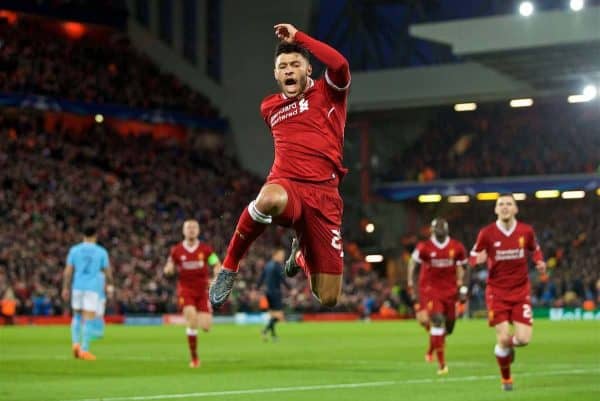 Liverpool were immense.
The crowd, the atmosphere was immense.
The defence was immense.
The goals were immense.
They weren't all pretty, granted, but they were all converted with a degree of extra emphasis.
Mohamed Salah—offside in the build-up—thundered home the first, after a series of errors and bounce-backs eventually fell his way.
Alex Oxlade-Chamberlain lashed home the second.
Piledrivers from distance are the equivalent of footballing Brexit sometimes: designed for shock value, but the effect soon wears off and leaves you wanting something more intricate and inclusive.
On a big European evening they can, however, make the ground shake.
Sadio Mane went for a textbook finish for the third goal.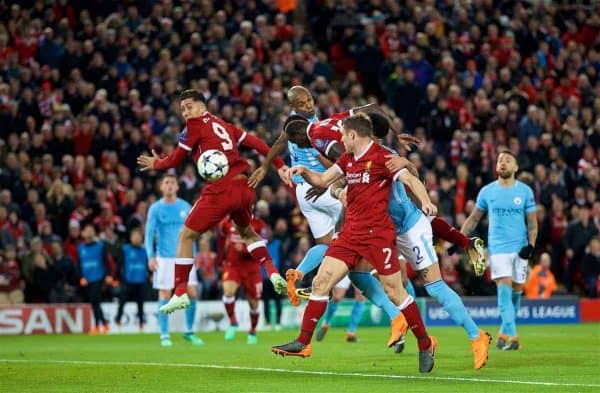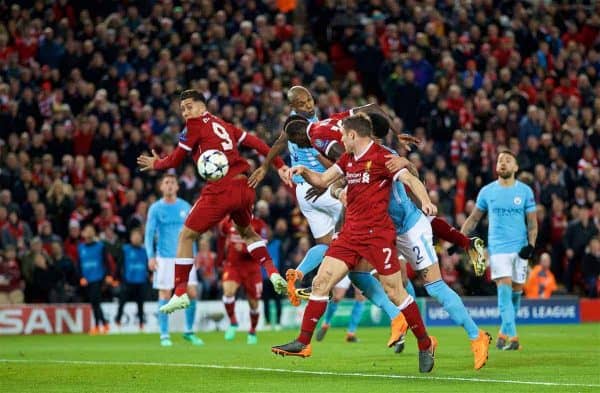 Get your head on the ball, aim down, so it bounces up fast off the turf leaving the goalkeeper as little time as possible to adjust to the trajectory.
Bang, bang, bang.
There and then, the haunted look was in City eyes. It will take something very special from them in the return game to shift that haunted look.
Some things, you just can't buy.
In over three decades of collective bankrolling, Manchester City, Chelsea and PSG have just one Champions League to show between them.
Somebody has to knock out the last nouveau-riche side from the Champions League. Do the job right on Tuesday and that 'somebody' might just be us.
Andrew Robertson. The King of Scotland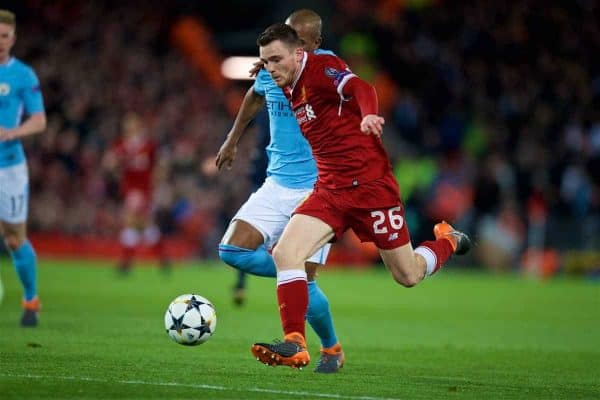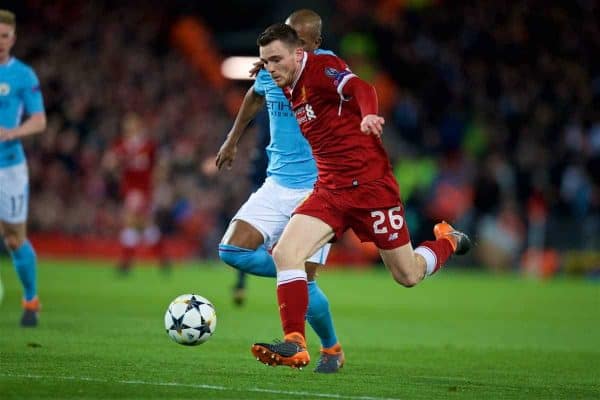 As anointed by our very own Sachin Nakrani.
Robertson is incessant. Robertson is metronomic. He hounds, he harries, he presses, he creates. Robertson is the left-back we waited for impatiently for over three decades.
It's still a novelty to be reassured by a Liverpool left-back.
Trent Alexander-Arnold, regularly tested by long diagonal balls this season, has improved massively in how he copes with them of late.
Guardiola opted to follow the Premier League crowd, by insisting his midfielders hit that same cross-field ball that the likes of West Ham and Stoke City have tried.
Alexander-Arnold was wise to them all.
Virgil van Dijk was the immovable object.
Dejan Lovren did the simple thing well.
Loris Karius was concentration personified.
Repeat the trick on Tuesday, and the semi-final will be their prize.
Milner in the Mood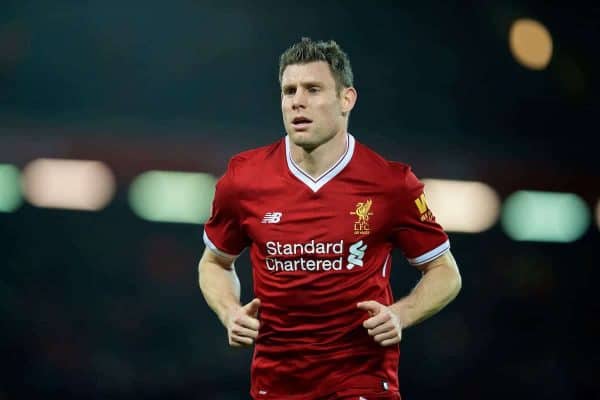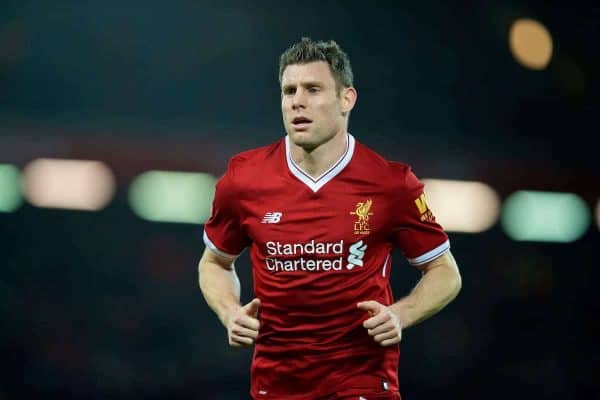 James Milner was key to our midfield stubbornness.
Yes, Manchester City were allowed swathes of possession, particularly during the second half, but it is an art form to let your opponents have lots of the ball and still deny them a shot on target.
Jordan Henderson was in 'narky mode'.
I love it when Henderson is in narky mode. He must be horrendous to play against when he's in narky mode. He snaps, he bites, he pushes, he antagonises, he provokes the misplaced passes.
We will miss him in the second leg, which can be seen in shades of his suspension toward the end of the 2013/14 season to a degree.
Oxlade-Chamberlain continues to grow in a Liverpool shirt. In the absence of Henderson, both Milner and Oxlade-Chamberlain will need to put in massive performances at Eastlands.
They will.
Running Out of Players?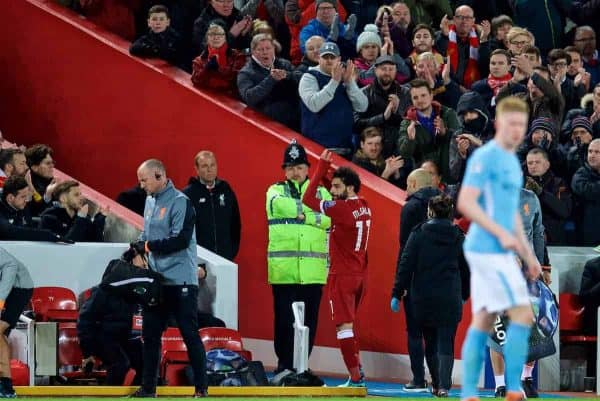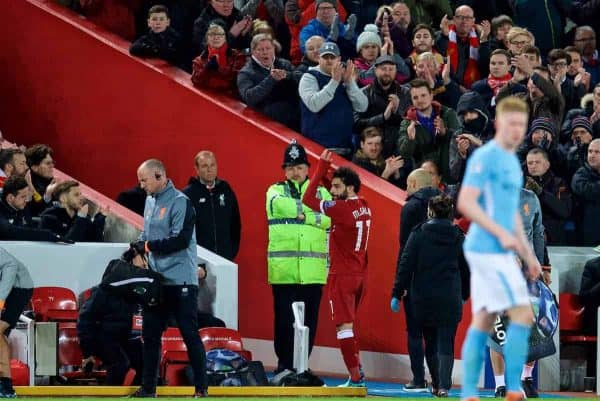 It was concerning to see Salah hobble away from the pitch.
We have other heroes to look to, but Salah strikes fear into opposing players and fans alike. The only time that the Manchester City fans perked up was when Salah departed.
We appear to be losing players at an alarming rate. Adam Lallana, Joel Matip, Henderson through suspension in Europe, and maybe Salah now.
The line-up that Jurgen Klopp puts out at Goodison on Saturday could be an interesting one.
Two monumental games ahead of us and we need as many willing and able bodies of substance as possible.