Liverpool produced a performance for the ages to open up a 3-0 first-leg lead over Man City in the Champions League quarter-finals.
Liverpool 3-0 Man City
Champions League Quarter-Final First Leg, Anfield
April 4, 2018
Goals: Salah 12′, Oxlade-Chamberlain 20', Mane 30′
---
Fast Starts & Fantastic Presses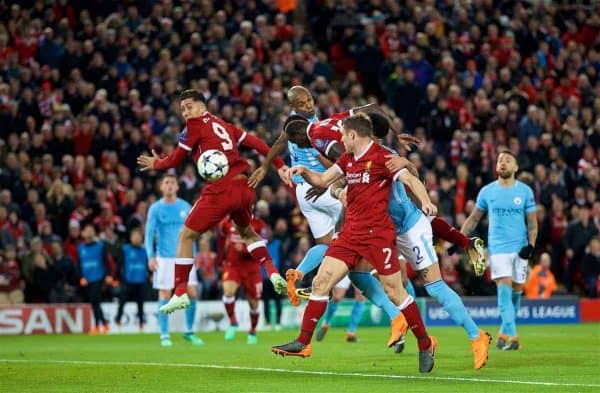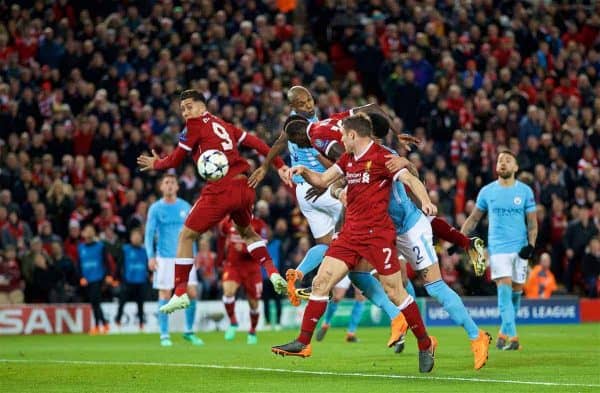 There's no question about the best part of this Liverpool team—flooding forward at pace and in numbers.
That might have been difficult to do against one of the best sides around, but City had no answer to the Reds' rampant start to the match—and once confidence was up, there was no stopping them.
The crowd were already up for the game, but a few fast breaks and chances on goal was all it took to really ignite the atmosphere.
We've seen it before: the players respond to the supporters' encouragement at Anfield, and on a long-awaited big European occasion, that went double.
Liverpool starting on the front foot, offensive-minded and relentless, is a sight to behold.
And it has given the Reds a perfect first-leg scoreline.
Trent's Big Test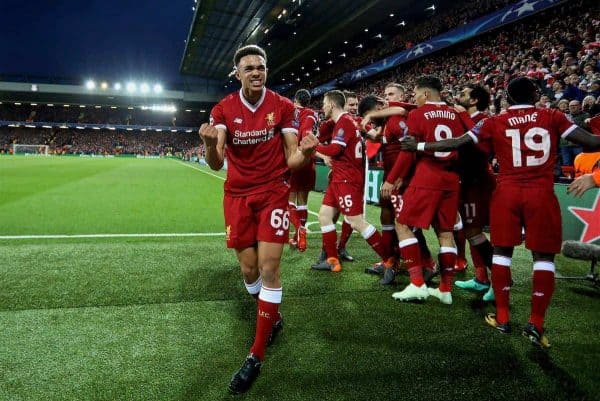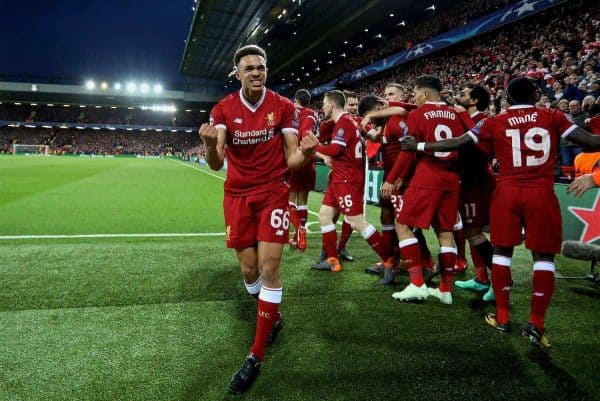 Pre-game, defensive injuries had caused Jurgen Klopp a headache, and some supporters were vocal about their biggest worry: Trent Alexander-Arnold against Leroy Sane.
They needn't have troubled themselves.
The right-back was utterly magnificent, faultless throughout the 90, consistent, composed and disciplined.
Sane's pace was matched, the flight of the ball on a relentless diagonal out to the German was well-judged and the maturity he showed when one-on-one was sublime.
He made tackles and got a toe on the ball when he could, and sent Sane back toward his own half of the pitch when he couldn't.
A superb display, one of the men of the match without question, and a game which elevates his standing and self-confidence at a time when the senior contender for his position has returned to fitness.
Klopp vs. Pep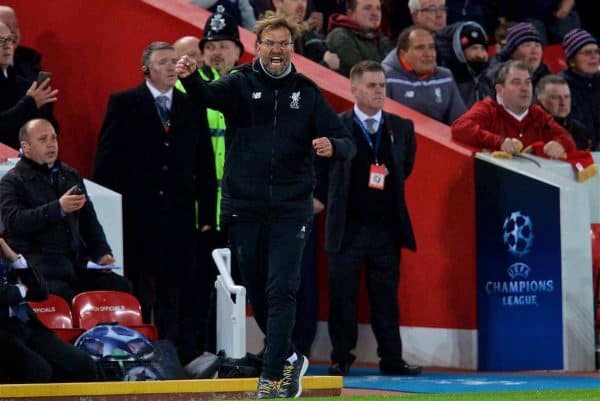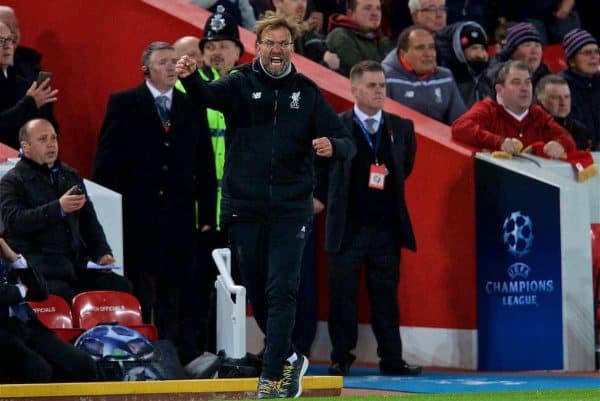 The lineup picked by Klopp had no surprises; Pep Guardiola's contained one—Ilkay Gundogan over Raheem Sterling.
That selection from the Spanish boss was aimed at controlling the centre of the park, but tactically Klopp was spot-on with his own selection and City had very little to change the course of the match, even with more possession.
Clearly, plenty of work has gone in on the Melwood training pitches over organisation off the ball, team shape out of possession and when to break.
The calming presence of Virgil van Dijk continues to play a huge role for the Reds, but Klopp's game plan again overall was precisely what was required.
Credit to the boss for getting it right, and credit to the players for executing it.
Now they just have to do it all over again in a week!
Game of Two Halves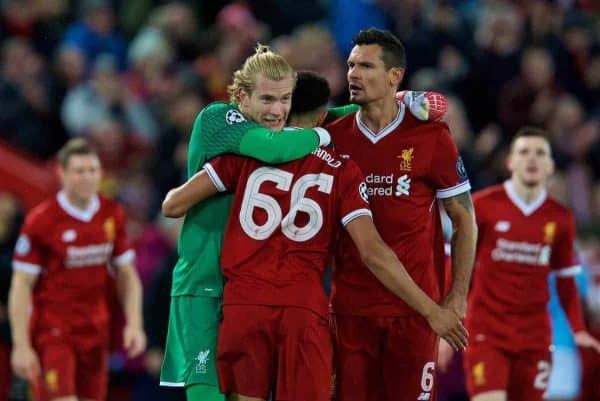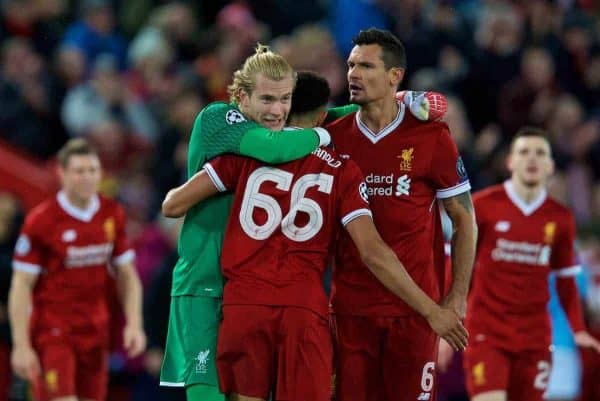 If the first half was all-action, blistering offensive shenanigans at its finest, the second 45 was a new Liverpool: resilient, composed, full of self-belief, impenetrable.
Liverpool have been great going forward for some time—but a shambles at the back.
That viewpoint is quickly being rewritten, and this big a stage was an enormous test of that newfound ability to impress at both ends of the pitch.
Doubtless some supporters still felt an inch away from disaster, that a 3-0 lead would crumble to an inevitable 3-2, or even 3-3, late in the match.
But City barely had a sniff.
This was a coming-of-age performance, one which must be held up and repeated now, if Liverpool are to truly regain their place among England's and Europe's elite on a longer-term basis.
Two Down, Two to Go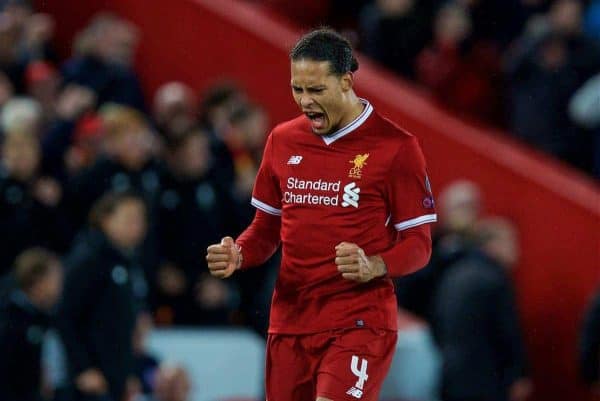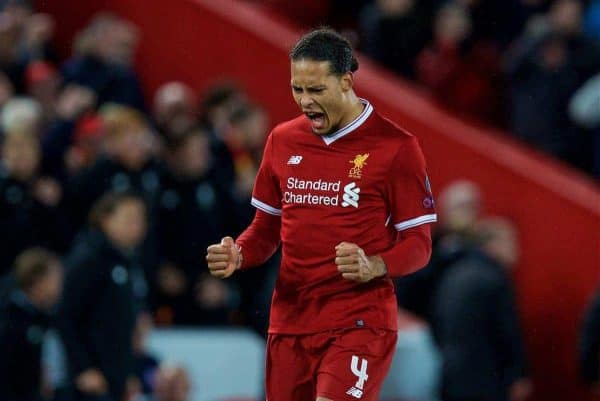 A massive month for the Reds has started perfectly: late Premier League victory over Crystal Palace at the weekend, now a monstrous lead in the Champions League.
Still to come in this season-defining spell are two more matches, with the Merseyside derby at Everton next up before the second leg in Manchester.
Klopp's anger at the timing of the Everton match is clearly still in place and he'll have to decide whether to rotate, risking derby defeat, or whether to trust his players can cope with three full-on fixtures in the space of a week.
Jordan Henderson will certainly start at the weekend—his booking late on at Anfield rules him out of the second leg, meaning it's imperative Emre Can returns to full fitness by then.
Nathaniel Clyne may see game time, one or more of the front three might be rested at Goodison Park—hopefully no long-lasting damage is done to Mo Salah, subbed off in the second half—and, who knows, a central defender may even declare themselves available.
Two down, two even bigger ones to come.