Liverpool's tactics in the Champions League final were defined by the loss of one player, but should they be?
One unstoppable strike, two entirely preventable goals, and one Sadio Mane. There's only one Sadio Mane.
Unfortunately for Liverpool, there was no Mohamed Salah. Sergio Ramos's wrestling skills left the Egyptian with sprained ligaments in his shoulder after dislocating it, and he was unable to continue.
Ramos took Liverpool's best player out of the game with one opportunistic move.
It was a turning point in the game, not just tactically, but mentally.
The collective heads dropped, not just of players such as Roberto Firmino, fans in the stadium and coaches on the touchline, but all Reds watching around the world.
All felt momentarily helpless.
"It was a big point when Mo was injured. It was a big change for us," said Dejan Lovren — one of Liverpool's better performers on the night.
"Mo is one of the most important players for us and it's not the same when you don't have him on the pitch."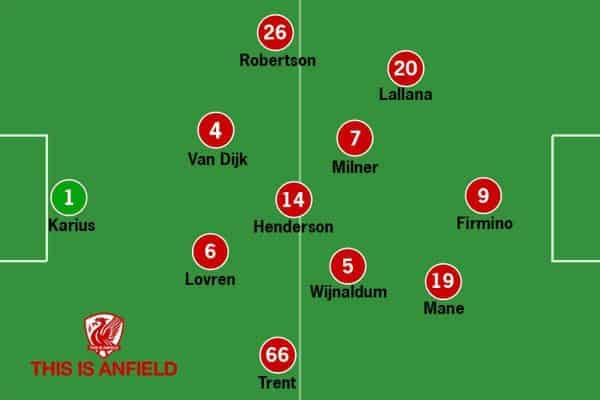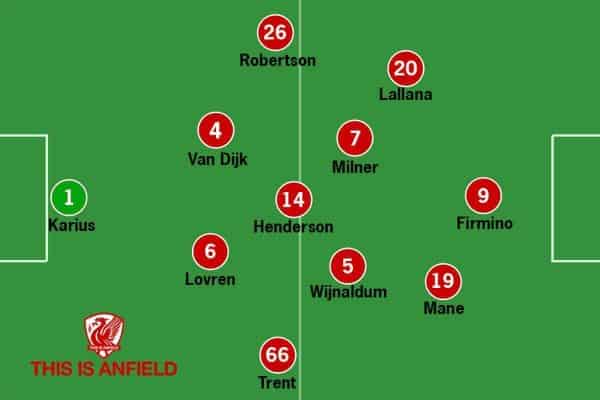 Adam Lallana replaced Salah and contributed very little. He was on the pitch for an hour and only touched the ball 21 times, emerging with a pass success of just 64 per cent.
The formation became more like a 4-4-2 as Lallana dropped into midfield.
Liverpool's lack of depth beyond the front three was exposed, and they have looked at least one first-team player short since the departure of Philippe Coutinho in January.
This also emphasises the incredible feat this side—led by Jurgen Klopp—pulled off to get into this position in the first place, and it bodes well for next season when reinforcements are planned.
Midfield imbalance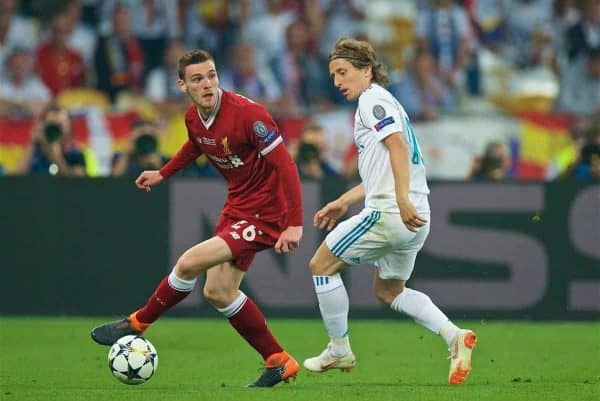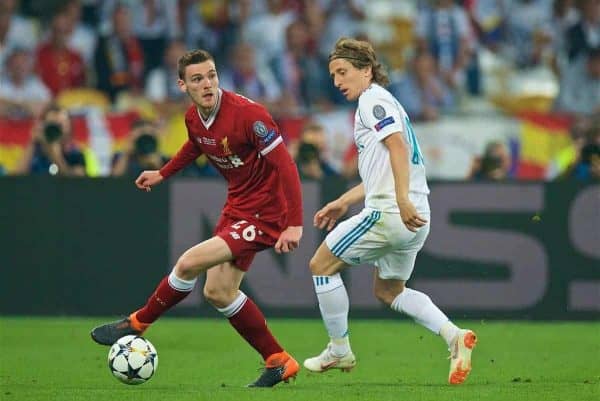 Luka Modric and Toni Kroos rarely put a pass wrong in the Real Madrid midfield.
They emerged from the game having completed 95 per cent of their passes, and were even on 95 and 97 per cent respectively in the opening 30 minutes when Liverpool were more dominant.
As a team, Real completed 89 per cent of their passes throughout the game, compared to Liverpool's 75, and their players looked much more comfortable taking the ball, taking responsibility, and controlling the game on this big stage.

Georginio Wijnaldum had the most touches of the Liverpool midfield three, which is a rarity for him. Even though he wasn't always effective, the Dutchman didn't hide.
Though Jordan Henderson completed 90 percent of his passes, he played a very safe game, only taking possession of the ball 46 times, which is a low number for a player in his position.
The English duo of Henderson and James Milner may not have been absent on purpose, but they were absent nevertheless.
Missing Mo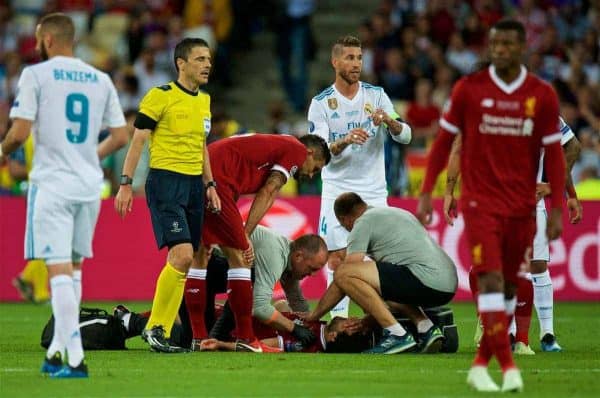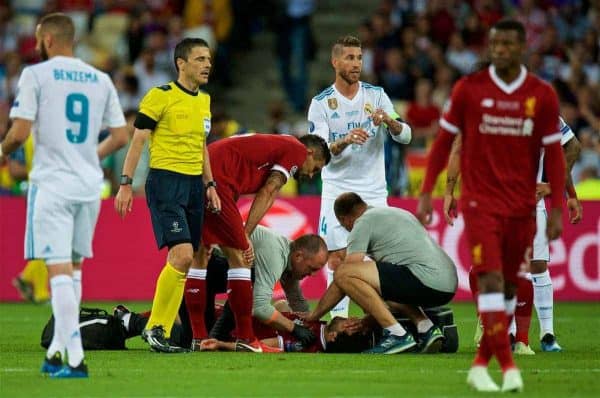 Salah's exit allowed Madrid to do their work further up the pitch rather than trying to play around Liverpool's press deep in their own half.
Marcelo was able to come into the game, and Kroos and Modric stepped up. Isco had barely touched the ball before Salah's departure, but after it he was also able to start getting on the ball in Liverpool's half.
Just a collection of random thoughts on last night:
1) Without the drive of Ox or Emre from midfield, we really needed all of the front three last night to stretch Madrid. Mo coming off was not just a huge psychological blow but allowed Real to focus on Mane as the outlet.

— James Phillips (@JJP_LFC) May 27, 2018
Liverpool had a total of 13 shots in the game, but only four of these came in the 60 minutes following Salah's exit. Every player bar Dejan Lovren, Jordan Henderson, and Andy Robertson had an attempt on goal during that opening half hour.
The graphics below from 11tegen11 show that this wasn't a typical Liverpool performance, with few turnovers in dangerous positions.
Real didn't create a lot of turnovers, but were very efficient turning them into scoring chances.
Liverpool hardly forced any high turnovers, or Real effectively prevented those moments. Practically all of Liverpool's threat came from set pieces. pic.twitter.com/0CRrTGf21n

— 11tegen11 (@11tegen11) May 26, 2018
Even game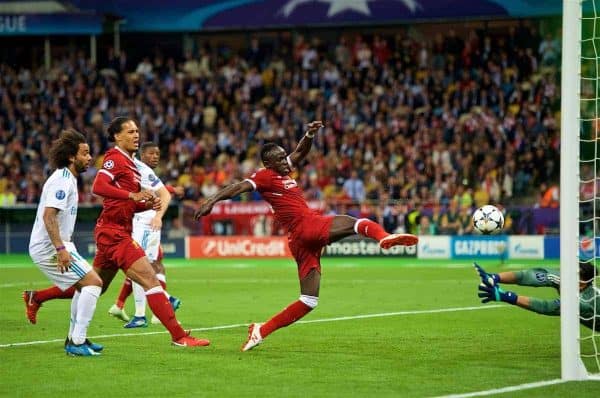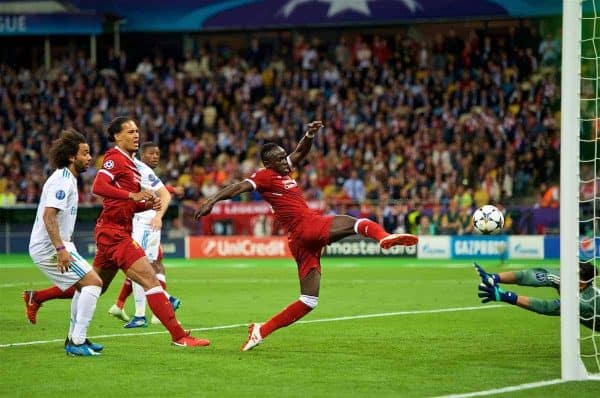 Despite this, the expected goals calculations show that the game was fairly even throughout.
Caley Graphics have it down as 0.7 – 0.7 at half time, and Real ahead by just 0.4 by the end of the game, 1.9 – 1.5.
xG map for the Champions League final. These are the analytics. Sometimes a game is so profoundly banterous it overwhelms any possibility of analyticsing. pic.twitter.com/RQg13cJjc3

— Caley Graphics (@Caley_graphics) May 26, 2018
This demonstrates the freak nature of two of the goals, and even the 'big chance' for Karim Benzema was presented to him by Karius.
Liverpool's two 'big chances' were the goal and Van Dijk's header from a corner in the 17th minute.
Real's other 'big chances' were Isco's shot which hit the bar, and Cristiano Ronaldo's header just before half time.
The game was still fairly even in terms of the quality of chances, despite this not being a familiar Liverpool performance. It was the unforced errors which ultimately cost them.
Learning experience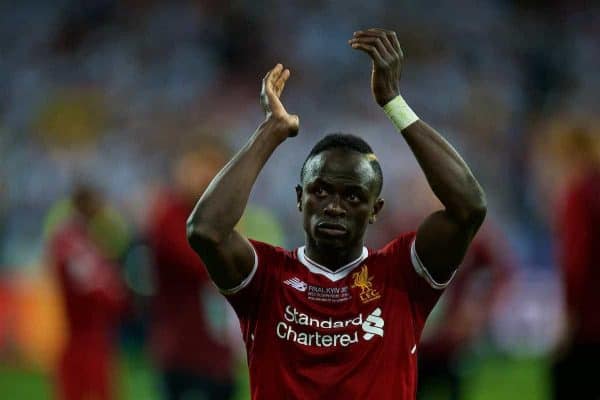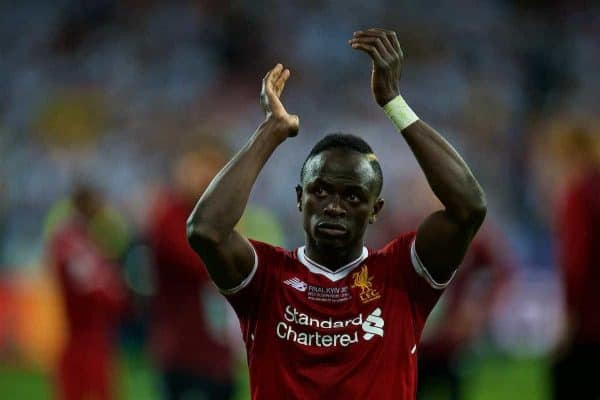 Leadership came from Robertson, Mane, and the performance at the back of Lovren. Van Dijk looked typically commanding, and Trent Alexander-Arnold held his own, but behind them their goalkeeper wilted.
It's easy for the rest of the team to look good when Salah, Mane, and Firmino are banging in the goals, but when they aren't, the weaknesses which need addressing are more obvious.
Real's team, on the other hand, is tried and tested in this environment.
Zinedine Zidane's 4-4-2 diamond was the same formation he used to defeat Juventus in last year's final in Cardiff, and the starting XI was also the same.
Bale's introduction on the hour mark saw them switch to a 4-3-3, and the Liverpool midfield failed to pick him up in those pockets in front of the back four, as he drifted inside from the right.
His introduction and Zidane's change of shape was another game-changing moment.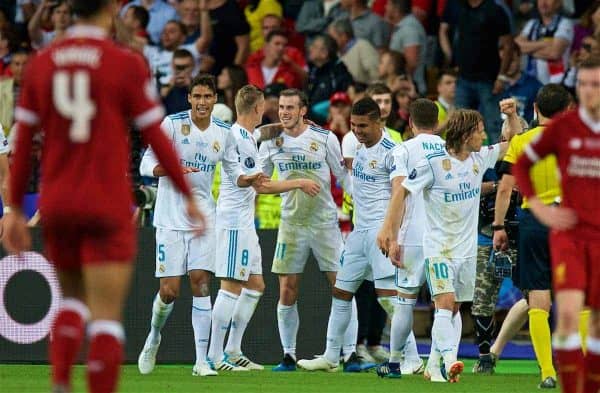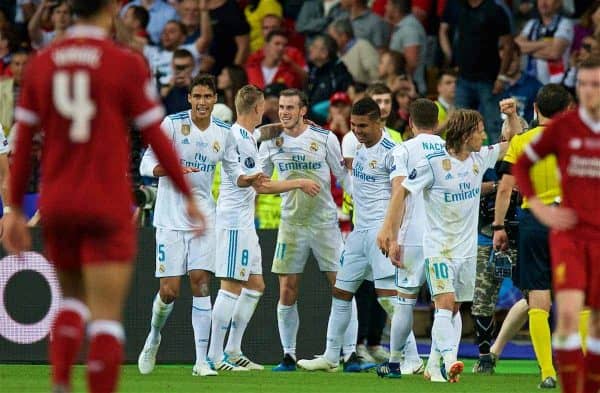 Liverpool missed Salah, not just for his attacking play, but his quickness off the ball too.
Had he remained on the pitch, the early dominance—in terms of creating chances—is likely to have continued, and the quality of the chances would probably have improved.
Klopp's side paid the price for not having an alternative on the bench, and for the misfortune of having players such as Alex Oxlade-Chamberlain and Emre Can unavailable or not match fit, as they would have offered the much-needed drive and presence in midfield.
Liverpool should be much stronger next season with the introduction of Naby Keita and a handful of other players to strengthen the squad.
This should help them implement their favoured tactics even when they lose a player such as Salah.
It will be difficult to repeat this season's unforgettable march to the final next time around, but the side should at least be able to be more consistent in terms of their tactics.
The club will have learnt plenty of lessons from this final, on and off the pitch, and it will have given the players and fans an experience they won't forget and will indeed want to repeat—next time with a different outcome.