For many the opportunity to see Liverpool in the flesh is as rare as it comes, and for Daniel Marcaccio seeing them in his own city 3,600 miles from Anfield left him lost for words.
Liverpool's global tours around the world each summer give a plethora of supporters the opportunity to lay eyes on the team they support from afar, often for the first time in their life.
It comes as a welcome change to the regular schedule of early mornings and late nights, and Liverpool were once again on hand to create memories that will last a lifetime when they took to the field in three locations across America: North Carolina, New Jersey and Michigan.
For Daniel Marcaccio, the founder of the Detroit Supporters' Group, the final stop in Ann Arbor—where Liverpool comfortably dispatched Man United 4-1—was an experience he found hard to put into words.
This Is Anfield spoke to Daniel about the 'surreal' experience of welcoming Liverpool to Michigan, the connection which comes with supporting the club and how it felt to sing You'll Never Walk Alone inside the Big House with over 101,000 people in attendance.
"I couldn't have asked for anything better…"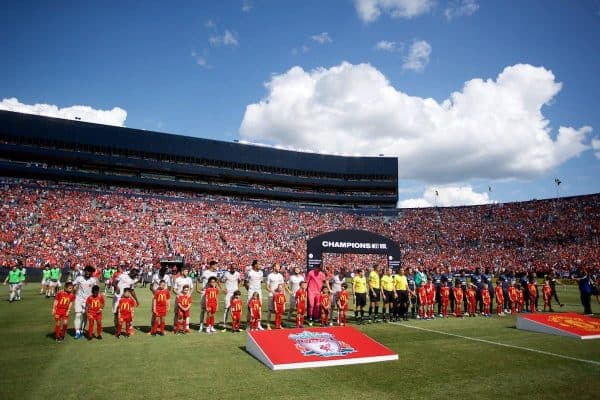 "It's a mixture of everything, it's just surreal. It's like a dream, it really is. I'm waking up the day after like 'did that just happen?'. And then I'm looking at my phone and yeah it did, all of it happened.
"There are so many individual moments, it was just surreal for everybody that's from Detroit or the US to see the rivalry in our own city in the biggest stadium. You just can't put words to the spectacle, I'm trying but it was just surreal.
"I was there when Jurgen walked into the bar and he's amazing. He came down for just a little bit during the legends meeting and with Jamie Webster to surprise everyone. He had some beer, he was singing—and into the camera too which I thought was awesome.
"I got to smell his masculinity, it's a combination of cigarettes and brew.
"For some of us who can't get over to Liverpool it's a once in a lifetime to have them this close and you just couldn't ask for more. You just don't expect it, I mean we're 3,000 miles away across an ocean and you just hope for the opportunity to watch them.
"It was too much at times that you weren't even sure if it was real. So being able to basically put your hand out and touch them, you need to have that sensation that they are actually there.
"And to see them with your eyes or for them to sign your shirt, that's when you know, it's evidence that they're here and that's when you wake up.
"I'm at a loss for words, I couldn't have asked for anything better from the weekend. And I'm looking through my Facebook posts and it's 'best day ever, best day ever' over and over again, that's what it was like for all Michigan Reds.
"One of our members, Gary, we wanted to get him taken care of and he went on the field pre-game.
"We know he can't fly anywhere so there was no way he would be able to get to Liverpool himself, so this was once in a lifetime for him—so we made that happen, it was a no brainer for us. They gave him the experience of a lifetime."
The sheer level of support proved hard to describe…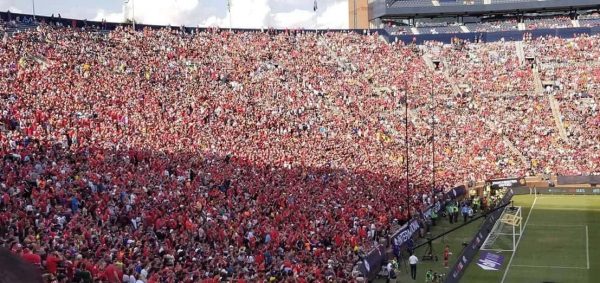 "It's been five years since I started the group in 2013 with the dream of getting people together, to connect people and just to watch the games together, it always sucked sitting around watching the game at nine or 10 in the morning by yourself.
"So, I had to go somewhere and do stuff and you never really thought that the team would come to Ann Arbour or Detroit, so it has put some perspective on it all having watched our supporters' group grow the past few years and then finding out we were getting a game was just, wow.
"For the game day experience I went to the bar at 10 in the morning and it was about 50 percent full when I walked in, but by the time I left there at around 2pm there was a line out the door.
"People were all over both sides of the street, which was filled with red, and they were singing outside and people in the bar were obviously going nuts, and we had The RedmenTV in there.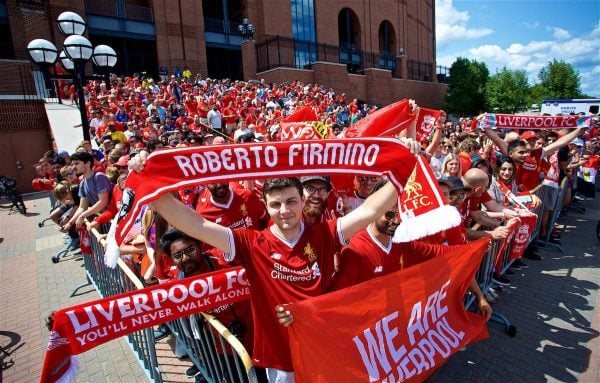 "It's hard to describe having people from all over the country and the world come to your city, and I guess it's a little easier to understand if you are in Liverpool and it happens all the time, but for them to come to Detroit and want to trade scarves or just give me a scarf was crazy.
"It's the connection, we're definitely true to the word that nobody is alone in any way supporting the club, it's just a matter of connecting everybody because there are people that are in areas in the States without a group like mine.
"But it was great being able to connect everyone and get everyone together and to see those faces all over the place on the walk down from the bar on Main Street all the way to the stadium."
"Nothing short of surreal and a dream"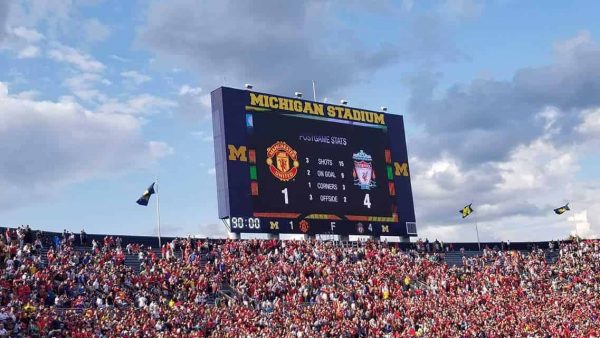 "Just chills, [to sing YNWA in the stadium], my hairs were standing up. I mean we sing it at the pub every time but when you hear an entire stadium and look up and see all the scarves and you're going up 100 rows and you can hear it reverberating around the stadium.
"They did it late and it was around kickoff, so they cut off the music and we're still singing and that was amazing to have it just be us singing that song, I just got total chills.
"I'm looking around, and I was taking video during it because I wanted to capture that moment, and it was nothing short of surreal and a dream, and any expletive you want to use with it, it was just unbelievable and indescribable.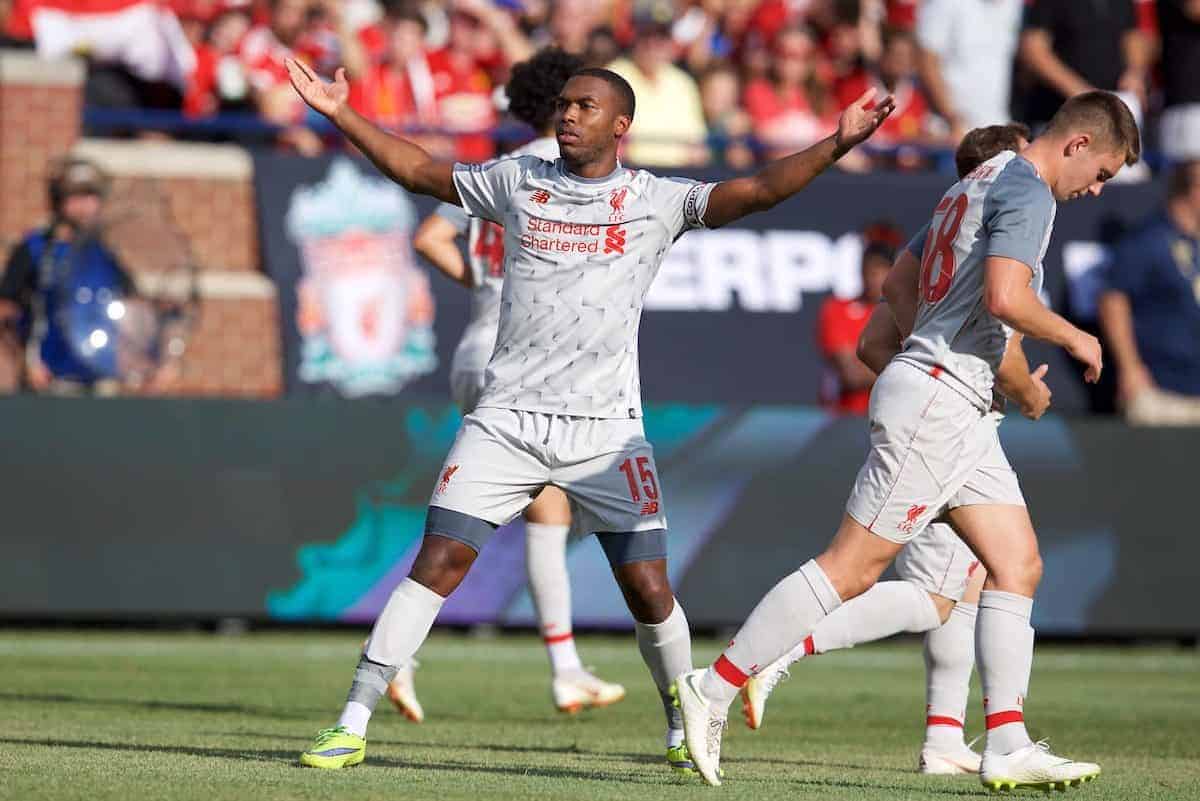 "For some people that's the biggest crowd they're ever going to do it with, including maybe me. I wouldn't say it was on the level of Australia, where it was basically all Reds, but it was up there though. We did not stop singing and the fact we won 4-1 was just the icing on the cake.
"But honestly the best sing-a-long we had was after the match when a lot of people were gone and all the people that were staying were going to soak it all up, my voice is completely fried.
"There were probably around 50,000 Reds vs. 40,000 Mancs, but you couldn't really hear them throughout the whole match and actually you couldn't hear them at all. They started 'the wave', that's how bored they were.
"You could not have two contrasting clubs at the moment, it was so evident."
---
Thanks to Daniel for his story, you can find him and the Detroit Supporters' Group on Twitter @lfcinthed.