One of the remaining questions over Jurgen Klopp's team is of Liverpool's centre-backs and whether they can be relied on to stay fit.
When news of Dejan Lovren's pelvis injury surfaced this month it sparked all kinds of conspiracy.
That the Croat himself would concede the club were 'upset' with him seemed to suggest he had, at best, played down the severity of the problem—and at worst kept it under wraps altogether.
Certainly, going public with the issue the day after the transfer window closed smacked of self-preservation.
There would be no competition for the self-proclaimed best defender in the world by virtue of the fact there would be no competition added. Convenient, that.
As is often the case, Klopp moved in to quickly to quell the hysteria, intimating this was an ailment flagged up during the World Cup, no less.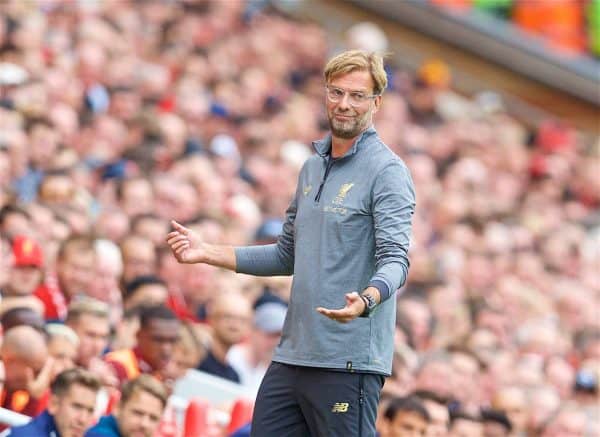 Which side you of the argument you fall on will likely depend on your opinion of Lovren himself, perhaps the most divisive figure in modern Liverpool history.
Undeniable, however, is the fact this latest absence casts further doubt on both the durability and reliability of defensive options.
Collectively, our backline is hardly robust. Injuries happen but, in the Reds' case, they are compounded by bouts of illness which belie the notion centre-halves are made of sterner stuff.
Klopp's loyalty to his players is without question—but does there come a point when sheer absenteeism forces his hand?
A closer look at recent medical records suggests he would be naive to not at least consider January alternatives.
Dejan Lovren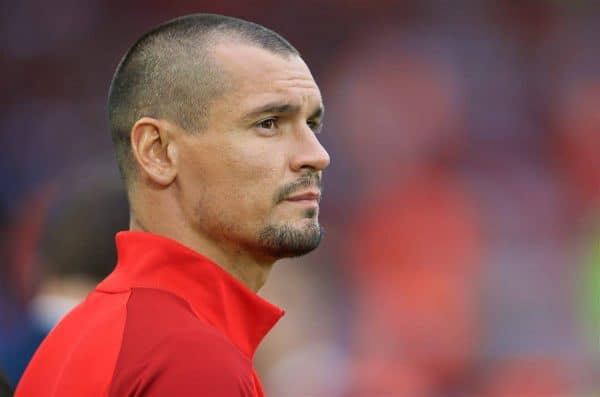 Since the German strutted into Anfield and urged us to turn from doubters to believers, Dejan Lovren's injury record is frankly unbelievable. And not in a good sense.
Alarmingly, since October 2015 the former Southampton man has sustained nearly 20 separate instances of injury or illness.
The diagnoses vary in severity and encompass everything from minor wounds to hamstring issues, virus infections to back strains and muscle fatigue to eye problems.
Only his harshest critics would deny Lovren's improvement since Virgil van Dijk joined him at the heart of the defence.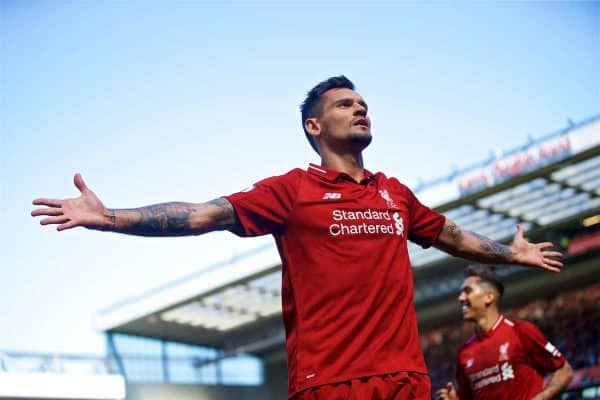 In 17 appearances together the pair have contributed to 11 victories.
The downside, however, is there have already been seven occasions where one or the other has been out of action.
And therein lies the problem: one which jeopardising the long-term potential of this budding duo.
Few title challenges remain when the team in pursuit are forced to change their backline with the regularity of a Boris Johnson faux pas.
If Lovren has serious intentions to partner Van Dijk—the rightful first-choice leader—he has to ensure he is fit enough to do so.
Ragnar Klavan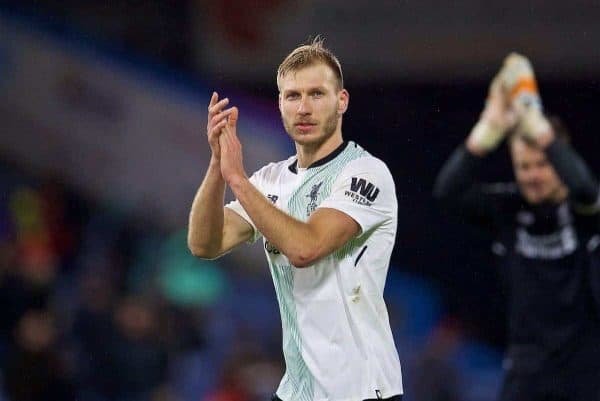 Less obvious, but equally frustrating, is Ragnar Klavan's susceptibility to injury.
A bit of a cult figure, the Estonian has earned a reputation as a reliable backup. There is just one snag: he is not all that reliable.
Frustratingly, when cover is needed Klavan is all too often crocked himself. These occurrences can be dated back to his first month at Anfield when he succumbed to a knee injury, one which sidelined him for two early fixtures.
His attendance since has been chequered to say the least.
Illness struck in February 2017, followed by a further knee problem in April of that year.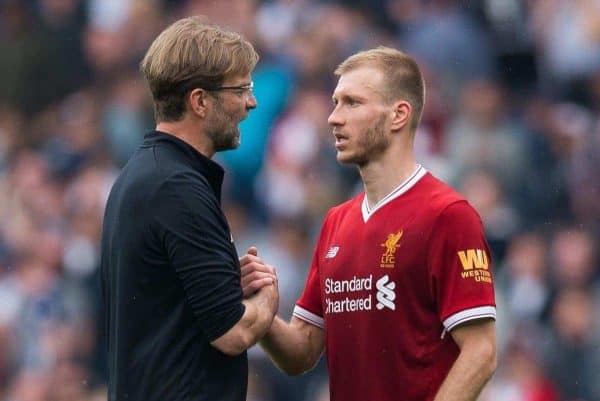 Come last season, sickness again sidelined Raggy in both November and January, before a thigh issue, coupled with Van Dijk's arrival, all-but-ended his campaign.
When the potential for increased game time did present itself over the Easter period, Klavan was again struggling with fitness and muscle injuries.
His late attempt to reinvent himself as a marauding full-back at Goodison was as comical as it was admirable. More significantly, it was a rare outing.
A fine professional, Klavan has in truth been a decent signing.
Nevertheless, rumours abound he may soon depart Merseyside and one has to wonder whether dependability—or rather a lack of—has softened Klopp's stance in that regard.
Ironically, the manager will have to then be on the lookout for a replacement in the Klavan mould, only one that is ever-present.
Joe Gomez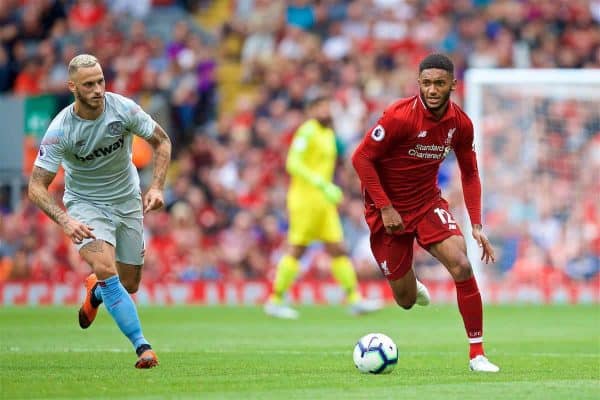 Joe Gomez stands to benefit most from Lovren's enforced absence and certainly staked a claim in the defeat of West Ham.
A classy footballer, he does not lack for self-assurance, backing himself time and again in possession.
While confidence is refreshing, inexperience can occasionally tell.
There were times last season when Gomez was found wanting positionally, albeit as a makeshift full-back.
The hope is such lapses in concentration will lessen with experience. Be in no doubt: they will have to, if he is to make the centre-back position his own.
Maturity, combined with the tutelage of Van Dijk, should help his cause.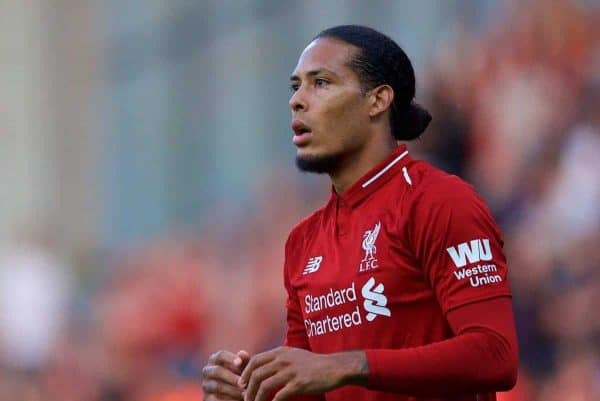 In fact, the biggest threat to Gomez's ambitions is—you guessed it—injuries.
Anterior cruciate ligament damage deprived him of a debut season under Klopp, while the road back has not exactly been an easy one. Nine further injuries have been sustained in that time, including an ankle problem necessitating surgery in April.
For a time, Gomez looked to have edged out Trent Alexander-Arnold in the race to be crowned Liverpool's starting right back, memorably shining in games against Arsenal and Manchester United.
It was periods out of the reckoning, as much as Trent's own form, which have put paid to that idea.
Now, it could be argued, the centre-back slot is his to lose. Staying fit will give him the best chance of winning this latest battle.
Joel Matip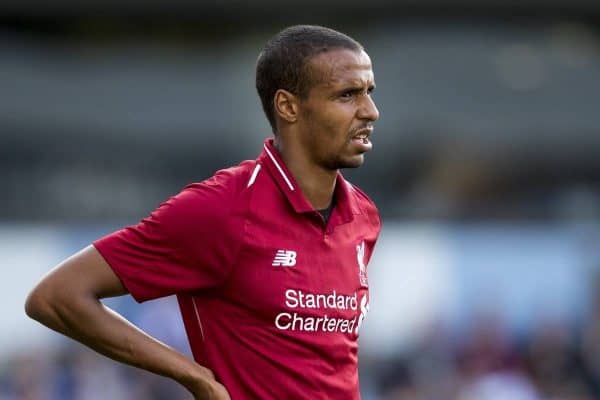 Finally we come to Joel Matip, whose Liverpool career is an intriguing one.
Having initially looked like a Rolls Royce, it could be argued the Cameroonian has regressed into the footballing equivalent an Austin Allegro.
There has been an undeniable shift in supporter perception of Matip, one that can be attributed to his injury record as much as anything else.
The stark reality is that while strikers such as Daniel Sturridge can fire their way back into hearts and minds after long exiles, it is somewhat harder for defenders to win us all over again.
For the past few weeks, Matip has been nursing a hip flexor strain, one which curtailed a much-needed pre-season.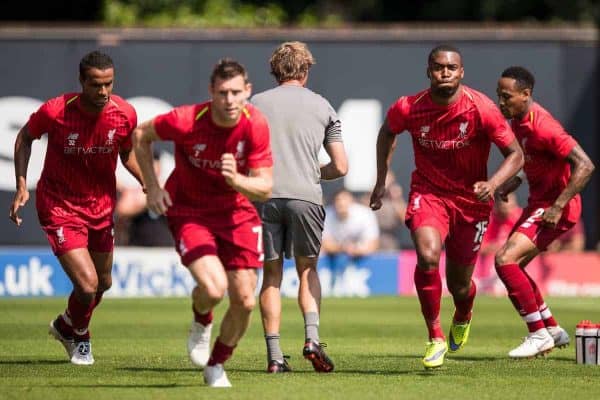 This spell out is hot on the heels of thigh strains in November and March, the latter denying him a Champions League Final appearance.
There was a time when Matip was deemed the natural foil to Van Dijk, but he may now be considered third in line to that title…or fourth, if you are of the opinion Nat Phillips has earned his stripes.
This is undoubtedly a make-or-break season for the big man, wherein fitness will have a huge bearing.
We will never know whether Klopp and his staff were truly aware of the extent of Lovren's injury heading into last week. To take the manager at his word is to accept he felt no need to reinforce, at least for now.
Links to the likes Jamaal Lascelles and James Tarkowski surfaced with no real credibility this summer, but if even passing interest exists, there is a case for saying that should be firmed up in January.
The emphasis is on the aforementioned quartet to stay fit and put paid to that argument. Whether they can, of course, is another matter.