We've only gone and made ourselves Crystal Palace-proof! Steven Scragg reflects on a performance that saw Liverpool show their mettle early on this season.
The acid test of the nerve of many a Liverpool team down the years, Crystal Palace have provided a few sleepless nights here and there since we lost to them in the 1990 FA Cup semi-final. A bogey-side, a mental block, a blind spot. Call them what you will, but the team from Selhurst Park have been a pain in the arse way too often during the last 28 years.
However, this is a Liverpool side which is brushing aside the ghosts of the past. It is the very thing which makes them so compelling in terms of their potential to challenge for the Premier League title.
Over the course of the last 28 years, title-chasing Liverpool sides have so often been unhinged by self-doubt, put off their stride by what lurks in the shadows, waiting to pounce. Ghosts and ghouls of the past rearing up to remind us of failures gone by.
Jurgen Klopp has detached this Liverpool from that way of thinking. No longer do we curl up into a ball and expect the worst from certain opponents.
Crystal Palace are managed by Roy Hodgson. We shouldn't have any problems against a Roy Hodgson side. Roy Hodgson punches at a certain weight, but we operate on a different planet.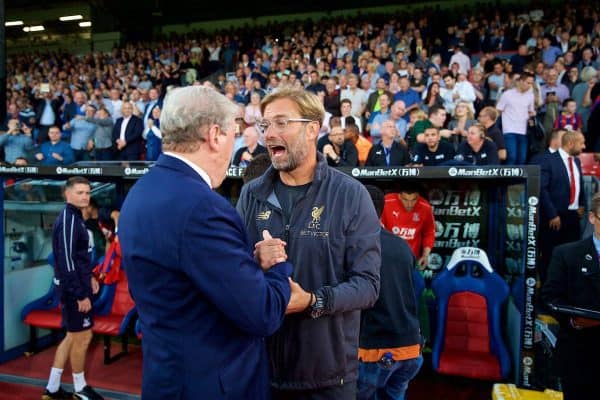 Look at the calm assurance in how we hold and pass. It used to be about how we passed and moved once-upon-a-time. Now it's about how we hold, pass and move.
We hold the ball with supreme ease. This is deliberate, it is cunning, it is ingenious. Holding the ball takes nerve, it takes a calm mind, it takes speed of thought and it takes skilled movement. To hold the ball until the last millisecond before an opponent closes in, before releasing the ball, or even retaining possession of the ball, but moving in an unexpected direction with it, takes speed of thought and control of body.
It looks easy, yet it is anything but. To speed up the thought process of the mind, while slowing down the movement of the body is a work of art. Liverpool players do this so well though.
Look at Alisson Becker for instance.
It is like having Xabi Alonso or Jan Molby playing in goal. The range and weighting of his passing is phenomenal. All goalkeepers fancy themselves as outfield players, but here is one who could genuinely pass as one. Calmness personified with the ball at his feet and commanding when called upon to partake in more traditional goalkeeping activities. I love him already.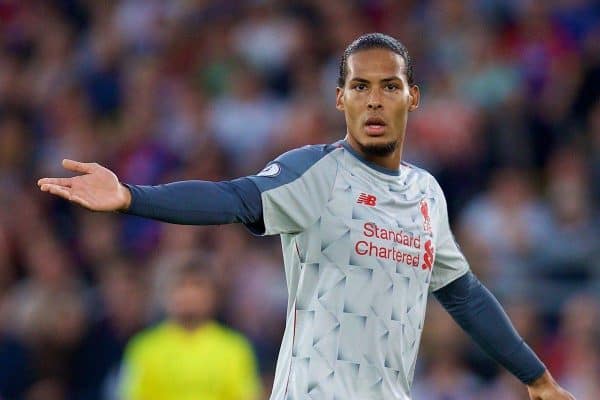 It is that 'nothing is too much of a problem' aura of which he oozes that is bewitching, just as Virgil van Dijk does, just as Naby Keita shows signs of, just as Mo Salah owns by the bucket-load.
It is this unmitigated authority which makes hurdles like Crystal Palace and Selhurst Park so problem-free. It is this unmitigated authority that has made us Crystal Palace-proof.
This Liverpool aren't just going to Crystal Palace and winning in a carefree manner, they are doing this despite Salah having a mild 'off night'.
Sadio Mane is bubbling to the surface again. He will antagonise his way to 25 goals this season. We will be able to shoulder the burden of Salah misfiring here and there. Salah is allowed to be human. Even this will be embraced with a calm assurance.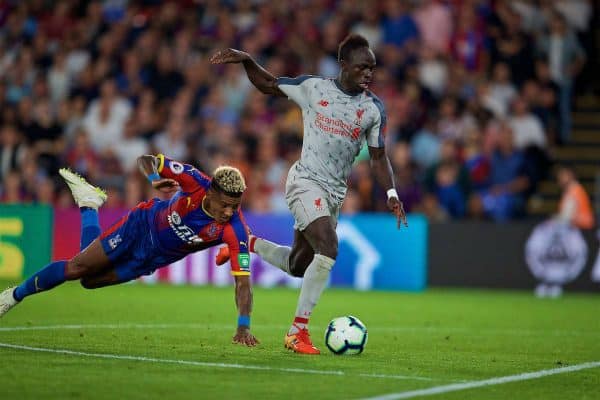 Nursing a one-goal advantage, as the final few minutes and seconds ebbed away, against a rejuvenated opponent, after they had gone down to 10-men – in that irritating manner that occurs sometimes when a team can play better with 10, than they did with 11 – would have freaked us out in the past. It would have spooked us into dropping a couple of points; it would have spooked us into clawing a draw from the jaws of victory.
Not this Liverpool though. Klopp's Liverpool are immune to the vagaries of a trip to Crystal Palace on a Monday night in August. They will have basked in the atmospheric nature of Selhurst Park, rather than be intimidated by it. They will have even enjoyed the notoriously monotonous trawl through Croydon to get there.
Klopp and his players will have no knowledge of Liverpool losing to Crystal Palace in the 1990 FA Cup semi-final. Other 'contenders' for the title will lose at Selhurst Park this season.
If by the end of the season a Crystal Palace victory at home to Manchester City or Chelsea makes all the difference, then we might even come to like old Roy. Monday night wins at Selhurst Park can make you delirious though.
We rocked up to Selhurst Park, we climbed out of the Mystery Machine and we solved the puzzle. This was footballing Scooby Doo. Hodgson will have cursed his luck in not getting away with any points, Hodgson will have shaken his fist and muttered something about 'pesky kids' and Roberto Firmino will have attempted to pull off Hodgson's rubber mask to unveil the villain of the piece, only to be told that it is Hodgson's actual face.
So, on we go and bigger challenges lay ahead. Brighton and Hove Albion for one, having tortured Manchester United, must be pretty formidable eh?