Jurgen Klopp has praised the progress made by Liverpool youngster Harry Wilson in the first months of his loan spell with Derby County, as he plans for the future.
Wilson joined the Rams on a season-long loan in July, on the same day as Chelsea youngster Mason Mount, with the pair taking up key roles under Frank Lampard.
Despite a groin injury hampering his progress early on, the Welshman has scored two goals and assisted another in nine games for the Championship side so far.
That included an incredible free-kick against Man United in the League Cup in September—a feat he repeated for Wales against the Republic of Ireland on Tuesday night.
Though he signed a new five-year contract before joining Derby, there were doubts over Wilson's long-term future under Klopp.
But speaking to LiverpoolFC.com this week, the manager has insisted "next year, he is back," with the 21-year-old performing "even better" than expected.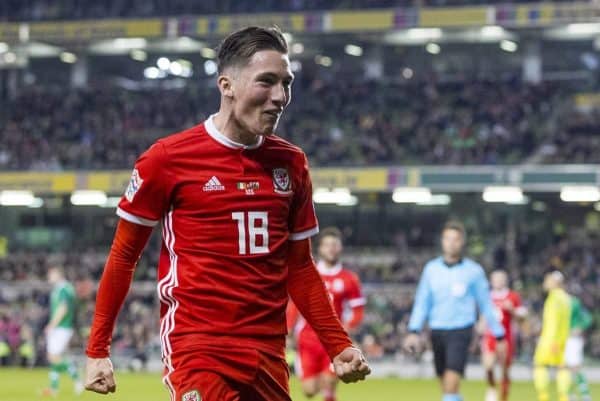 "It's nice to see, it helps young players the most to play on such a high level. It suits Harry, obviously, that they play football," he explained.
"You can see he made big steps. His shooting was always outstanding but now obviously he has the confidence to show that on the highest stages. It's really nice to see.
"The free-kick against United was one of the most spectacular I ever saw in my life—and that means something because I saw a few!
"And now the one against Ireland was not too bad as well, it was not saveable. That's a big skill.
"But it's not only that. How he moves between the lines, how confident he looks with the ball is all cool. He looks really fit.
"So that's all good. Thank you to Derby that they obviously do a brilliant job. Next year, he is back."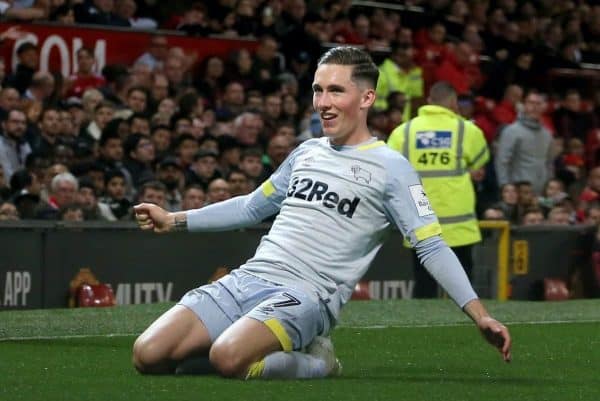 Wilson's stunner against United saw him peel away emulating Fernando Torres' famous 'five times' celebration, in a clear sign of a love for his parent club.
A Liverpool supporter, who has been on the books since the age of eight, it would clearly be a dream if he were to establish himself under Klopp in the future.
He has remained in regular contact with the manager, but as Lampard explained on Thursday, there is no chance he will be recalled in January.
"He's a Liverpool player for the future but, I've answered this about Mason Mount before, we are looking after them for a year, and hopefully improving them," he said.
"Liverpool fans shouldn't worry because, hopefully, we will give them back a very good Harry Wilson when he goes back."
This is the perfect scenario, with Derby committed to Wilson's development as he continues to contribute to their Championship run, ahead of a triumphant return to Merseyside next season.