Man City are an impressive team, but they were no match for Liverpool head-to-head last season, thanks largely to a player who won't be on the pitch on Sunday.
The stats say that Manchester City's 2017/18 Premier League winning side are the greatest English champions of the modern era. Most points (100). Most points ahead of second (19). Most wins (32). Most away wins (16). Most away points (50). Most goals (106). Best goal difference (+79). Most consecutive victories (18). Most empty sky blue plastic seats (thousands).
The stats also say they couldn't beat Liverpool when the Reds had 11 men. 4-3 (Anfield). 3-0 (Anfield). 2-1 (The Etihad).
And we were the better team in the 5-0 defeat in Manchester until Sadio Mane's red card which, incidentally, resulted in Jurgen Klopp substituting Mo Salah at half-time – a fact that was conveniently forgotten last weekend at Chelsea when experts queued up to say Klopp would never have subbed the Egyptian King last season when Liverpool were losing.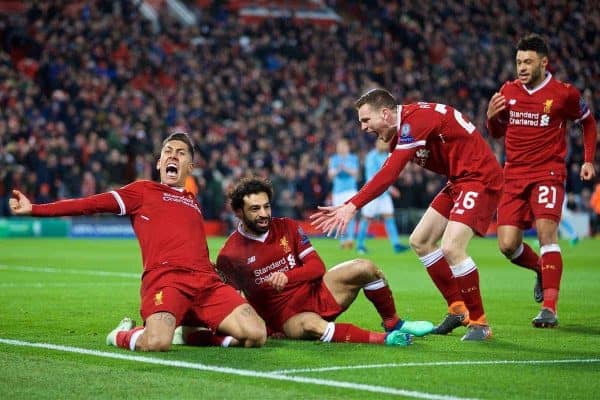 Now you don't need to understand the inner workings of the Large Hadron Collider to know having all our players on the pitch was helpful in beating Amazon Prime's, sorry, Pep Guardiola's side three times in a row – ending both their unbeaten league record and Champions League campaign – but I've got a nagging worry about Sunday's Anfield clash due to the loss of a player who definitely won't be on the pitch.
Emre Can… only joking… Alex Oxlade-Chamberlain's unavailability is an ongoing blow to Liverpool anyway, but as far as I'm concerned he'll be particularly missed in this fixture. Consider this:
LFC 4 MCFC 3 – Wijnaldum, Can, Oxlade-Chamberlain started in midfield.
LFC 3 MCFC 0 – Henderson, Milner, Oxlade-Chamberlain started in midfield.
MCFC 1 LFC 2 – Wijnaldum, Milner, Oxlade-Chamberlain started in midfield.
Oxlade-Chamberlain was the only midfielder to start in those three consecutive wins against City last season. It's no coincidence.
Of course, he also made a goalscoring impact in both clashes at Anfield with two absolute rip-snorting Kop-end strikes in the opening 20 minutes.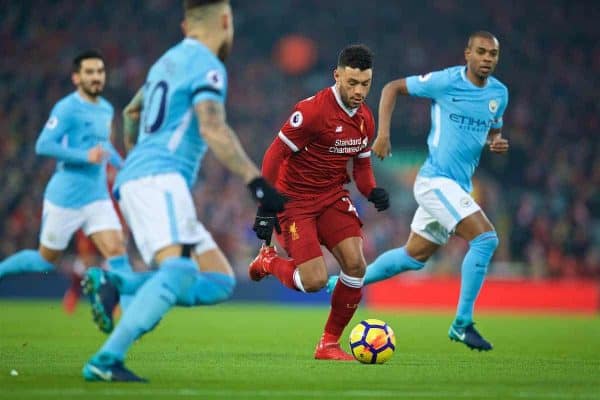 He made Fernandinho look like a tractor pulling a load of cabbages when he ran past him before firing home a low shot from outside the penalty area to get the 4-3 Premier League game off to a flyer in January and his Champions League goal – after cleverly dropping into space between David Silva and Leroy Sane – was even better, a rocket of a shot from 25 yards that Ederson knew had beaten him when it was hit, but still made a courtesy dive for the cameras anyway.
Liverpool's front three racked up so many goals last season that the spotlight was tilted away from the midfield's lack of goalscoring prowess but following three games in which none of Salah, Mane or Bobby Firmino netted in it now feels more of a concern.
Emre Can – who also played very well against City last season – was our leading midfield goalscorer with six in 2017/18, followed by Oxlade-Chamberlain who weighed in with five.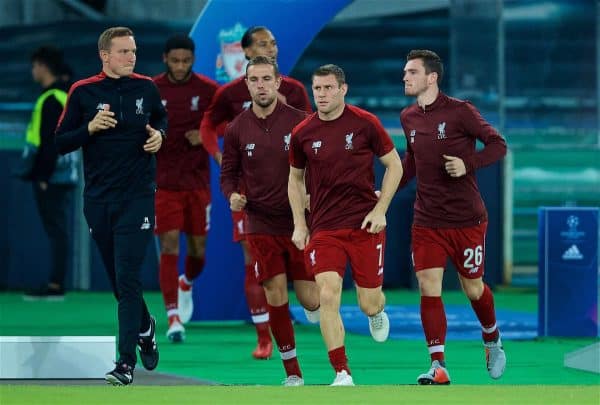 However, Gini Wijnaldum (2), James Milner (1) and Jordan Henderson (1) only got four between them and, assuming the so-far goalless Naby Keita isn't risked to start due to his injury in Naples, that's likely to be Klopp's midfield three on Sunday which suggests it will need the front three to be firing on all cylinders again if Liverpool are to get goals.
Aside from his pair of early howitzers, Oxlade-Chamberlain's energy and pressing will also be missed. He led the midfield press superbly in those three games and for all the different qualities Gini, Milly and Hendo have, none do that job quite as well.
They'll need to be collectively good against City – that goes without saying – so let's hope they're better than they were against Napoli which was more depressing than gegenpressing by the end.
Can Liverpool still beat Man City – who haven't won at Anfield since Brookside ended, Concorde stopped flying and Chelsea FC were founded in 2003 – without the Ox grafting and getting goals? Yes. But I think it'll be a lot, lot harder to do so without him in what may prove to be Liverpool's biggest home game of the season.
---

* Chris McLoughlin writes for the Official LFC Matchday Programme and LFC Magazine. You can get the LFC v Man City programme at Anfield, from club stores or by ordering online.