Dominic Solanke has yet to feature for Liverpool this season but says he has faith Jurgen Klopp is the right man to lead his development.
The striker was a regular bench option last season, but the return of Daniel Sturridge and the signing of Xherdan Shaqiri have pushed him down the order of merit.
Thus far he has made the matchday squad just once, against Chelsea in the EFL Cup, and didn't get off the bench.
In recent weeks even Divock Origi seems to have nudged ahead of him, with the Belgian making the bench against Red Star prior to the international break. A couple of matches with the England U21s should restore some sharpness and confidence for Solanke, though, and he netted twice against Italy last week.
Despite that lack of on-pitch action, Solanke believes he has seen enough from his boss at club level to know Klopp is exactly the right manager to benefit him over the long term, as he told Mail Online.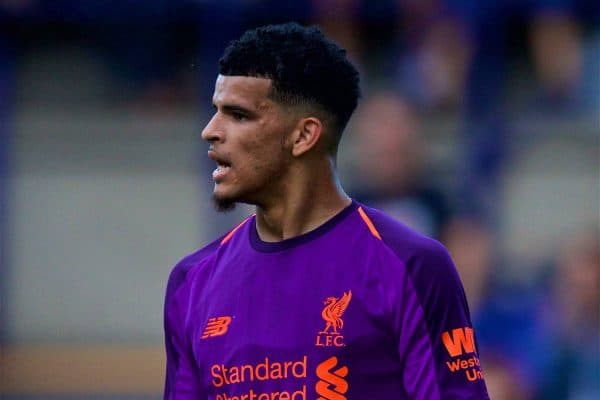 "Jurgen is a great manager and he knows what he is doing, especially when he is bringing people through.

"You can see what he has done with Trent [Alexander-Arnold] and Joe [Gomez] at the moment and how far they have gone.

"They have been two vital players for us this season. I have known them for a few years now so I have seen them breakthrough and he definitely helped them."
It's not just a manager which makes a career for a young prospect, however, and Solanke is clearly still happy at Liverpool.
From promising team-mates to established stars he is trying to gain minutes off, Liverpool is a great place to be right now for a young forward learning his art.

"All the team are good [at providing support and advice], really. Everyone has helped me.
"From the moment I got to Liverpool, they all made me feel welcome and I settled in quite quickly. Whenever they see someone they can give a hand to, they always will.
"It is always nice when you come away and get minutes, especially for your country. Of course, everyone wants to play for their clubs and when you have been away, you have got to go back and fight.
"But these little breaks are always good, especially if you are getting minutes."
Development on the training pitch is, of course, just one side of the equation.
It still seems likely that a January exit for a loan spell elsewhere would be the most suitable course of action for Solanke and the club to take.
Over this season and last, the likes of Ryan Kent and Harry Wilson have enjoyed extremely productive spells away; something similar to re-ignite Solanke's club career could go a long way toward showing his true top level.