Jose Mourinho has actually said something nice about Liverpool, highlighting the Reds' structure as a reason they are thriving currently.
Man United will arrive at Anfield on Sunday afternoon 16 points behind the Merseysiders.
Liverpool have not been so superior to United since the 1980s and they go into the weekend clash as odds-on favourites to extend that lead to 19 points.
Mourinho has a strong record against Jurgen Klopp in England, however, yet to lose to him in the league as United manager.
The Portuguese has become known for his subtle digs at Liverpool – and anyone else for that matter – but he has actually been complimentary for once, even if his words are more likely aimed at being a shot against his current employers.
Speaking in his press conference on Friday, Mourinho said money is a long way from the sole reason Klopp's men are top of the table:
"It is not just about the money they spend in the summer, it's about many things.

"It's not just about spending money and reinforcing the squad, a football team is more than that, a football team is not just about spending the money.

"A football team is like a house, too, a house is not just about buying the furniture.

"You have to do work in the house and when the house is ready, then you buy the furniture, you spend money on the best possible furniture and then you are ready to live in an amazing house."
There's echoes of Rafa Benitez there with the furniture references, but Mourinho makes a valid point that Liverpool's overall structure and having their house in order is key to their current improvements.
Asked how far behind Liverpool United are, more said simply: "far."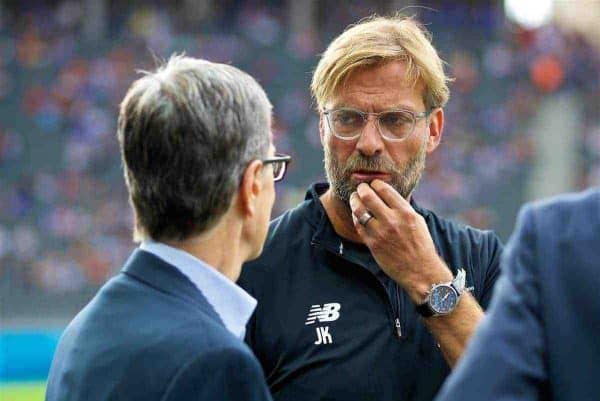 The United boss also reverted to type a little, however, deliberately playing down United's chances at Anfield, in a way to take pressure off himself and his players.
"I'm going to try, I'm going to try, I always try and I want to play a team that is capable to be with me on that desire and on that ambition and on that confidence," he added.
Sometimes you would think Mourinho is managing a relegation-threatened team, when in fact he has a squad littered with excellent footballers.
There is no doubting that Liverpool are favourites on Sunday, but Mourinho will fully believe he can get something from the game.
His last defeat to the Reds in the league was in October 2015, when his Chelsea side were defeated 3-1 at Stamford Bridge.
Liverpool are searching for only their third league triumph over United since Alex Ferguson left Old Trafford in 2013, with their last win coming in the Europa League last 16 in 2016.