The media felt Liverpool became title favourites after thrashing Arsenal 5-1 at Anfield, and lauded Roberto Firmino and the collective performance.
There is just no stopping Jurgen Klopp's red machine right now.
Liverpool delivered a stunning team display to come from behind and thrash the Gunners, extending the lead at the top of the table to a handsome nine points in the process.
A first hat-trick for Roberto Firmino and individual strikes from Sadio Mane and Mohamed Salah sealed an incredible fightback after Ainsley Maitland-Niles had put the visitors ahead.
It was the perfect end to a fantastic 2018 at Anfield, and leaves supporters dreaming that 2019 may well be the year the title comes home.
Here's how the media assessed a sensational display of football from the Reds.
Reporters felt the win illustrated that Liverpool will take some serious stopping in the title race…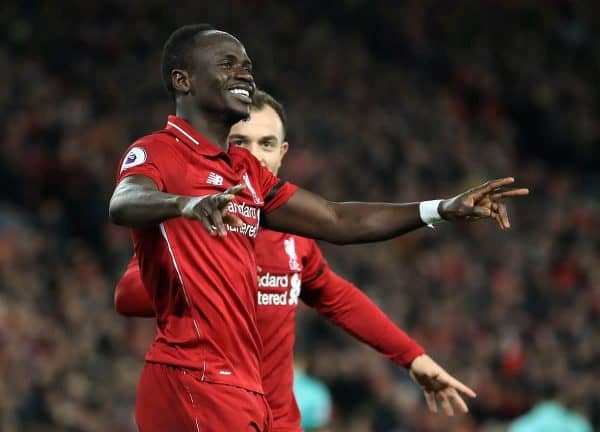 Writing for Goal, Neil Jones labelled the Reds "unstoppable" and praised Klopp's side for showing such consistency to take advantage of rivals being unable to keep pace:
"Unstoppable? They are right now. While their enemies flounder, unable to keep their composure and their consistency, Klopp's side just keep on clearing hurdle after hurdle, ramping up the pressure each time they do."
ESPN's Mark Ogden believes the manner of the victory will have sent a message to title rivals and also assessed that "the Reds will take some stopping":
"Although City can reduce the deficit to seven points with a win at Southampton on Sunday, the manner of Liverpool's victory will have hammered out an ominous warning to the chasing pack.

[…]

"On current form, though, Liverpool are going to take some stopping."
Meanwhile, post-match analysis from the Independent simply assessed Liverpool as the new title favourites:
"They are now the overwhelming favourites to win the league title."
The Liverpool Echo's James Pearce praised the Reds for embracing the pressure of leading the charge and coping with the task of turning from contenders to favourites:
"Keeping a lid on emotions isn't easy when Liverpool find themselves in such a position of strength in pursuit of the prize Kopites have waited 29 years to clinch.

"But rather than feel the pressure, the Reds have embraced taking the leap from contenders to favourites. They know they belong at the summit."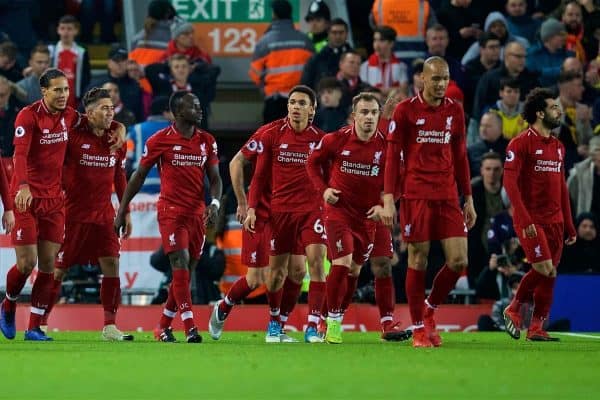 Writing for Football365, Matt Stead thinks Klopp's side have more gears to go through and believes only a catastrophic self-destruction will end title dreams:
"Klopp's team look as if they have more gears to shift through, plenty left in the tank. They are playing at around 80 percent, yet are still cruising.

"It will take both a gargantuan f*ck-up from themselves and a sizeable effort from any of their stumbling challengers to topple them."
The Mail's Oliver Holt was more pragmatic and insisted that Man City can't be written off easily with Pep Guardiola's side sure to fight until the end:
"There is still a long, long way to go and Manchester City, who Liverpool play at the Etihad on Thursday night, are far too good for anyone to pretend that the title race is going to be anything other than a hell of a fight."
Reporters were impressed by so many aspects of Liverpool's performance…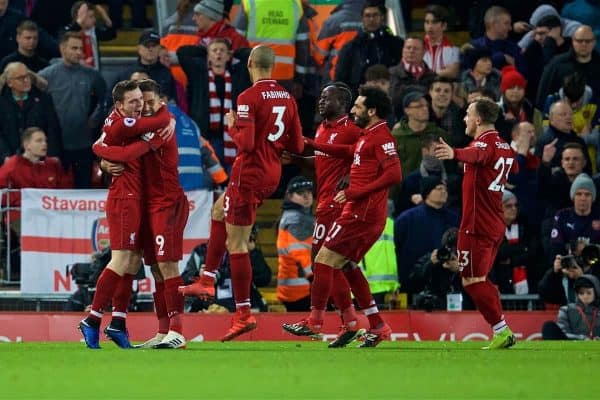 First of all, Ogden defended Arsenal, insisting that no team in world football would have coped with Liverpool's attacking brilliance:
"While Unai Emery's team were bad, Liverpool were outstanding, and no team could have lived with them on this occasion."
BBC Sport's Phil McNulty praised Liverpool's response to falling behind, noting how the Reds simply rose to the occasion to turn the game around:
"If there were any nerves troubling the new Premier League pace-setters, this might have been the moment for them to show—but not a bit of it.

[…]

"Instead of shrinking in the face of a setback, it was simply a case of Arsenal prodding the beast as Liverpool swarmed forward in the style that has become their trademark under Jurgen Klopp to record another statement win in this hugely impressive season."
Stead was impressed by the Reds' game-management once storming into a commanding lead:
"Liverpool eased off considerably in the second half, as if to underline their new-found maturity and game management.

"Had they found themselves 4-1 up at home to anyone last season, they would have kept that same tempo and pushed for more goals, playing up to their role of the great entertainers. Instead, they simply held Arsenal at arm's length and conserved their energy."
The Guardian's Paul Wilson assessed Liverpool's "efficiency and boundless enthusiasm" as the winning combination:
"This was not Liverpool at their most flamboyant—it did not need to be.

"A combination of efficiency and boundless enthusiasm was enough to force Arsenal into errors, from which clinical finishing ensured the goals flowed."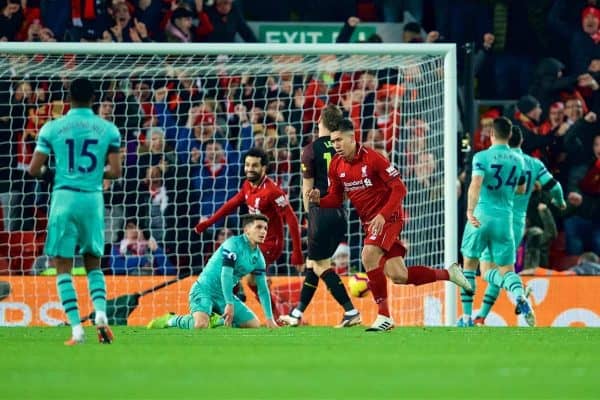 The Mirror's Sam Elliot thought Liverpool's spirit shone through and praised the Reds for showing once again they are now a complete team:
"From behind to in front inside five minutes, their retort was as loud as it was clear. It takes more than just winning when on top to take a title, and Jurgen Klopp's side have shown the have character to go with their class.

"Admittedly they were helped by some atrocious Arsenal defending, but Liverpool have shown time and time again that they are far more than just a good front three."
Pearce also commented on the togetherness of the team and attributed this "collective unity" as the driving force behind Liverpool's charge:
:"There's individual brilliance in abundance but crucially there's also a collective unity and hunger which is driving Klopp's men on."
There was plenty of praise for Klopp for his work in masterminding the victory and throughout 2018…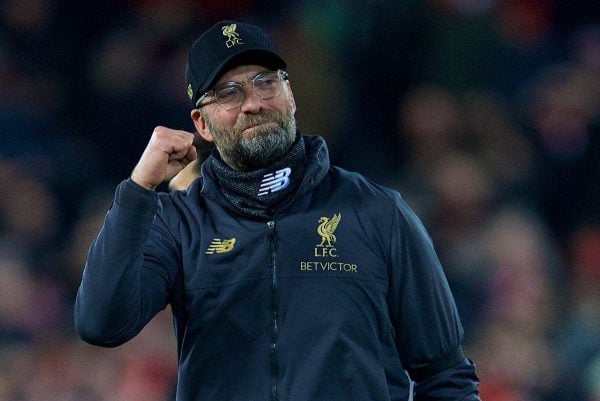 Jones reflected on the bond between team and supporters and noted how Klopp's men are doing Kopites proud:
"This is a team that plays for each other, works for each other, one that supporters can be proud of, each and every week."
And Pearce looked back on the last year as a whole, lauding Klopp's work in ensuring that the Reds will enter 2019 in "unbelievable shape":
"2018 will go down as a year of immense progress from the run to the Champions League final to launching a record-breaking Premier League title challenge.

"It's been fuelled by Klopp's tactical acumen, expert man-management and shrewd recruitment. Liverpool will enter 2019 in unbelievable shape."
The Mirror's John Cross believes the Reds are thriving now as a result of Klopp's man management and the "inner strength" he has instilled in his team:
"This was their response. The players are thriving on Klopp's man-management and are clearly loving every moment.

[…]

"This is undoubtedly their best chance of winning the title since then, and Klopp has instilled an inner strength and belief that looks ready to carry them all of the way."
The media were in awe of Firmino's performance and singled out other Reds for praise too…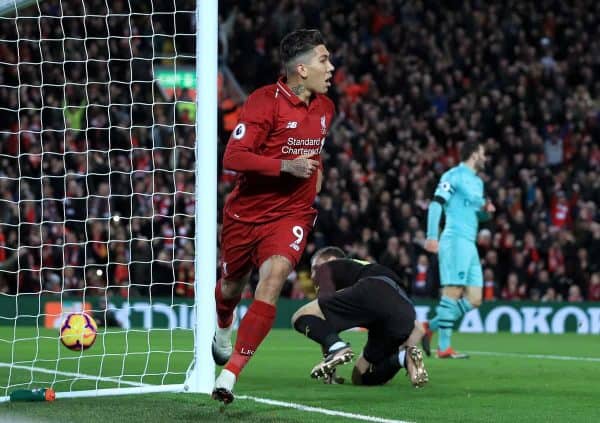 Ogden led the praise of Firmino, assessing how the Brazilian showed why he is valued so dearly by Klopp and labelling the No. 9 as Liverpool's most important player:
"Beyond his goals, though, it is Firmino's strength and work rate that make him so valuable. He can play as a central striker or off the more advanced Salah and still make a difference, while his vision enables him to pick a pass or pull off the audacious.

"This Liverpool squad has many key components, but none are more important than Firmino."
Price thought Gini Wijnaldum shone:
"Sublime in another match against one of the big six. His physicality and energy comes through in these type of games—as well as his calmness in possession."
And the Evening Standard's David Lynch felt Wijnaldum's performance on the big occasion showed why the Dutchman will be in the starting XI at the Etihad:
"Georginio Wijnaldum has a reputation among Liverpool fans as a big-game player, and he did not disappoint in this one.

[…]

"The 28-year-old always delivers for his manager, and it is for that reason that he is sure to be on the team-sheet at Manchester City on January 3."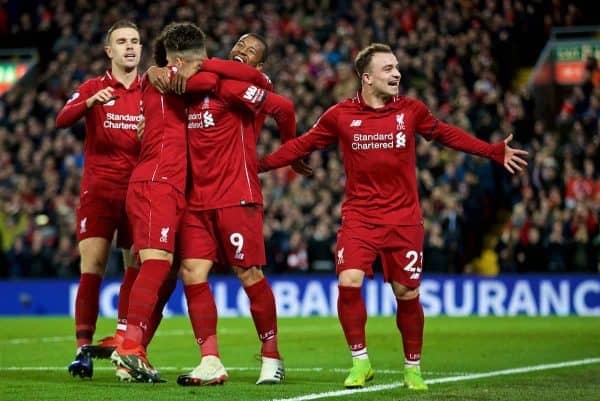 Finally, our own Joanna Durkhan thought Xherdan Shaqiri produced one of his "best all-round performances" since arriving at Anfield:
"It was arguably one of Shaqiri's best all-round performances for Liverpool in terms of both defensive and attacking accountability."
Reporters inevitably started building up to the looming title showdown with City…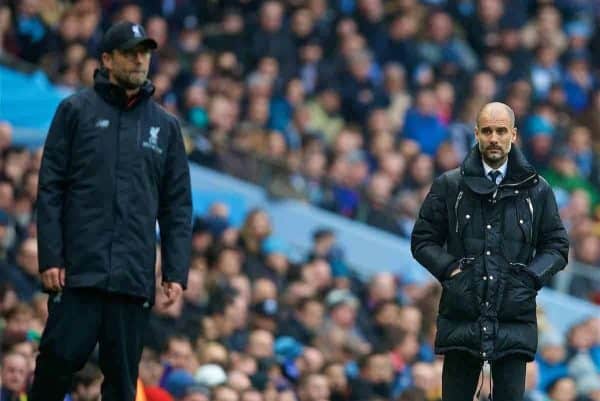 McNulty believes the Reds will travel to Manchester with full belief that they can win the game:
"Liverpool's greatest test of the season now awaits when they travel to Manchester City—but such is the level of confidence surging through a team that looks more like the complete package with every passing week, it is a challenge they will accept without any degree of concern."
Ogden is of the belief that if Liverpool can win at the Etihad, then Klopp's side will go on to win the title:
"If they win at City, a first league title since 1990 will surely be on the cards."
Lynch thinks the Reds already have a psychological boost knowing that even if a defeat arrives, City would still be kept at arm's length:
"A trip to the Etihad Stadium on Thursday does not become any easier for that fact, of course, but the Reds know they will still be out ahead regardless of the outcome.

"To have ensured defeat to Pep Guardiola's men would only put a small dent in their challenge is perhaps the truest testament of this side's brilliance."
And Lynch thinks that gives Klopp's side a "free hit" at City, which should inspire Liverpool to take the game to Guardiola's team:
"The Reds certainly won't want to experience a first league defeat of the season at the Etihad Stadium, but they can afford it.

"And who knows, the freedom that knowledge gives Klopp's team could even be crucial to them putting Pep Guardiola's champions to the sword."