After claiming Trent Alexander-Arnold was "really close" to featuring against Crystal Palace, Jurgen Klopp has now cast doubt over the next three games.
TRENT: Unlikely for Leicester, doubtful for West Ham & Bournemouth
GINI: Will train on Friday, then "have to see how he reacts"
GOMEZ: "It's a more serious thing," will miss at least two more weeks
Alexander-Arnold has been sidelined with a knee injury since playing through the pain for the full 90 minutes of Liverpool's 1-0 win at Brighton.
The initial timeline for his return was a month, with the 20-year-old expected to miss four games: the clash with Palace, and then upcoming meetings with Leicester, West Ham and Bournemouth.
But speaking before the 4-3 win over Roy Hodgson's side, the manager raised expectations as he told reporters that both Alexander-Arnold and Gini Wijnaldum were "really close" to being involved and he "didn't want to close any doors."
Now, speaking to LiverpoolFC.com after the Reds' trip to Dubai, Klopp has suggested the right-back will in fact be ruled out for the next three fixtures.
"He is better, much better, but we have to see. It needs to be stable—and in the moment it is stable and it's about the pain," he explained.
"Everyone knows how desperate Trent is to play; he can ignore pretty much everything. That he played that game at Brighton was sensational, to be honest. It's unbelievable.
"The same for Gini, who got a little injury early and it was very painful. Adrenaline is obviously really hard stuff and gives you the opportunity to grow a bit in the game, so they did.
"It will not be long [for Trent], but is he ready for Leicester? I don't know, we will find out.
"Then it's West Ham and then Bournemouth. After that he will be 100 percent [back] but until then, we have to see."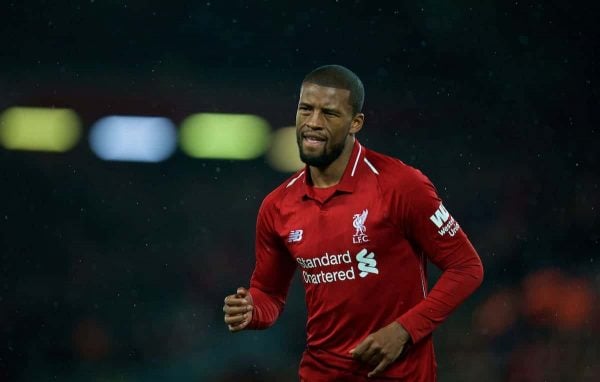 This is somewhat disappointing but follows a trend from the manager in downplaying the severity of injuries, meaning it is often unwise to take his word as gospel.
Adam Lallana is a regular 'victim' of this, with the midfielder's injuries typically described as "minor" only for him to then miss a long string of games, amplifying concerns over his long-term fitness.
Klopp at least seems more genuinely positive regarding Wijnaldum, who missed the win over Palace with a knee injury of his own but will train on Friday.
"Gini is good, better. The plan is that he will have one session today and then we have to see how he reacts on that. Hopefully we can build from that point," he said.
Whether the Dutchman will be back for Wednesday night remains to be seen, but the hope is he will be, as with Alexander-Arnold out and James Milner suspended, Fabinho could be required to fill in at right-back.
This would leave a void in midfield, with Jordan Henderson and Naby Keita the only other options available—though there is also the possibility of handing Rafa Camacho his first Premier League start.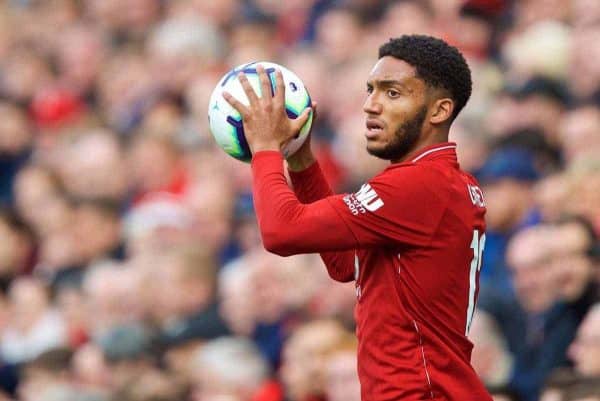 Meanwhile, Klopp is less optimistic over Joe Gomez's chances of featuring in the coming games, telling the club's official website he is still "a couple of weeks" away from returning from a fractured leg.
"We have to wait. Obviously it was really unlucky in that situation," he said.
"The injury is not like Trent or Gini where you know 'that's the only thing'.
"It could have been like that, but then more and more we found out it's a more serious thing.
"We have to wait, for sure, a couple of weeks. We will see, it is difficult to judge in the moment.
"We thought three weeks ago he would be closer and then we had to make another diagnosis in which we saw that it didn't work out so far as we wanted.
"That's why he is still not in training or running on the pitch."
Gomez was originally pencilled in to make his comeback after the trip to the Amex, but now seems set to miss at least the next three games—and likely more.