Jurgen Klopp suggested Liverpool's loss of rhythm was behind their lacklustre 0-0 draw at Man United, with the manager labelling it a "completely strange game."
With four first-half injuries and no goal, Sunday's clash at Old Trafford was not the classic it was predicted to be in the buildup.
Instead, the Reds go top of the Premier League with a point, with the debate after the game held over whether it was, again, one gained or two dropped.
Speaking to reporters, Klopp claimed it was both, detailing how Liverpool's initial bright start faded due to continued stoppages following problems for Ander Herrera, Juan Mata, Roberto Firmino and Jesse Lingard.
"Both. We have a point more, that's good," he explained.
"I think before the game, the shape United were in before, a lot of people would have said it's the worst moment to face United.
"The start was brilliant, exactly like we wanted to start. It was direct, we played in behind, we wanted to be there, we followed the ball, we pressed high, it was all good.
"Then the injury crisis started. A lot of interruptions, and stuff like that, it was obvious it cost us the rhythm.
"It was a completely strange game, playing around without speed, speed in the wrong moments, chipping in the wrong moments.
"The first half was OK, second half was a bit less. So it's now a 0-0."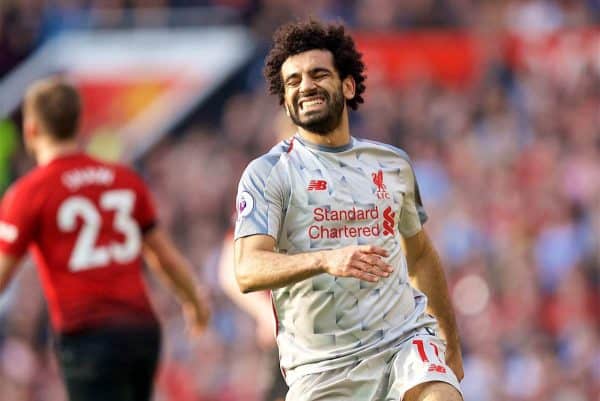 Mohamed Salah's difficult afternoon was a point of contention in the post-match debrief, but Klopp did not take to the line of questioning regarding his top scorer's performance.
"Mo knows that he can play better than he did today, we know it," he said.
"Two weeks ago we played against Bournemouth and he plucked the stars from the sky, it was unbelievable.
"But big games, against Bayern it was Alaba, he's a world-class player himself, they are not blind!
"It's about how we use him, how we play and how we move, all that stuff, and today obviously Lindelof and Shaw together did a pretty good job."
And on Firmino's injury, Klopp took a hopeful approach, though at this stage there is no diagnosis for the ankle problem that saw him leave Old Trafford on crutches.
"Unfortunately I have no clue. It was something with the ankle, at first Bobby said he could carry on then he showed it didn't work," he said.
"I don't know exactly. It's Bobby, so will be quicker than all of the others, but first we have to know what it is exactly, and we don't know in the moment."