AC Milan legend Andrea Pirlo said it was fantastic to finally play at Anfield in Saturday's LFC Foundation match.
A plethora of Liverpool stars stretching back over a number of decades took to the field on Saturday afternoon against Milan Glorie to raise invaluable funds for the Reds' charity.
The occasion saw around £1 million raised as favourites from years gone by donned the Liverbird once more in front of a packed Anfield, where fun with a hint of fierceness was the order of the day.
It was a game reminiscent of the 2005 Champions League final as the likes of Steven Gerrard, Jamie Carragher and Jerzy Dudek came face to face against the likes of Pirlo and Kaka.
The win arrived courtesy of goals from Robbie Fowler, Djibril Cisse and Steven Gerrard, whose strike at the death ensured stunning efforts from Pirlo and Giuseppe Pancaro came to nothing.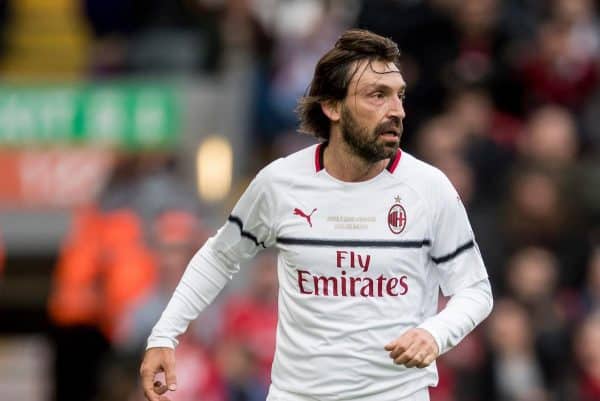 The match gave Pirlo the opportunity to finally play at Anfield, having played twice against the Reds during his career but both were in Champions League finals – 2005 and 2007.
The Italian – who scored a superb second-half free-kick – lauded the "fantastic" occasion when speaking to Liverpool.com post match:
"It was very beautiful to play here.

"It was special for us because to play at Anfield is always good. The atmosphere is always fantastic. It was fantastic to play here.

"I like to score from these situations [free-kicks], I scored them in my career. But scoring at Anfield is always a good sensation. I am happy – not about the result but it was for charity."
Former Liverpool full-back Glenn Johnson, who left the club in 2015, was similarly in awe of returning to his former stomping ground, but conceded he's likely to feel the effects on his body more than he would have over four-years ago!
"It was good, I enjoyed being back at Anfield and the crowd seemed to enjoy themselves. I've got off to a winning start, so it's nice to be back.

"There were no nerves, just excitement – and a bit of caution, wondering how my body was going to cope with it! Once you get into it, it's enjoyable and the lads played some good football.

[…]

"You appreciate everyone is pretty much in a similar boat, so there'll be a lot of aching bodies now – and certainly in the morning – but it was good to look up and see some of the names on the pitch.

"Even when you're at the top of your game and you're playing against those guys, it means everything at the time. It was great to be back on a pitch with those sort of players and against those names – it gives you a great buzz.

"It brings back a lot of memories – fond memories. I had great times [here] over the years."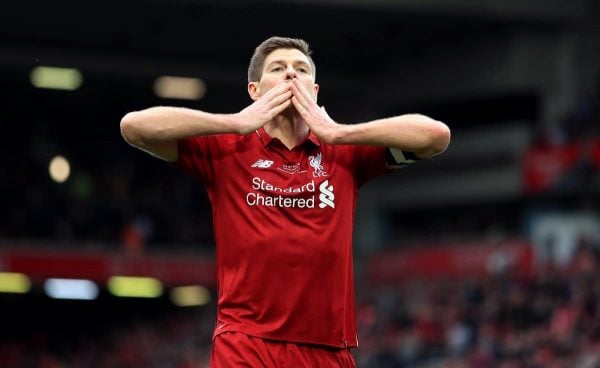 Gerrard, who scored the winning goal which elicited mass celebrations, insisted "it's always special to come to Anfield" as he admitted he can't help but feel the pressure of Liverpool's current title charge.
"Believe me, I'm still feeling the pressure!

"It's in the back of my mind; I've got a day job now and all my focus is obviously on Rangers, but I've got one eye on Anfield and I just hope the lads can go and get us over the line because I'd be the happiest man in the world."
The event brought together 23 Liverpool Legends and many took to social media soon after to mark their reunion and victory, but more importantly the collective effort for a "great cause."
Luis Garcia, John Aldridge and Patrik Berger each "loved" being back at Anfield and raising an incredible amount of money for local charities:
Thanks again for your support !! Amzing atmosphere for a great cause. Love to be back at Anfield and catch up with the lads. See you all next year #YNWA #MoreThanaGame #lfcfoundation #Football pic.twitter.com/5WgSN8u85i

— Luis Garcia (@luchogarcia14) March 23, 2019
Really enjoyable game folks just deserved the 3-2 win and very APT that Stevie scored a last minute winner.?Another full house??and prob over £1 Million for local charities.Well done everyone concerned YNWA

— John Aldridge (@Realaldo474) March 23, 2019
The Anfield faithful came out in full force and Jamie Carragher, goalscorer Cisse and Dudek were all singing their praises:
https://www.instagram.com/p/BvXP5d8FkcM/?utm_source=ig_web_button_share_sheet
Djimi Traore, Vladimir Smicer and Fowler, meanwhile, each had a simple message and a series of pictures to sum up the day:

Fantastic day with @LFCFoundation great team performance. Enjoy to be back a anfield #LFCFoundation #lfclegends #YNWA pic.twitter.com/hrShkUZ5zT

— Djimi Traore (@Djimi_Traore19) March 23, 2019
Ultimately, it was a day to remember for everyone involved as the Liverpool Legends came together once more for an incredible cause and another victory to hang their hats on.