Liverpool won 2-0 at home to Chelsea to return to the top of the Premier League, in a landmark afternoon for Alisson, Sadio Mane, Jurgen Klopp and others.
The Reds had their work cut out for them after Man City's 3-1 victory at Crystal Palace earlier in the day, but a three-minute blitz was enough to put away their visitors.
Goals from Mane and Mohamed Salah early on in the second half ensured the victory, though both the upright and the alert Alisson were to thank for keeping the scoreline as it was.
Now, Liverpool have again leapfrogged City on an afternoon when the majority of the media were hoping to crowbar 'slip' into their headlines at all costs, and now they have just four games left in the English top flight.
It was a big afternoon for Salah, given the quality and importance of his stunning strike, but many others stood out on Sunday.
Here are four key stats from the Reds' 2-0 victory over Chelsea.
Alisson's Golden Gloves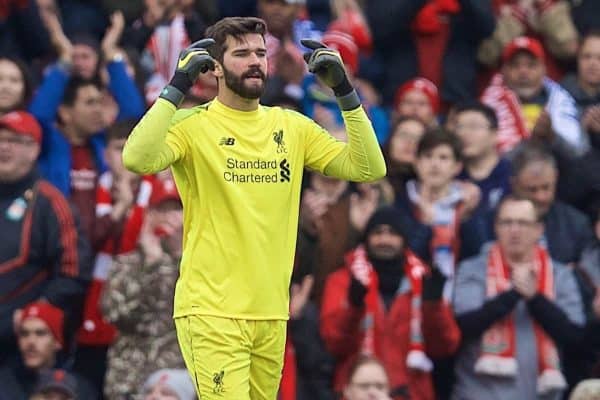 Alisson had a relatively busy afternoon at Anfield, with the Brazilian required to plug the gaps as his defence took a loose approach with Eden Hazard up front.
It came to the 26-year-old to thwart Hazard with a smart, point-blank save after the Chelsea striker had already hit the post, and this could well served as a defining moment in the title race.
Crucially for Alisson, he kept another clean sheet, bringing his season's tally to 18 in 34 games, which is two more than second-placed Ederson (16) and five ahead of third-placed Kepa (13) in the Golden Glove chase.
Incredible, Liverpool's No. 13 now has as many or more clean sheets than any Golden Glove winner in the past 10 years with four games left to play.
It is equal to David de Gea last season, and Joe Hart in both 2010/11 and 2012/13, while it is also level with the last time a Reds stopper, Pepe Reina, took the award in 2007/08.
Mane's Best Goalscoring Season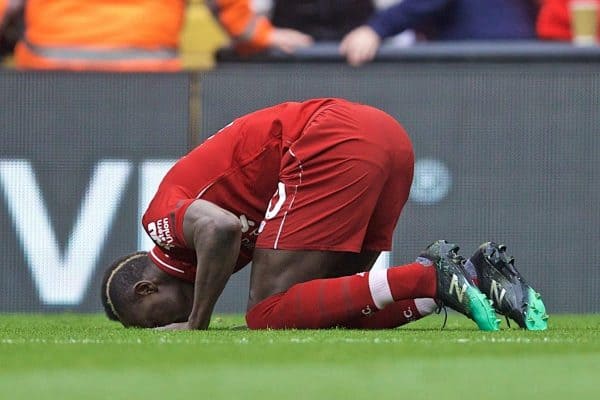 Salah spoke after the game about how opponents double-marking, or even triple-marking, him this season has led to more "freedom" for both Mane and Roberto Firmino.
This is clear in the numbers when it comes to Mane, who scored again with a fine header to make it 1-0, meaning he has now scored 21 this season, with only Salah (22) netting more for Liverpool.
At 21, this season's output is his best individual record for Liverpool, surpassing his 20-goal haul from last season.
Mane has also kept up the pace in the race for the Premier League Golden Boot, as he is only one behind both Salah and City's Sergio Aguero (19).
The Senegalese has averaged fewer minutes per goal than Salah (151 to 153), though his strike partner has also laid on seven assists, compared to his one.
Klopp's 200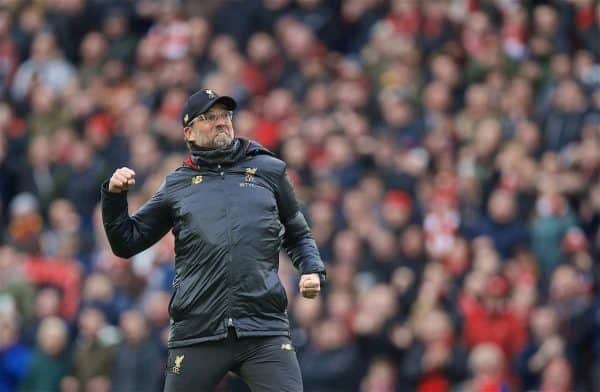 Klopp rang in 200 games as Liverpool manager in triumphant fashion.
Since making the switch to Merseyside in October 2015, the German has transformed the Reds' fortunes, and now stands among the best to lead the club.
In his first 200 games with the club, Klopp has overseen 112 wins, with a 56 percent win ratio the fifth best of any Liverpool manager.
This is behind only Rafa Benitez (56.28%), Bob Paisley (57.57%), William Edward Barclay (60.63%) and Kenny Dalglish in his first run (60.91%).
With only 36 losses, or 18 percent, Klopp stands as the third-best of any Reds boss, with Paisley (17.94%) and Dalglish (13.68%, first run) the only managers with a better record.
More importantly by comparison, only Benitez (115) and Dalglish (118) posted more wins in their first 200 games with the club.
Invincible at Anfield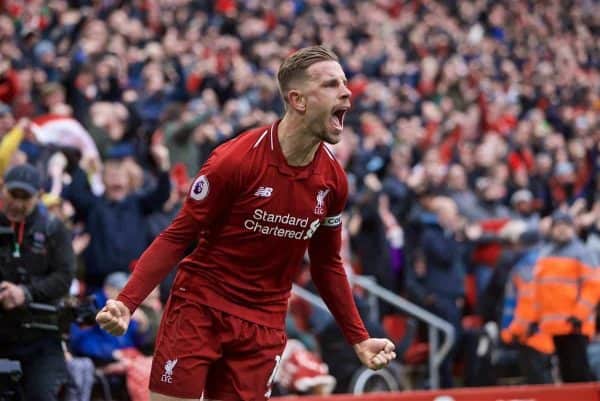 Sunday's victory means Liverpool have now gone 38 league games unbeaten at Anfield, winning 28 and drawing 10.
A full season's worth of home ties boxed off in comfortable fashion highlights the return of Fortress Anfield, which has been a key aspect of Klopp's mission statement.
"We have to create the power of Anfield and use the power of Anfield again," the manager told reporters before the game.
"I am so happy with our crowd and how they deal with everything."
Now the aim is to not only stay unbeaten between now and the end of the season, but to win all four remaining games in the league, heaping pressure on City to avoid any dropped points.