Jurgen Klopp described Alex Oxlade-Chamberlain's Liverpool return as a "really important step," and rued the miss that "would have been Goal of the Season."
Oxlade-Chamberlain spent a year and two days out of the first-team picture after a serious knee injury in last April's 5-2 win over AS Roma.
But with Roberto Firmino sidelined, he made his first appearance in the matchday squad in Friday night's 5-0 mauling of Huddersfield, and replaced Daniel Sturridge for the final 17 minutes.
The 25-year-old looked surprisingly sharp after just a handful of under-23s outings as he worked his way back to fitness, and almost scored just two minutes in after jinking into space in the box.
Jonas Lossl made the save, much to the frustration of all at Anfield including Mohamed Salah behind him, and speaking to reporters after the game Klopp praised Oxlade-Chamberlain's impact.
"After more than a year, bringing him back was the 100 percent plan if there was any chance tonight," he said.
"Because with Ox we try to be very careful with him, it's a difficult situation after that long time and with all the demands of the Premier League.
"And the training for being ready for the Premier League is already demanding.
"So he had these little, little, little setbacks in training and now he's ready. That's cool, that's really cool.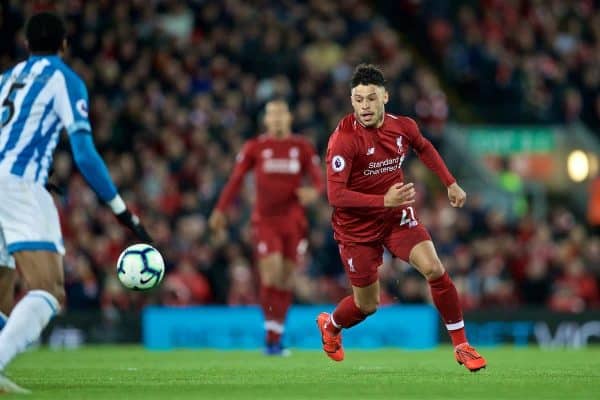 "He showed that, and it was a wonderful situation, it would have been Goal of the Season if he scored that one.
"It was brilliant run, a brilliant run, move, everything, and then unfortunately he doesn't hit the ball right.
"But [it was a] really important, important step tonight for him and for us."
It seemed as though Oxlade-Chamberlain may not feature at all before the end of the campaign, such is the need for perfection in the title and Champions League race.
But coming through his comeback cameo impressively, it could be that he is now considered an option from the bench between now and the end of the season.
Speaking to Sky Sports, Klopp – who had a long embrace with Ox post-match – praised: "Alex Oxlade-Chamberlain is a wonderful, wonderful, wonderful person.
"He is also an outstanding player. Seeing him smile after missing that chance, it was heartbreaking."
Meanwhile, captain Jordan Henderson said: "He worked so hard to get back to where he is now and when he came on he looked as if he had never been away.
"He has been sharp in training and I wish that chance went in for him, but we are all delighted to have him back because he's an important player."