Liverpool fought valiantly to overcome an early deficit to clinch a vital 3-1 win over Southampton, leading fans to discuss if the Reds have proven they have the 'bottle' for the title fight.
The Reds' resilience and will to win was on show once again as they left it late to secure all three points in their clash against Southampton, a victory which propels Liverpool back to the top of the table.
Shane Long got the Saints off to the perfect start after capitalising on a lacklustre opening from Jurgen Klopp's men, only for Naby Keita's first goal for the club to see the Reds head into the break on level terms.
An agonising 35 minutes followed before Mohamed Salah ended his eight-game goal drought to set up a thrilling win on the south coast, with Jordan Henderson adding the extras in another dramatic Premier League win.
To break down the positives and negatives from the clash and assess if Liverpool have shown they have the 'bottle' for the title race, This Is Anfield's Joanna Durkan (@JoannaDurkan_) spoke with TIA's Henry Jackson (@HenryJackson87) and writer Scott Groom (@ScottCGroom).
The good…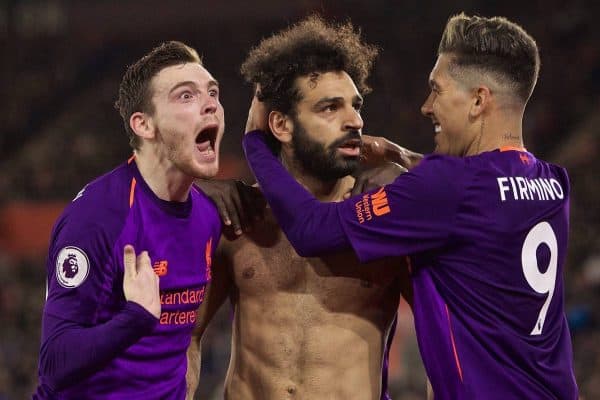 Henry: The main positive is clearly the three points—that could be Liverpool's biggest win of the season yet.
Dropping points in that game would've felt horrendous, considering the chance to crank up the pressure on Man City. The champions are just about to come into a hard run of games and giving them sudden leeway would've been a sickener.
In terms of individuals, the night belonged to three men: Henderson, James Milner and Salah.
The two much-maligned midfielders completely changed the game in the second half, showing how important they remain to this team.
Milner is someone Klopp loves having on the pitch at big moments and he brought an air of calm to proceedings, as well as quality.
I was delighted for Henderson to score at the end—he also got an assist—and his celebrations showed what it meant to him. That was a true captain's performance, and he looked more at home in a No. 8 role.
Then there was Salah, who frustrated for much of the night but then scored a stunning individual effort at such a crucial time. Great players do it in the big moments.
It was also nice to see Keita get his first goal, in what was hopefully a sign of things to come from him.
Virgil van Dijk was typically imperious, Joel Matip did well on the whole and Sadio Mane really upped things in the second half.
I'm still shaking!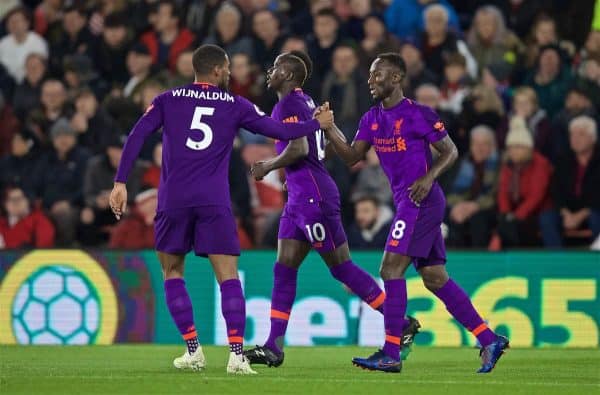 Scott: Well you have to start with that goal by Salah.
What a finish from him when it looked like he'd made the wrong choice by snubbing Roberto Firmino.
He was menacing all game and got his reward, and it was another assured night for the full-backs, Trent Alexander-Arnold and Andy Robertson, who were always threatening.
It was great to see Keita get his first goal for the Reds, too, and he grew into the game and those celebrations with Mane just melted my heart. What a pair.
Joanna: To be honest, the last 10 minutes!
It's been almost unbearable watching Liverpool in recent weeks with now three games won from the 80th minute onwards.
But it's a testament to the resilience of the team, as in years gone by we would certainly be talking about a draw or defeat.
Part of that reason also has to go down to Klopp's timely introduction of Milner and Henderson.
I agree with Henry in the fact that the pair steadied the ship and injected much-needed impetus into the game; leaders stand up in the moments that matter and they did so brilliantly.
But, at this point in the season, it is all about the points and Liverpool have 82 of them with five games remaining, a feat which has only been matched or surpassed in three previous Premier League campaigns…after 38 games.
The bad…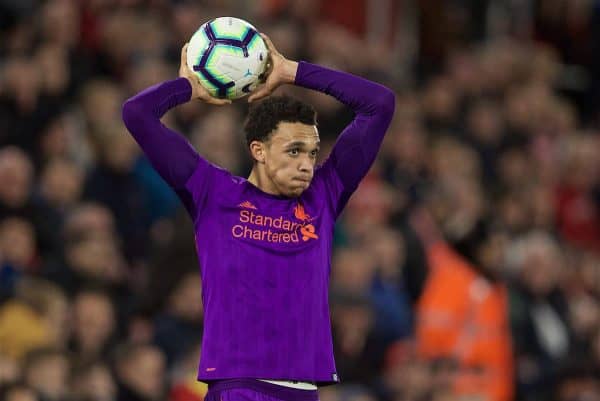 Henry: Many were delighted to see Fabinho, Wijnaldum and Keita all starting, but ironically, they failed spectacularly as a unit.
None were remotely close to their best on the night individually, either, with Fabinho often easily beaten by Southampton players, Wijnaldum anonymous and Keita poor defensively.
The match only changed when Klopp switched things up, perhaps showing that fans should have a little more faith in the manager when it comes to his midfield selections.
I have to slightly disagree with Scott, I thought Robertson had a poor game by his standards, particularly with his final ball, while it would be wrong to ignore what was a patchy team display.
Liverpool haven't truly impressed away in the league since the Wolves game before Christmas, and it is slightly worrying that they are having to battle through so many games on their travels.
They lost control early on and only truly got hold of the match when Southampton tired. They really are putting us through the ringer.
If they don't up it a bit in the coming weeks, you can't help but feel they may come a cropper.
It's not a night for negatives on the whole, though.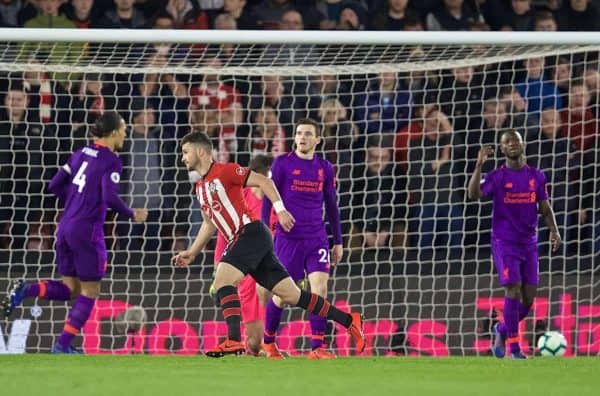 Scott: I'd have to note some of the defending in the earlier part of the game, as Southampton cut us open on numerous occasions and we were perhaps lucky not to be 2-0 down at one point.
Like Henry, I thought Keita and Wijnaldum were bypassed too easily, and the latter had one of his more industrial, yet sometimes absent, performances.
Joanna: Simply put, for a large majority of the first half, it felt as though Liverpool were chasing shadows and were far too reactive to Saints' game—however, the home side deserve credit for the trouble they caused.
Like many others I was excited to see the trio of Fabinho, Keita and Wijnaldum in the starting lineup but it didn't quite go to plan.
The latter two were obviously under instruction to play further up the field but it left far too much space to exploit and we could hardly keep possession of the ball, we were our own worst enemy.
Moreover, I'd like to see a clean sheet on the horizon after four league games without one, but as I said before, results are all that matter at this stage of the season and after a win like that you don't want to dwell on the negatives too much.
And does yet another late win prove Liverpool have the 'bottle' to be title winners?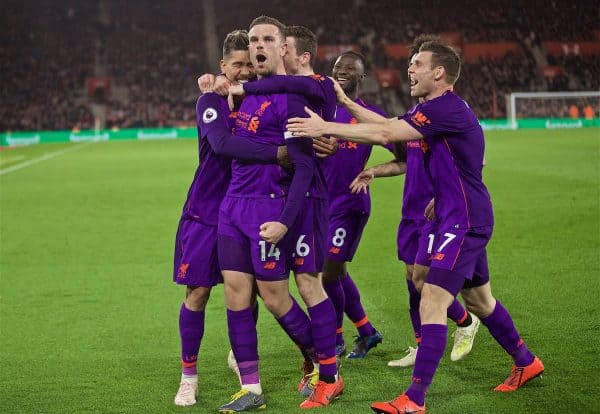 Henry: Any team that has acquired 82 points from 33 league games has the bottle—it's bordering on insane to suggest otherwise.
Rival supporters will use it as a stick to beat Liverpool with until they actually win something, but deep down they know this is a team with bags of quality and a huge amount of heart.
Klopp has instilled a winning mentality in these players and these late goals are no fluke. They just keep going and don't panic, which is the sign of champions.
We shouldn't forget that in most other seasons, Liverpool would almost be champions by now. They just happen to be top against an all-time great City side, in true Reds fashion.
Whether or not Liverpool win the title remains to be seen, but they have the bottle, without question.
If City win it from here, you just have to take your hat off to them.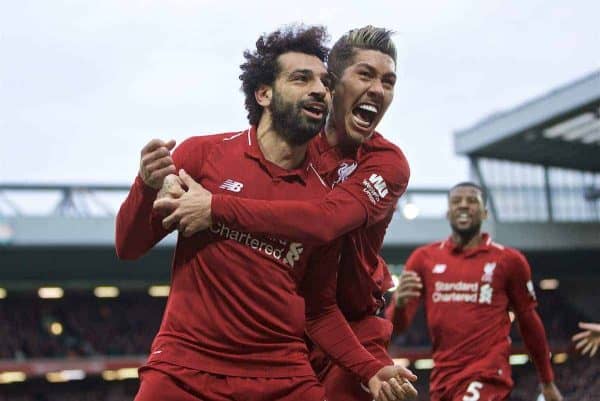 Scott: Absolutely. Liverpool have now won 16 points from losing positions this season which is more than any other team in the league.
In seasons gone by, most of those games would have been draws or loses, but not this term.
This really is a side that doesn't know when it's beaten and refuses to say never. But that doesn't come all from luck, this time is just better than any Liverpool team we have seen for some time.
Combine that with a real desire to get over the line and such resolve, and you have all the ingredients of title winners.
Joanna: For me I always look back to the last title challenge in 2013/14 and view it as a season which was built on quicksand.
It was as brilliant as it was insane, but it never felt like the real deal. It was a flash in the pan and a house of cards ready to collapse.
This team, Klopp's team, however, have been built on solid foundations and is one which has the character and mentality to see the job through.
Since the turn of the year, Liverpool have been far from their best and, for much of the game against the Saints, it did appear as though we were skittish and flustered…but again, as Scott said, this team doesn't know how to give up.
Of course, the title isn't in our hands, but we are making damn sure that Manchester City know we are breathing down their necks and no matter what is thrown in our direction we can overcome it—the makings of a champions team.