Still just 20, Trent Alexander-Arnold stands on the cusp of another meteoric achievement, as he builds a legacy fitting of a special club like Liverpool.
Joel Matip is prompted to retreat five yards in anticipation of his 20-year-old right-back needing assistance under the pressure of Arturo Vidal.
Virgil van Dijk meanwhile prolongs his arm raise, promoting his time and space as backup respite for his team-mate.
Liverpool's lionhearted chess enthusiast senses a chink in Barcelona's armour and says no to both, stroking a diagonal cross-field ball enriched with late fade into the path of James Milner, as if relocating his bishop.
Cue seven luminous yellow shirts turning in perfect sync before trudging back to aid their under-the-cosh defence.
In one pass Trent Alexander-Arnold had momentarily removed over a half a team from the equation and granted Ernesto Valverde's men a warning of the elite navigation system packaged in that West Derby-born right foot.
Perhaps it was Anfield's invasive and suffocating ambience that led them to foolishly overlook said warning for Liverpool's fourth goal.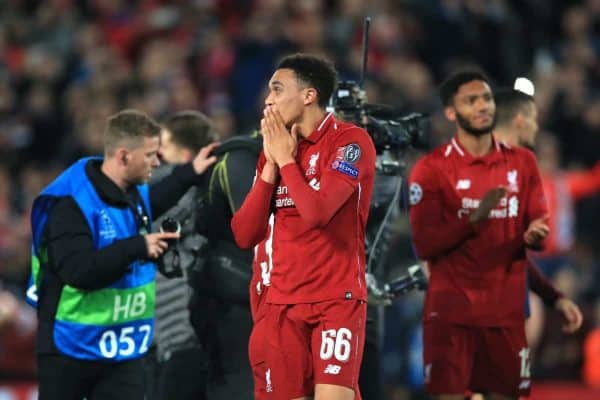 One of the greatest nights in the Reds' history was engrained with a string of fascinating individual storylines, all deserving of their own dedicated chapters.
The unimaginable heroics of Divock Origi and Gini Wijnaldum, Jordan Henderson out-fighting Barcelona on painkillers, Alisson's unsung saves, Fabinho's duel with a goat, Sadio Mane's nightmarish stop-start explosiveness, Van Dijk's purring authority, Andy Robertson's unwavering excellence, Matip's pocketful of Luis Suarez, Xherdan Shaqiri's big opportunity, Milner's familiar fine wine exhibit.
It was that of Alexander-Arnold, however, that arguably claimed 'most poignant'.
His storyline had its own subheadings. The aforementioned pass as a lesson to a Sergi Roberto seemingly oblivious to his opposite's expertise, the misplaced header and subsequent recovery tackle in the buildup to Wijnaldum's first, the pluck and artistry behind that corner routine.
It was more than that, though.
It was his solo lap of honour in front of the adoring fans whose zeal and grit he had harnessed throughout the 90 minutes.
There he was as the last to leave the Stadio Olimpico pitch in 2018, swinging his scarf to choruses of Allez, Allez, Allez after helping Liverpool overcome Roma to reach the Champions League final.
There he was again at Anfield: a supporter being paid to live the dream, his dream, our dreams. One of our own thanking his own.
Four goals were met with tears, limbs and chaos in its most beautiful form. Now imagine being the boyhood Red yet to turn 21 that was partly responsible for one of club football's most spectacular comebacks.
While others rejoiced in the dressing room, he took a moment to gather himself in an attempt to comprehend and savour the miracle he had helped achieve.
That puff of the cheeks and shake of the head in utter disbelief was us all. And the badge kiss, oh the badge kiss.
Trent Alexander-Arnold is still playing out on the pitch, currently putting crosses in for his mates at the Anfield Rd end. #LFC #LFCWOL pic.twitter.com/CbeCn5jxjO

— Ben Smith (@BSmith) 12 May 2019
Half an hour has passed since Liverpool finished runners-up in the Premier League with a tally of 97 points that would have won them 25 titles between 1993 and 2017, and Alexander-Arnold is still on the Anfield turf clipping in crosses to some of his friends.
There's a familiar feeling he isn't one to enjoy a break from the football pitch, particularly that he grew up dreaming of playing on.
A routine menace to his delivery garnered two more assists against Wolves, taking him to a Premier League record of 12 from a defender in a single season.
And yet you know with certainty he won't be dwelling on individual gain. Elite figures driven by an elite mentality.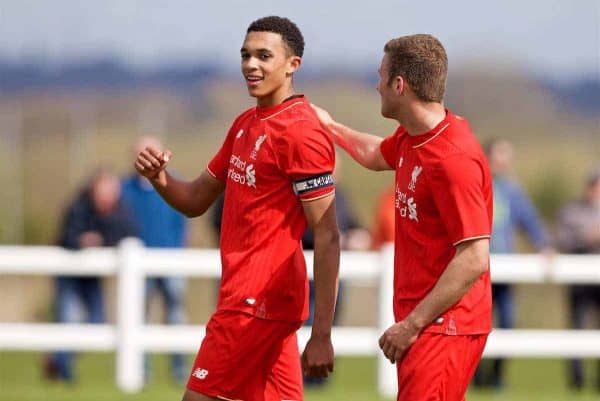 Liverpool's academy director Alex Inglethorpe paid tribute to the Scouser earlier this year, with one line in particular standing out.
"He's an unbelievable person," Inglethorpe said. "He still craves feedback and I don't think he sees himself as complete by any measure—he's still obsessive about getting better."
"Trent had a certain insight and creativity that meant he was able to play unpredictable passes," Pep Lijnders told the Liverpool Echo two years earlier when reflecting on his first impressions of Trent.
The concoction of sheer dedication and technical finesse has always been evident. To witness the combination of both flourishing at centre stage was something to behold.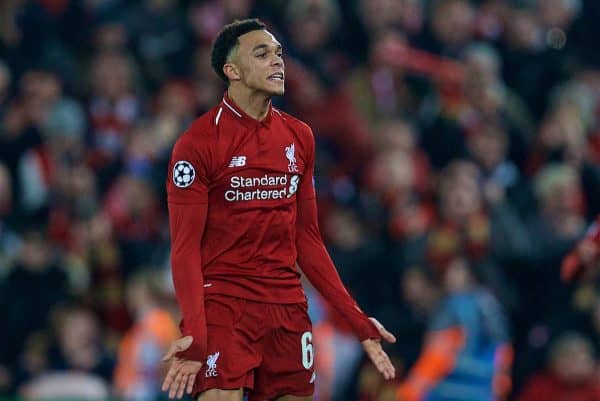 In Trent this special club boasts a special footballer and a special personality.
His rise through the academy ranks entailed a focused suppression of his emotions from coaches, designed to veil any anger, disappointment or frustration that may linger beneath the surface at times later in his professional career.
For one so young to conduct himself with such composure in a game that would mark the biggest of many players' careers, to see him erupt at full-time and channel the euphoria in the stands was a sight to cherish.
A meteoric rise on the pitch has been coincided by a remarkable impact off it.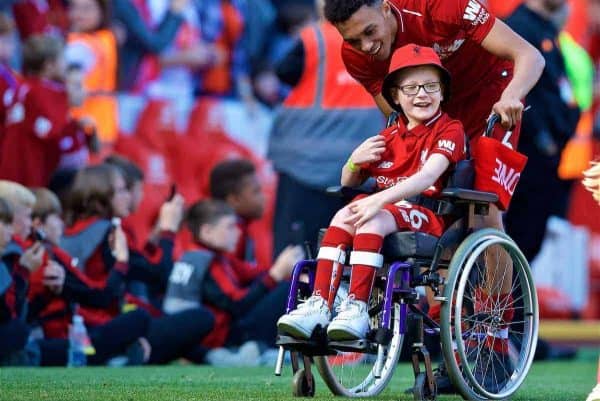 In February 2018, he met with eight-year-old Louis Henry, a cerebral palsy sufferer who had just undergone a six-hour operation.
Three months later he was holding his own against Cristiano Ronaldo in the Champions League final.
Fast forward to December and he is spending his Christmas Day with underprivileged families from the local area.
Come May 2019 and he finds himself a back-to-back Champions League finalist boasting 17 assists across all competitions this season.
He is a beacon of what this club stands for and everything you could want in a homegrown starlet.
Sometimes it's worth taking a moment, as Trent did on Tuesday, to sit back, and appreciate the incredible story unfolding for this 20-year-old; the existence of which elsewhere is threatened more and more by modern football's riches, business models and hunt for immediacy.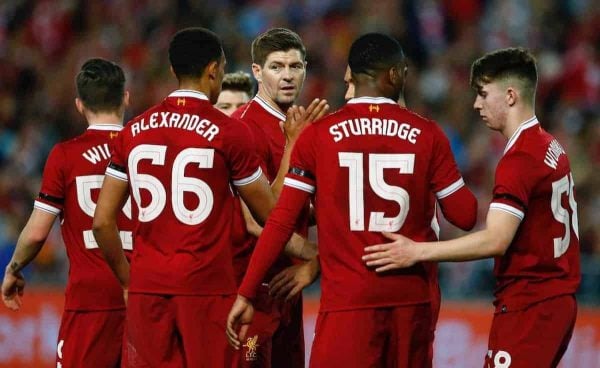 "Trent Arnold has a terrific chance of making it as a top professional," wrote Steven Gerrard in his 2015 autobiography.
"He's quite leggy but he's got a lovely frame and seems to have all the attributes you need. He has the right attitude and comes from West Derby, home to Melwood.
"So Trent is another Scouser and apparently, just as I tried to be John Barnes and Steve McMahon, he grew up pretending to be me while playing in the Merseyside parks."
You can't escape the feeling the armband worn by No. 8 will one day find its way to Liverpool's No. 66.