Liverpool have been strongly linked with a move for Lille attacker Nicolas Pepe, with a reliable French journalist claiming "concrete discussions" have taken place.
It's been a quiet summer at Anfield so far, despite calls for the Reds to build on their Champions League triumph and strengthen the depth of the squad.
No new incomings have arrived, although teenage centre-back Sepp van den Berg looks set to undergo a medical on Wednesday.
While that transfer may not create too much of a stir, the latest developments in a potential move for Pepe could create plenty of excitement.
The highly-rated Lille winger has been frequently linked with the European champions in recent weeks, as Jurgen Klopp looks to add more firepower to his attack.
Seen as one of Europe's most devastating wide men, the 24-year-old is currently on Africa Cup of Nations duty with the Ivory Coast.
While the €80 million-rated winger is no doubt focused on his country's hopes of glory in Egpyt, that hasn't stopped strong rumours circulating surrounding his future.
RMC Sport's Head of Football Mohamed Bouhafsi, seen as one of the most reliable sources for Ligue 1 related news, has told Get French Football News that "there are very concrete discussions with Liverpool."
He adds that Jurgen Klopp "adores" the player's profile, saying: "He brings a lot of speed and he is made to play in England, with quick transitions and an exceptional ability to counter-attack. Discussions have been had with Liverpool, who have a very profound interest."
This is a potentially significant development in the saga, suggesting Liverpool are in pole position to sign Pepe.
The Ivorian will leave Lille this summer, but there will be a tussle for his signature, with Bayern Munich also said to be interested in the 24-year-old.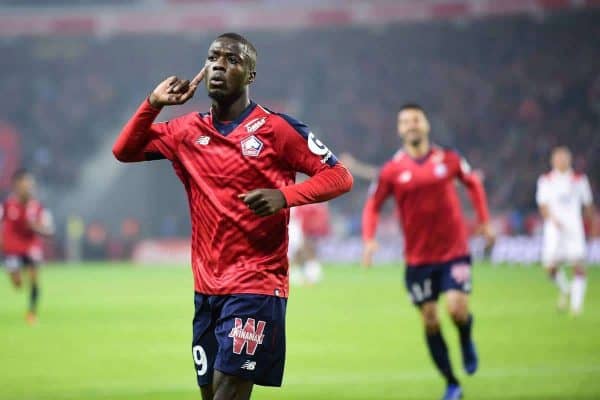 Bouhafsi was a reliable source last summer when Fabinho joined Liverpool from Monaco – a move that went completely under the radar after the Champions League final defeat to Real Madrid.
His latest remarks are to be taken seriously – arguably more so than the Merseyside media who have played down the likelihood of the move recently.
Pepe scored 23 goals in 41 appearances for Lille last season and could be seen as the perfect addition to Liverpool's attack, allowing him to dovetail with Mohamed Salah, Sadio Mane and Roberto Firmino.
UPDATE: ESPN's Melissa Reddy has said that Liverpool have called these claims "pure lies," writing that "The Premier League club insist no meetings or discussions of any sort have taken place for the 24-year-old, contrary to reports in France."
It is claimed that Michael Edwards has told Lille that Liverpool have "zero interest" in the player.