Jeff Goulding spoke to a number of supporters, writers and broadcasters to gauge their feelings after a large and vocal section of Liverpool supporters booed the national anthem at Wembley on Sunday.
'Please be upstanding for the national anthem,' boomed the stadium announcer at Wembley on Sunday. My son and I immediately sat down. It's what we have always done. We have no time for a song that calls upon an imaginary deity to save a woman who frankly does not need saving.
It doesn't speak to either of us, or address any of our concerns. Even if I believed that you need a song for a nation, this isn't it. It is a song for the monarchy.
Therefore, I fully expected to hear an attempt to drown it out with an especially loud rendition of You'll Never Walk Alone. That's what we've done at every cup final I've attended since the early 1980s.
Instead, what I heard was loud and sustained booing. I could be wrong, but this is new and it marks a significant hardening of attitudes amongst Reds toward the establishment. The reaction in the national media and amongst non-Liverpool supporters on social media was entirely predictable and spectacularly failed to ask the obvious question.
Why would the citizens of one of Britain's major cities feel such a disconnect with the country it resides in? Why does this not provoke introspection and soul searching on the part of the nation's media and opinion shapers?
Instead, what we have been greeted with is not an attempt at understanding, but ridicule, hostility and insults. All of which, of course, only strengthens the sense of otherness felt by so many in the city.
Origins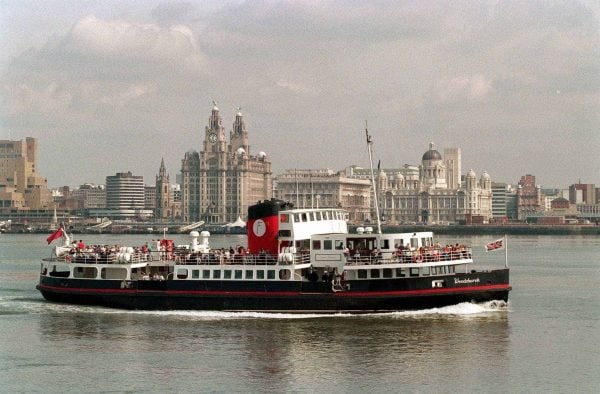 Liverpool's reputation for rebellion and contrariness goes back a long way. Longer than you may think. In 1911, during a transport strike, the then Home Secretary, Winston Churchill, dispatched a gunboat to the River Mersey with its arsenal trained on the city centre. Troops were sent onto the streets to disperse a huge demonstration at St Georges Hall and two young dock workers were shot dead in nearby Vauxhall Street.
In the aftermath of the demonstration and subsequent charge by the army, scores of people were treated for bayonet wounds. Later, in 1919, a police strike in the city led to weeks of unrest and fears among the establishment that Liverpool was to be the centre of a revolution.
However, historians and sociologists have sought to explain these incidents in the context of the time and place, understanding that social consciousness is determined by material conditions. This perhaps becomes evident when you look at the different ways the city's anti-establishment sentiments have found expression through the years.
Amidst the post-war optimism and swagger of the 60s, for example, Liverpool's exceptionalism found expression mostly in music and art. There was an irreverence to our culture that many found 'cheeky' and endearing.
When John Lennon invited those in the expensive seats (the Royal box) at a command performance, to 'rattle their jewellery,' he did so with an almost embarrassed and apologetic twinkle in his eye. The nation loved it, and laughed along. This was an acceptable form of insubordination, it seemed.
Views from afar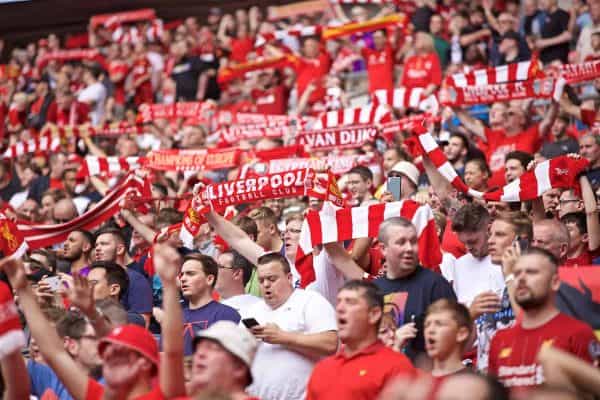 Move forward 20 years and you find that Liverpool has had enough of playing the game and dancing to someone else's tune.
The 1980s, which many in the city feel was epitomised by Thatcher's disdain for Liverpool and her desire to manage its decline, saw a distinct hardening of attitudes. Hillsborough solidified it, perhaps permanently, and it turned the city into a Tory-free zone.
On the evidence of Sunday, it would seem that after 10 years of austerity at the hands of successive Tory Prime Ministers, strengthen the idea that these attitudes are becoming more entrenched in Liverpool.
It's something many who are not steeped in the city's culture find difficult to understand. John Whitehead, a Liverpool supporter from Alcester in the Midlands told us:
"It's our national anthem, whether you like it or not. I wouldn't boo another country's national anthem, and so I didn't boo ours. I joined in with singing it, though I sort of get those from Liverpool booing it."
Move further afield and you find that those not steeped in Liverpool's distinct culture, find the act of booing the country's anthem difficult to understand. After all, isn't Liverpool part of England?
Rick Olivares, a sports journalist and Liverpool supporter from the Philippines told us:
"To be honest, I was surprised by the booing of the national anthem. Having lived in the United States, the Philippines, and Hong Kong, I have not seen anything like it. I cannot claim to understand the dynamic between Liverpool or even England as a whole – politics included. But, I still think it is disrespectful. Whatever the grievances, there are proper places to vent one's anger and frustrations."
And, Andy "Toggsy" James, an Australian broadcaster and Liverpool supporter was similarly surprised, saying:
"In Australia we boo the politicians that hand over trophies or are on stage for presentations. But we don't boo the anthem. We don't sing it as proud as some other countries, but it wouldn't go down well to boo it."
These are understandable sentiments, but when the issue is viewed from the perspective of people like Ian Salmon, it starts to become less clear cut. Ian is a Liverpool born writer and play-write. Although he'd rather drown out the national anthem with our own, rather than boo it, he can readily understand what drove thousand to do so:
"As a city we have been mistreated by the Tory party for decades. They have been happy to operate a policy of 'managed decline' over the city of Liverpool. We know that our home town exists in the manner that it does today due solely to the investment of European funding.
"We also know that the abuse we've taken as citizens of the city has increased exponentially in the last couple of years. The 'bin dippers' nonsense, the 'thieving Scouse bastards' rubbish. The rise of our club has seen this become more and more prevalent.
"The idea that so much of England wants to criticise us as people, as fans, as a football team but then want us in some way to show approval of the country as a whole? Ridiculous."
Ian also feels angered by the response of some in the media, most notably the Daily Mirror. The tabloid seemed to link the protest and the fact that the FA was launching a mental health awareness campaign, in order to suggest Liverpool supporters were being disrespectful to mental health charities.
"The reports that the Mirror decided to run, stating that Liverpool fans booed the national anthem in front of Prince William and on the day the FA launched a mental health charity are so ignorant of the real point that it's not even funny.
"We know about mental health issues. There are many of our fans who have suffered thirty years of Post Traumatic Stress Disorder. We do not and would not have not booed mental health charities. That the Mirror conflates that issue is appalling," says Ian.
Protest, not disrespect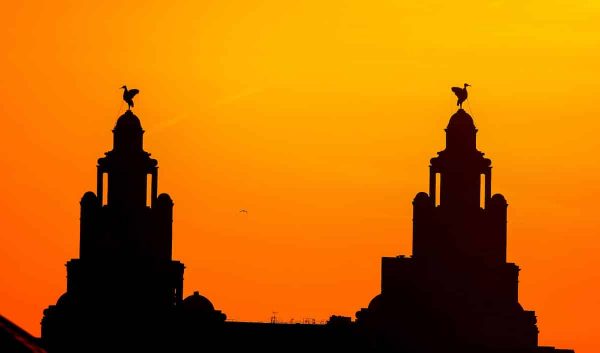 Many of the people I spoke to, particularly those born in Liverpool or Merseyside, shared Ian's belief that the booing was more about protest than disrespect and with an almost uncanny uniformity, they argued that Liverpool's treatment at the hands of the establishment is the driving force behind it.
"I have seen the hardship experienced by our region, and inflicted by the so-called establishment," said Graeme James Strain, a Red who has travelled the world following our club. "Modern-day Liverpool, in fact the entire North West of England, are ruled by people that don't want to understand us. This is the origin of our fury."
Another, Mathew Purchase, a writer for the Fields of Anfield Road website, and a regular on away days, told me that he has always felt Scouse rather than English and blamed "systematic failings on a consistent basis from the establishment," before adding, "These failings have damaged the City of Liverpool and its people."
John Thompson, a Liverpool born author and Reds supporter told me: "It's not just about booing the Queen or the Royal Family. It's about booing the establishment, the aristocracy and the landed gentry as a whole. My daughter attends Liverpool College, at every formal gathering or prize giving, usually in the big cathedral, they blast out the national anthem. I make a point of remaining sitting throughout, a silent booing, if you like.
"The list of reasons why our city and class should treat those I've mentioned above with nothing but disdain, is endless. And, when it feels that Liverpool is being dragged into being just another part of England, the booing of the national anthem fills me with a sense of pride. Wouldn't it be great if we lived in a country where we could be proud of our ruling classes instead of viewing them as the mortal enemies they are."
Dr Frank Carlyle, a Liverpool historian, writer and broadcaster feels the same way and feels the reaction of those outside of Liverpool shows a failure to understand the city's history. When asked why he thought Liverpool fans chose to boo the country's anthem, he was clear:
"It's because the national anthem represents the establishment to Liverpool supporters. The same establishment they've been fighting since 1989. They weren't necessarily voicing a personal viewpoint of the Queen herself. It's more about what she represents. I don't condone it. Nor will I condemn it."
Another Liverpool born author, Keith Salmon, agrees with Dr Carlyle's assertion that this wasn't aimed at specific Royals, telling us:
"It wasn't against "poor William." It was aimed at the establishment. The establishment that is selling the country down the river for their own means and now controlled by a man with a deep dislike of us.
"This is the same establishment who has done everything in their power to deny justice to decent people for over 30 years. We welcome everyone with open arms but still hear shouts of bin dippers, murderers and chants of 'always the victim'."
However, Tony Zeverona, a board member at City of Liverpool FC, feels that protesting the monarchy is legitimate, particularly as the song itself is so intrinsically linked with the Queen herself. He told This is Anfield that this was his motivation behind him joining in with the boos:
"I boo the national anthem because I refuse to doff my cap to Royalty. They are funded by the Sovereign Grant Which as a taxpayer I am totally against. The Queen and the extended Royal family are parasites.
"I am totally against the establishment that the Queen sits on top of, from Churchill sending troops into Liverpool to put down a strike in 1911 and Thatchers government systematically trying to break us as a city. That's why our political stance is firmly to the left with deeply embedded socialist values."
John Stulberg and Keith William, season ticket holders in the Kop and Kenny Dalglish Stand agree, suggesting that the anthem itself is the problem. Keith argues that is not an anthem for the nation, rather for one woman.
For John, the monarchy itself is an issue and he cannot support a song that glorifies the "privileged few."
Joe, a charity worker from Liverpool, has seen first hand the damage inflicted by the government's deliberate policy of austerity, which has disproportionately affected working-class city's like Liverpool. He feels the episode is a potent reminder of the disconnect the people have with the rest of the country, and points out the inherent hypocrisy of some critics.
"It's another reminder of the stark disconnect many I know feel about the idea of nationhood and 'being English.' I also always find it notable that its always the same people who claim there's no free speech, or who say politics should be kept out of football, who demand people stand for the national anthem."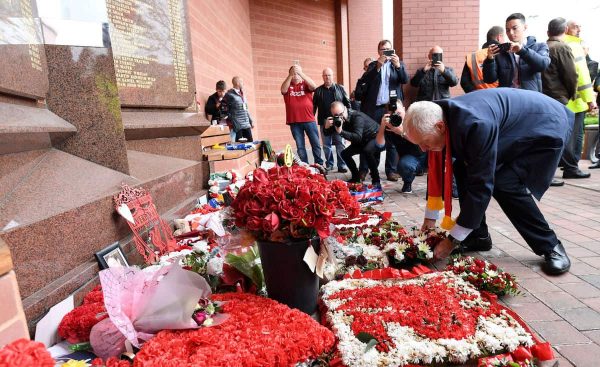 Ray Carrick, a Trade Unionist who is retired from the Ambulance Service, also suggests the anthem itself is problematic to many people in Liverpool.
"I think for some people it represents Royalty, the ruling class and the establishment. That doesn't sit well with many in a working-class city like Liverpool.
"It might be different if we had an anthem like France's Marseillaise, which has its roots in a struggle of the people. Also it's not England's anthem it's Britain's.
"To a lesser extent it may be due in some part to Liverpool having a large following from Ireland. For some of them its the anthem of the historical oppressor."
Of course, Liverpool FC's large Irish support may well be a factor, but those in the Unionist community, for example, may have found booing the national anthem to be problematic, even insulting.
However, Liverpool's history of immigration from Ireland may well be significant. Many in the city can trace their ancestry back to those fleeing what some argue was a 'man-made famine' exacerbated by the indifference and even conscious cruelty of the British Empire.
These attitudes are deeply ingrained in families and passed down through generations. This may be, at least in part, what drives the city's passion for social justice and deep sense of community.
Whatever the reasons are, author Steven Scragg feels the antipathy of Liverpool fans towards the national anthem is nothing new. He also has sympathy for what he sees as the right of all football supporters to legitimate protest:
"I've never done it myself, but that isn't out of any latent patriotism. I'm simply not a 'boo-er' of things, whether that is former players who left under a cloud, or what is essentially a dirge of a national anthem.
"I understand it being booed, I have no problem with it being booed. It's not like we actually live during an era where you can feel proud of the country Liverpool happens to reside in.
It is by and large a global joke of a nation. Neglected, left to rot, constantly criticised, told to shut up and toe the line, and that isn't something that is exclusively a Liverpool thing, I think football fans from most cities north of Birmingham have a valid right to boo the national anthem. I think football fans everywhere have valid right to freedom of protest."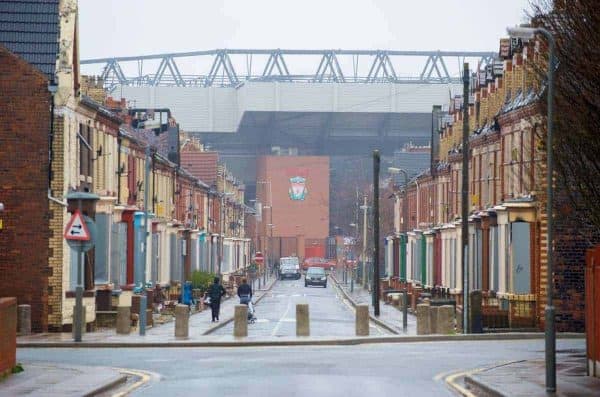 This is a viewpoint echoed by Gary Judge, an Evertonian and a broadcaster from the Across the Park podcast.
"As a Scouser and a Blue, I certainly feel closer to Liverpool fans on this issue than I do the rest of the country. I don't know many Evertonians who would go out of their way to sing the national anthem. But, I'm not sure we'd boo it either. The general stance of the government towards Liverpool, historically, has been a lack of respect and value for our city.
"I personally back the Liverpool fans for making their feelings known on the most public of stage."
Paul Coppell, an Evertonian born in the city but who now lives in the Isle of Mann, understands Liverpool's anti-establishment tendency. However, he does feel that booing the anthem was a step too far:
"Anyone who knows anything about the history of Liverpool, will totally understand the anti-establishment perspective. There are so many issues, from the Dockers, Hillsborough, Thatcher, the 'Northern Powerhouse' to the north-south divide. But, in my mind, I think there would have been far better ways to voice anti-establishment views.
"As a son of Liverpool, I think they should be ashamed of these actions. They simply don't reflect well on our city and allow the gutter press to continue with their agenda. Maybe there was something more to it than is being reported, I hope so."
The furore will eventually die down, as the media circus moves on to another town. But, Liverpool's spirit and defiance and its anti-establishment tendencies are unlikely to recede soon. It is a historic characteristic of the city.
I am reminded of an episode from my own life. It occurred somewhere in the post-Hillsborough landscape. I can't remember the actual game or date, but there was a service on the pitch before a game. It may have been to commemorate an anniversary and probably an early one.
I recall a Bishop and choir positioned pitch-side and then us being invited to join in a rendition of the hymn 'Abide with me.' The Kop refused to join in, and instead roared out our own anthem, You'll never walk alone.
There was no committee meeting or discussion. No conversations about whether it was the right thing to do. Instead, it was a spontaneous act. It just felt right, and that anthem felt far more appropriate than any religious song, in that moment.
When I got home, I was surprised at my Dad's reaction. He was angry and told me we had been disrespectful. I genuinely couldn't understand his point of view.
"Dad," I said, "that hymn they were singing, it just isn't our song. We pay our respects by singing our song, not someone else's."
As I reflect on what happened on Sunday, I find those words resonate still today. As a born and bred Scouser, the national anthem is not our song. I'd rather sing our song.