Liverpool are claimed to be among seven clubs negotiating the transfer of Germany international Kai Havertz for next summer.
Havertz, a 20-year-old midfielder, is a player Liverpool are understood to have a long-standing interest in.
And that interest is understandable given the player's vast potential – a creative, two-footed midfielder standing at 6'1″ tall and excellent on the ball and with a keen eye for goal. He is already a top-level talent, with world-class potential for the future.
He has three goals and one assist in his 16 appearances for Bayer Leverkusen this season, having scored 20 and set up seven last season in an extremely impressive campaign which saw him operate primarily as an attacking midfielder.
A physically robust player with no injury track record, Havertz appears to tick many boxes in a potential new signing for Jurgen Klopp's side.
And according to German newspaper Bild, the Reds are among seven clubs negotiating a €130 million transfer for the player at the end of the season.
The other clubs said to be interested are named as Chelsea, Manchester United, Manchester City, Bayern Munich, Barcelona and Real Madrid.
Speaking recently, Havertz hinted at a move away from the Bundesliga, saying he felt capable of being able to play in either the Premier League or La Liga.
"I think I've picked up enough international experience at Leverkusen," he said. "I know the rhythm of these international matches and I'm confident that I can go abroad at any moment and play at clubs outside of Germany.
"For the moment, I want to have a good season. Afterwards, we'll see."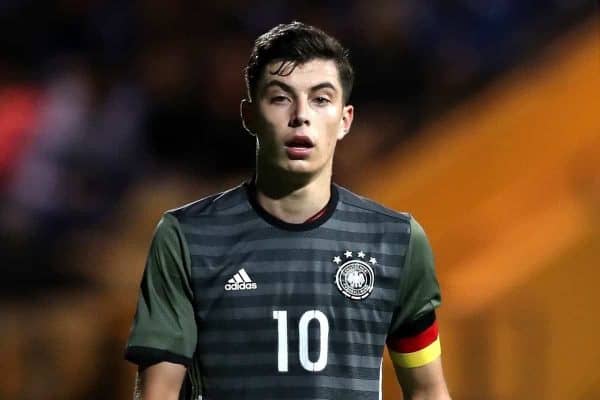 Last summer Liverpool were similarly linked with interest in the player, with it then claimed that Havertz had ruled out a move to Italy, with England or Spain his preferred destination.
Capped seven times by Germany, scoring once, Havertz's next move will see him among Europe's elite.
The reported asking price would smash Liverpool's current record signing fee of £75 million on Virgil van Dijk, but after 2019 saw just £1.3 million spent and over £40 million recouped by the European Champions, funds are certainly there for a big signing at Anfield next summer.
Liverpool are widely speculated to be seeking a big signing to coincide with the new Nike kit deal, with Jadon Sancho also rumoured to be interesting the Merseysiders.