Liverpool and Chelsea played out a drab 0-0 draw at Anfield on Saturday lunchtime, with fans disheartened by another below par performance from the Reds.
Jurgen Klopp's side have now kept two clean sheets on the bounce, but are still awaiting their first league win of 2023.
It was a game with very few clear cut opportunities, with Kai Havertz seeing his early strike disallowed for offside.
Another game, another performance that left Liverpool's supporters underwhelmed, with the Reds' chances of making the top four looking as slim as ever.
Elliott out of position?

Liverpool's attack lined up with Harvey Elliott positioned on the left side of the attack, with Mo Salah on the right and Cody Gakpo central.
Fans weren't convinced by Elliott's suitability for that role, with the obvious solution to switch him to the right, where he impressed against Wolves on Tuesday:
Harvey doesn't understand yet how to play left side forward well. Just the angles, body position, finding space, opening up body, can't dribble infield on left foot. All of our attacks so far have been on right side.

— Red (@TaintlessRed) January 21, 2023
All very flat so far. Liverpool looking so nervy.
Would surely make more sense to have Elliott on the right, Gakpo left and put Salah through the middle.

— James Pearce (@JamesPearceLFC) January 21, 2023
Mad how we've signed 827 left-sided attackers yet we're using Elliott there today.

— Sam McGuire (@SamMcGuire90) January 21, 2023
Man do I miss Jota & Diaz. That left side is just…

— Hari Sethi (@Hari_Sethi) January 21, 2023
Elliott (left image) played more PL minutes on the left in the first half than in this prior career. Gakpo (right image) has predominantly played that side.

Salah is Salah but he's potent when played centrally. The position choices today seem odd. pic.twitter.com/0gAOA6qAUY

— Andrew Beasley (@BassTunedToRed) January 21, 2023
Feels like the balance of this front three is way off. Elliott right, Gakpo left and Salah through the middle would surely make more sense.

— Joel Rabinowitz (@joel_archie) January 21, 2023
A poor, poor game of football

As goalless draws go, this was about as dull as it could get:
Now 375 minutes of football since a goal was scored in a meeting between LFC and Chelsea.

— James Pearce (@JamesPearceLFC) January 21, 2023
Exactly what you'd expect 9th against 10th in the Premier League to look like.

— Keifer MacDonald (@KeiferMacD) January 21, 2023
This has been a pretty dreadful game, quality wise.

— Neil Jones (@neiljonesgoal) January 21, 2023
A hideous game. Will forget it ever even existed in no time.

— Henry Jackson (@HenryJackson87) January 21, 2023
Not a classic #LIVCHE. Thiago Silva masterclass in seeing off pace. Mudryk skill and speed will bring plenty of threat to #CFC left. Robertson drive for #LFC. Otherwise poor game compared to many previous meetings.

— Henry Winter (@henrywinter) January 21, 2023
These teams played out two engrossing, high-quality 0-0 draws last season – but this was so far from that. Chelsea might hope their incredible spending can get them back there quickly but Liverpool are surely now just waiting for their injuries to ease for any improvement.

— David Lynch (@dmlynchlfc) January 21, 2023
Shadow of the Liverpool team we know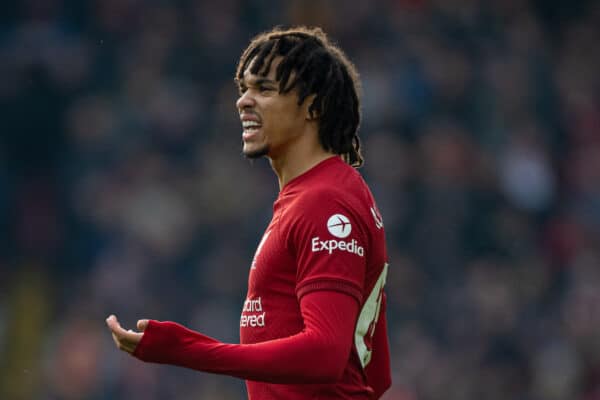 It's hard to not feel disappointed by what we're seeing from Liverpool right now.
This, a team that were two games away from a clean sweep of honours last season.
Disjointed, again. At times there are good moments of football but they are a rarity, whereas in the past there were moments of sloppiness. Now it's sloppy football with the odd good moment.

— DaveOCKOP (@DaveOCKOP) January 21, 2023
That was the performance of a side low on confidence and fit players. Thought that Bajcetic battled hard until he tired. Someone to build on. Team functions completely differently with Nunez on pitch.

— Paul Grech (@paul_grech) January 21, 2023
Watching Liverpool just lump the ball into the box feels so wrong.

— Leanne Prescott (@_lfcleanne) January 21, 2023

https://twitter.com/AttackoftheKop/status/1616803897728962560

I miss the days of us being able to control and dictate a game. Frustrating that. #LFC

— Dan Roach (@DanielRoachLFC) January 21, 2023
Just not pleasant on the eye anymore.

— LFCZA ?? (@LFCZA) January 21, 2023
One Liverpool player has scored a goal in the last four league games. Oxlade-Chamberlain.

— Joel Rabinowitz (@joel_archie) January 21, 2023
---
Klopp made the decision to trust the same midfield three that impressed in Tuesday's FA Cup win at Wolves.
And although his side showed more fight than they did in last weekend's embarrassing defeat at Brighton, this was another clear example of how far away Liverpool are from the heights they have reached in recent years.
Next up, another trip to Brighton in the FA Cup fourth round next Sunday. Improvements needed, fast…