James Milner has long been linked with making a return to his boyhood club Leeds, but in the mind of their manager, Jesse Marsch, that would be taking the "easy" option.
Milner started his professional career with Leeds in 2002, making his debut at just 16 before going on to play for five other clubs over the course of 21 years.
The 37-year-old is out of contract at Liverpool in the summer after signing a one-year deal in 2022, and his future remains uncertain – although Jurgen Klopp recently said he "wants to keep playing."
A return to Leeds, though, is unlikely to be on the cards despite suggestions in the past that it could be an avenue for the two parties to explore, with Marsch explaining the Whites are trying to be "braver" in their player acquisitions.
"We've built this [squad] with young players," Marsch told reporters.
"We haven't gone out one time and gotten an experienced, 30-year-old Premier League player because a lot of what we're trying to do is build a process where we're going to get stronger and stronger.

"We're not just building a squad for right now, but for the development of what we want this club to become, which we think is the right strategy.
"It would have been easy along the way to bring James Milner back or try to do some things like this to bring in Premier League experience or veteran players that understand the league.
"In some ways, it's a little bit braver where we're at and in what we're doing.
"You could say risky, but we believe in believing a process where we're going to pick up some good, young players, get them at a price where it still makes sense within our budget.
"Help them to become Premier League stars, help them take the next step in their careers and, in the process, build this club to get bigger and stronger."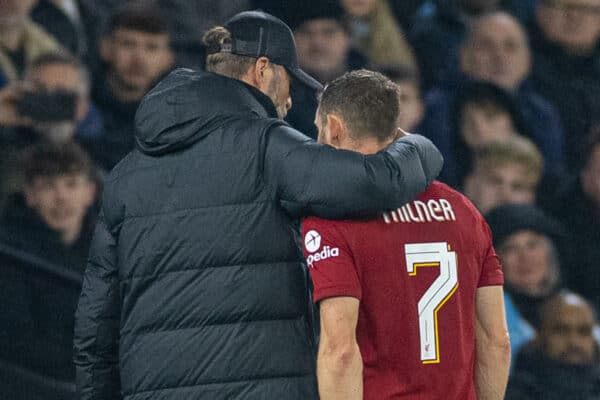 Marsh did not identify an exact time in which Leeds could have pursued or discussed a move for Milner, but the end of last season would appear as the likeliest timeline.
Instead, Milner signed a one-year deal with Liverpool and has since made the ninth-most appearances of any player under Klopp this season, turned to 24 times for a total of 841 minutes.
A move into coaching would not come as a surprise, though, with Milner currently working his way up the coaching pyramid, getting his badges and spending time at Liverpool's academy.