Julian Ward will leave Liverpool at the end of the season after resigning from his job as sporting director, and will now join a new club in Europe.
It is arguably the biggest appointment the club need to land in the coming months, either on or off the pitch, with a new sporting director of paramount importance.
Four months on from the news of Ward's resignation, however, there appears to have been no movement when it comes to finding his successor.
Work will be going on behind the scenes, of course, but links with Monaco's Paul Mitchell and Eintracht Frankfurt's Markus Krosche have already been quashed, along with claims of interest in ex-Dortmund chief scout Sven Mislintat.
There have even been suggestions that Dave Fallows, currently Liverpool's chief scout, could be promoted to a role that oversees all incomings and outgoings.
But while there has been no clarification at this stage – with only two-and-a-half months until the transfer window opens – Ward has "sealed a deal" to join Ajax.
That is according to the Mirror's Simon Mullock, who claims that Ward has agreed to join the Dutch club after "a breakthrough over financial terms" in talks with chief executive Edwin van der Sar.
His first day in the job, it is reported, will be July 1.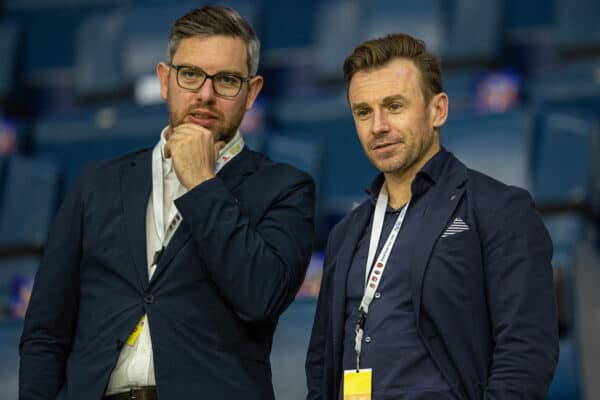 This news comes after almost six weeks of speculation over a move to Ajax, with Ward also attracting interest from OGC Nice in France.
While there is said to be a non-compete clause in his contract with Liverpool to avoid an immediate move to a Premier League rival, that does not apply to clubs outside of England.
Dutch journalist Mike Verweij did tell De Telegraaf's Kick-Off podcast on Friday that Ward's salary remained an issue in talks, but Mullock's update suggests that obstacle has now been overcome.
It will certainly be an interesting job for Ward – who has previously worked in Portugal, Spain and South America – with Ajax's squad in constant evolution.
But where it leaves Liverpool is unclear, with the role of sporting director a vital one when it comes to talks over signings, sales and new contracts.
Heading into the summer without a replacement for Ward in place, at a time when Jurgen Klopp's squad is in desperate need of a rebuild, could be costly.