It was a frustrating end to Liverpool's winning run as they were held to a 1-1 draw against Aston Villa in Anfield's curtain-closer.
Jacob Ramsey's strike inside half an hour came shortly after Ollie Watkins squandered an opportunity to put Unai Emery's side ahead from the penalty spot.
The Reds nicked a late equaliser and it couldn't have come from anyone else, could it?
Roberto Firmino capped his Anfield farewell by steering home a delightful Mohamed Salah ball shortly before injury time to secure a point.
Adam Beattie (@beatts94), Jack Gill (@jacklfcgill) and Morgan O'Sullivan are here for a debrief of the campaign's last home encounter.
A frustrating end to the winning streak, what went wrong from Liverpool's point of view?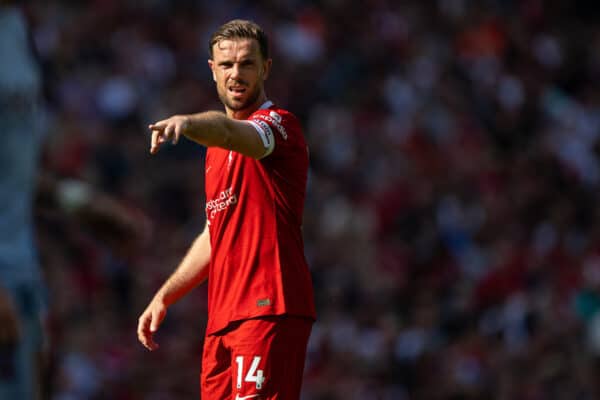 MORGAN: At the end of the day, we played well enough to secure the win.
There was a goal disallowed, a penalty denied by VAR and a sending-off for that never happened.
We lacked an end product and, while we have plenty of riches up front, part of me still thinks we need an out-and-out striker to put the ball in the net.
Hopefully, after another pre-season, Nunez can become that person for us.
ADAM: I think a huge part of our recent form has been Trent's brilliance and he was just off it unfortunately.
We'll come on to the time-wasting but we made it a lot easier for Emiliano Martinez by delivering balls that were too comfortable for him, it made for an infuriating second half.
Gamesmanship aside Villa do look like a well-oiled machine under Emery and it will be interesting to see how far he can take them when he gets a pre-season under his belt.
JACK: Yes, extremely frustrating. I think, in a way, our final home game of the season perfectly encapsulated Liverpool's season as a whole.
The way Villa played and the time-wasting was extremely frustrating too, much like the season as a whole.
Throughout the game, nothing seemed to go our way at all and it seemed like another one of those games that we've seen far too frequently this season.
Would you have done anything differently if you were in Jurgen Klopp's shoes?

JACK: That's a difficult one. We always struggle against teams that do what Villa did and a poor performance from us made the game much more annoying.
In truth, the manager and his team should have seen it coming. Villa have been notorious for it since Emery took over have had more bookings for it than any other Premier League team this season.
We needed to start quickly and we didn't. A poor start allowed Villa to go ahead and then do what they do best by being an annoying, pain in the arse and frustrating the s**t out of us.
MORGAN: There is not much Jurgen could have done differently, if I'm honest.
He brought on Jota and had to bring on Firmino and Milner. Diaz could have stayed on, but Matty Cash had the better of him all day.
ADAM: He has come in for a bit of stick for his substitutions this season, but I agree that sometimes there is only so much you can do and ultimately we did bring on the man who got the equaliser.
Luis Diaz struggled but an injury like that is always going to be tough to fully come back from, I've got no doubts that he will be back to his best come August.
We also don't know how much of an influence Klopp can actually have from the stands!
We've seen some shocking refereeing performances this season, was that the worst of the bunch?

ADAM: Truly awful. He just couldn't get a grip on the game at all and if we take recency bias out I'd still have it comfortably in the top three.
I do genuinely believe he got close to sending Martinez off towards the end judging from his body language, which would have been a great statement to make
It even felt as though some of the fouls and decisions given in our favour were questionable, shocking on both sides of the coin.
JACK: I'm not sure if it was the worst, we've had that many bad ones, but it was certainly up there.
The Mings foul on Gakpo is disgraceful. Granted, we got away with one of those against Spurs ourselves but we are all in agreement that Jota probably should've been sent off for that. Mings' challenge was much worse.
The offside decision is baffling as well. How on earth people can say that it isn't a genuine attempt to play the ball is honestly beyond belief, let alone people that are paid to officiate the best league in the world.
The only thing I can give him credit for is the lengthy stoppage time he gave in both halves, but in truth, there probably should've been even more than ten minutes added at the end.
MORGAN: There were so many issues and it is hard to think of a worse example. Until someone is actually sent off, the play-acting is here to stay.
While Mings should have been sent off for taking out Gapko, I am still trying to figure out the disallowed goal as Jack mentioned and I cannot understand why two referees with the benefit of replays did not give Jordan Henderson a penalty.
VAR is a great tool that has been derided. It is the failure of the referees to use it properly that is causing the issues.
Who stood out for the Reds?

MORGAN: The players really tried and you cannot doubt their effort, but for too many things just did not click or come off.
The goal itself was produced from a piece of magic from Salah. Trent did well in midfield, but some of his passing just did not work.
Ultimately the day belonged to our No. 9 and it will take a big man to step up and wear that jersey next season.
ADAM: I'd probably have to go with Alisson, which is a bit worrying!
The Ramsey goal was taken well but aside from that he was every inch the goalkeeper that we arguably sometimes take for granted.
Virgil looked superb as well. He has had his fair share of critics this season but he dealt with the threat of Villa all day without putting a foot wrong.
JACK: I'll talk about him more in a second, but Bobby Firmino with another important goal for LFC and a good performance from the bench stood out for me.
Alisson, our player of the season, produced yet another fantastic performance as Adam mentioned.
Likewise with Van Dijk. In this new system, he has looked a lot better. He was dominant in the air and just produced a reliable performance all-round, despite the scoreline.
Lastly, a word on our departing players.

MORGAN: It felt like the end of an era. Milner and Firmino leaving will have brought tears to all watching.
It seemed written in the stars that Firmino would score, and the only surprising factor was that James Milner did not get to set him up.
Oxlade-Chamberlain leaves with memories of what could have been and Naby Keita will also move on with injuries truly robbing him of his potential.
The reality is that all four played a role in bringing the title back to Anfield and for that, they will forever be remembered.
JACK: Wow. Where do I start? It was an emotional one, that's for sure.
I'll start with my absolute favourite player of the Klopp era. Bobby is an exceptional footballer, one of the most underrated players the Premier League has seen.
I'm going to miss that contagious smile in a red shirt, those no-look goals and Karate Kicks. It's not too late to change your mind, Bobby!
Milner is going to be a massive miss too. We've lost a leader, a winner and a professional that is hard to come by in the modern game.
Naby and Ox leave the club after an incredibly tough last couple of years, where their injuries have frustrated many.
It signalled an end of a glorious era. Thank you Bobby, Millie, Ox and Naby for everything!
ADAM: There's not much more I can add to that, you've both summed it up perfectly!
I'm struggling to think of another current player who would get a reception quite like that one. Bobby might be the most popular player of the Klopp era and it would perhaps take only Klopp himself to outdo what we saw there.