Alexis Mac Allister has already had a taste of what Anfield has to offer, but he cannot wait to play with the "Boca Juniors of England," with the Liverbird upon his chest.
The Argentine became the club's first signing of the summer last week for a bargain fee reported to be as low as £35 million – hopefully, it is a sign of things to come!
Mac Allister will soon get a taste of what is like to have the support of Liverpool fans rather than come up against them, but he already has a sense of what is in store.
And it is a lot like Boca Juniors, who he played 20 times for in 2019 – a club revered as having one of football's most intimidating stadiums, La Bombonera.
It is an imposing sight and experience, with Boca oozing passion for the club they hold dear. It is just the same at Liverpool and Mac Allister "can't wait" to experience it.
"I had to play twice at Anfield and any player you talk to tells you that it's crazy how people encourage. Within England, [it] is the closest thing to the people of Boca," Mac Allister told ESPN Argentina.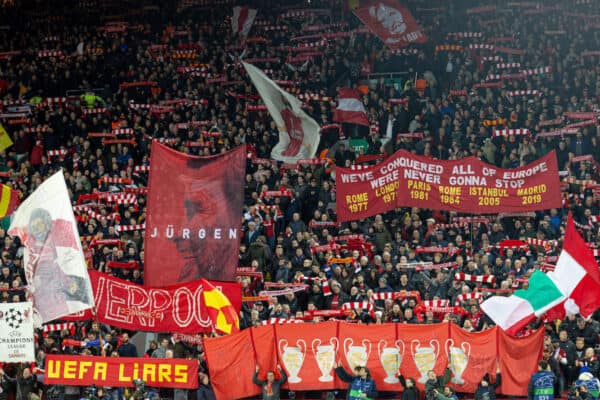 "That also counts and is very important. That's why I said that Liverpool is the Boca [Juniors] of England. I can't wait to play there.
"I want to make the most of this opportunity. To arrive [at] one of the biggest clubs in the world and the biggest in England is a great joy and a dream for me.
"I feel that joining Liverpool was the right step for me to take, not just because of the present but because of the history that it has and the passion that it transmits."
We can think of much worse comparisons to make!
Anfield is a sight to behold and it can be an unforgiving and unrelenting cauldron, let's hope more often than not next season.
While Mac Allister has played at Anfield two times as a member of the opposition, his next outing will be as a Red and in front of 61,000 fans after the Anfield Road expansion.
A sea of red awaits and let's hope that also includes ribbons on silverware come the backend of 2023/24, a desire that Jurgen Klopp made abundantly clear in his talks with the new No. 10.
"I had the opportunity to speak with him [Klopp]," Mac Allister said of his new boss. "It was one of the most important reasons why I took the decision so early in the transfer window.
"I saw his desire to have me and his desire to continue to win titles for the club, so for me, it was very important.
"We spoke about football, his vision and his wish that the club continues to grow and wins championships."