Fabinho was one of only eight senior players back for the first day of pre-season but he is already looking ahead to helping Liverpool's two new signings settle in.
It has been a summer of change at Anfield with four senior players leaving at the end of their contracts and two new signings already completed.
There is still a job for Liverpool to do in the transfer window and the hope is they will tick all the boxes they need to right the wrongs of last season.
For now, though, Alexis Mac Allister and Dominik Szoboszlai will arrive on Tuesday for their first day at the club.
Fabinho is eager to help the duo settle in and adjust as quickly as possible, but the Brazilian knows the qualities the pair will bring having played against both during his time at Anfield.
"At the moment, Mac Allister and Szoboszlai have arrived," Fabinho said of Liverpool's changes to LFCTV. "I didn't see them yet, they have a couple more days of holidays.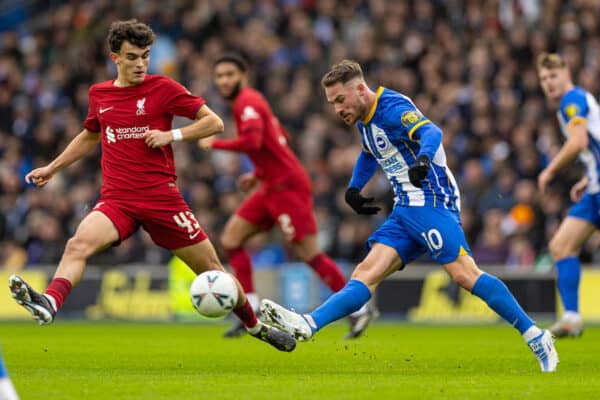 "We just hope that they will be ready to be with us. We will help them in the adaptation and hope they will be ready and get the ideas of the team as quick as possible.
"We lost, I think, three midfield players that were really important for us in the last maybe five, six years," he explained. "It's good to bring some good players in that position because we will need [them].
"In the way we play, the intensity we play, we always need not just three or four but maybe six players in this position [in the squad].
"So yes, it's good to have these two players with us now. We played against them already, so we know how good they are. It's good to have them on the team."
Fabinho is not the only one to note the required level of depth Liverpool need in midfield having seen injuries rob Klopp of options and form fluctuate far too often.
The Reds are still being linked to Southampton's Romeo Lavia but his price tag sits in the region of £50 million and no decisive move has been made by the club as of yet.
For now, Klopp will be delighted that he has both Mac Allister and Szoboszlai from the earliest possible opportunity in pre-season. Let's hope they will be joined by another new signing before long.