Jordan Henderson's potential move to Saudi Arabia has certainly become a major talking point for Liverpool supporters, for a host of reasons.
Henderson is said to be considering a move to join Steven Gerrard's Al Ettifaq, with a quadrupling of his current wages claimed to be on offer.
The 33-year-old midfielder has two years left on his Liverpool contract and it is claimed that he will hold talks with Jurgen Klopp on Thursday.
For supporters, there's a lot to discuss; from Henderson's diminishing role in the team itself, the potential for new signings if he does leave, the life-changing money involved, his legacy at Liverpool, and the potential hypocrisy after him being such a supporter of the LGBTQ+ community.
Ideally Henderson would now fulfill the role Milner previously occupied. Not a regular starter, but offering experience/leadership on- and off-pitch. It's unfortunate that the failure to fully rebuild a midfield has helped create a situation in which he can argue for more. #lfc

— Dave Phillips (@lovefutebol) July 13, 2023
£140M *net of tax*. He might have made £40m net so far in his 14 year professional career.

— Robert (@whelfam) July 12, 2023
So many takes on the Henderson story. Personally would love him to stay. But money on offer is unreal. £36 million a year sets him and his kids up for life.

— Paul Grech (@paul_grech) July 13, 2023
He has given everything to the club, if he ends up leaving then I wish him all the best in his next adventure — Jieskosam in the comments
If Liverpool are going to get good money for Henderson at 33, then there is defo a discussion to have. He's won it all, he's been a brilliant captain, love him.

I then think maybe signing a 19yr old like Lavia with 29 PL apps makes less sense now – aim for a tier up, more exp?

— Craig Hannan (@C_Hannan7) July 12, 2023
The vice-captain and captain leaving in the same window isn't favourable. But Jordan Henderson leaving will clear up the wage bill and help bring in midfield reinforcements. The Captain who won us everything deserves a payday and to leave with his head held high. #LFC pic.twitter.com/GyVBMFabgY

— Zubin Daver (@zubinofficial) July 13, 2023
Where do you even start with this man?

Jordan Henderson has had some 12 year career at #LFC. Lots of downs but, they came with plenty of ups. A serious leader & born-winner, lifted everything possible.

If he leaves, he leaves a legend.

Thankyou Skip!

? ? ? ? ? pic.twitter.com/WftZJSxg0j

— ??????? ?????? (@AnfieldEffect) July 13, 2023
Would not begrudge Hendo leaving. He's a Liverpool legend, despite all the criticism about his technical ability throughout his career, he have won all that can be won except the Europa League which ironically he have the chance to win this season if he stayed.

The big paydays like this don't come for everyone all the time; When China was at it, it only lasted a season or two. He have the opportunity to enjoy first mover advantage, take it with both hands.

As for Stevie, I actually think that since his team is not one of those under the government, challenging or winning the title would actually be a boost for his managerial reputation. Xavi also came from the Qatar league to Barcelona and won La Liga, stepping down to take two steps back up, whilst filling your pocket, win-win — Red Dagger in the comments
Will be interesting rest of the week as we find out if Henderson takes the massive pay bump opportunity. If he does go Khephren Thuram, Manu Kone, Lavia all become part of options again & all three have prior ground work established. Other HG options may come into play too

— Moby (@Mobyhaque1) July 13, 2023
If Jordan Henderson leaves Liverpool this summer, the loss of the captain, James Milner, Roberto Firmino, Naby Keita and Alex Oxlade-Chamberlain will reduce the wage bill by over £50m in 23/24 (though that will be partly offset by wages for incomings plus new deals).

— Mo Chatra (@MoChatra) July 12, 2023
Makes sense for all parties; he gets a huge final payday and the club gets to move on to a new younger midfield.
Many will say that we need his leadership in the dressing room. Well, i always refer to city. Didnt hesitate to lose these leaders when age caught up; Milner, Kompany, Fernandinho, Aguero…etc. Even Arsenal don't mind xhaka leaving….
Henderson is and has been declining rapidly…forget sentiment and let him leave. — kuterazor in the comments
A key factor #LFC would genuinely need to consider if Jordan Henderson were to leave is the homegrown quota.

He's 1 of just 5 likely to be registered as part of the first team. To name a full 25-man squad there must be at least 8.

Would leave Kelleher, Gomez, Trent and Jones.

— Jack Lusby (@LusbyJack) July 12, 2023
Many highlighted Henderson's role as an ambassador for LGBT rights, with homosexuality illegal in Saudi Arabia: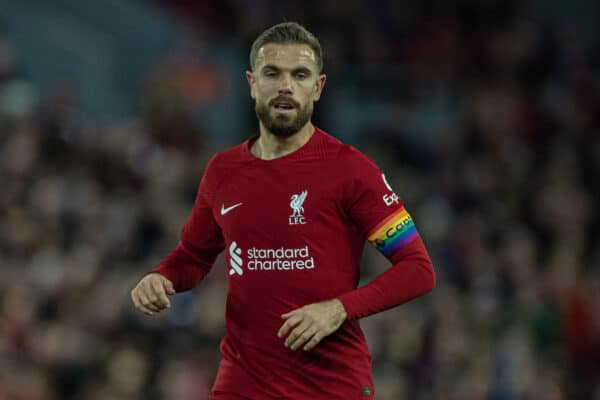 Jordan Henderson in 2021…

Via: https://t.co/MicI3m087W pic.twitter.com/iT69R7YOiO

— David Comerford (@Dave_Comerford) July 12, 2023
Instantly tarnishes his socially progressive reputation, we still need him in the squad (imo) and he doesn't even need the money.

Would be a thoroughly depressing transfer all around. https://t.co/V2YyLJzUzi

— David (@FourNaanJeremy) July 13, 2023
I'll be heart-broken if this happens. I can't even begin to imagine how LGBTQ+ fans, for whom Jordan Henderson has been a terrific role model, would feel. So terribly depressing. https://t.co/xYTEYFV06w

— And Could He Play (@andcouldheplay7) July 12, 2023
Players don't really get criticised for club choices etc as it's short career and, amid all state expansion, Saudi growing their own league is the most legitimate

But it is still part of a political project and Henderson has been one of the most socially conscious footballers

— Miguel Delaney (@MiguelDelaney) July 12, 2023
Shocked by the Henderson news. Firstly, you don't think he'd be the type to head to Saudi, particularly given his support of the LGBTQ+ community but also a desire to make the Euros squad. Secondly, are LFC really prepared to lose their captain and vice-captain in one summer?

— Aaron Cutler (@aaron_cutler) July 13, 2023
Still think Henderson rejects it and comes out with "I would never play football in a country which doesn't take care of LGBTQ+ rights." pic.twitter.com/vvXrjBTvOa

— Watch LFC (@Watch_LFC) July 12, 2023
---
Let us know how you feel about the possibility of Henderson joining Gerrard in Saudi Arabia in the comments.