Virgil van Dijk has admitted he can understand why Liverpool fans might be apprehensive about the new season following a summer of uncertainty at Anfield.
But the Dutchman insists he is embracing the challenge of leading a new-look squad in their bid to restore the usual high standards seen under Jurgen Klopp.
With no trophies secured and qualification for the Champions League missed, the 2022/23 campaign was a disastrous one for the Reds.
And that disappointment has been followed by an exodus of stars who played a key role in recent successes, Jordan Henderson, Fabinho, James Milner, Naby Keita and Alex Oxlade-Chamberlain all departing.
With just two additions made so far in Alexis Mac Allister and Dominik Szoboszlai, supporters are understandably anxious that another difficult season could well await.
However, new club captain Van Dijk is staying positive and says he is excited by the opportunity provided by the loss of several important figures.
Asked about the fear gripping the fanbase, he replied: "Yeah, I can definitely understand it in some ways. But I'm not a very negative person, so obviously it's not in my mind to think like that.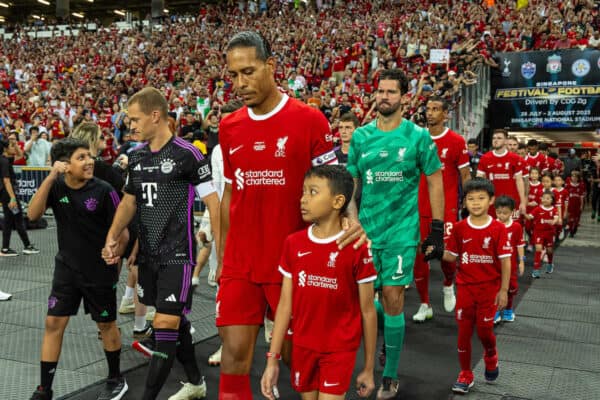 "But obviously when a lot of players are leaving, when your captain is leaving, your vice-captain is leaving, and at the moment there are only two incomings.
"And the way we have been playing, in possession really good, but defensively when you concede goals it's not as good, so I can understand some people having doubts.
"But the most important thing as we've seen over the years is the consistency, as a group, everyone in the squad, let's see if more players are coming in, and then we have to be ready again for a long season.
"It will be very tough if we look at the teams around us, but we want to be up there again, we want to be challenging again, and the only way to do it is with the consistency that we've shown over the previous years, apart from last year which was very disappointing.
"We have to be confident, we should be confident and we should still be learning each and every day. There have been characters leaving, players who have played a big part in the success, but others have to step up.
"That's a nice challenge in my opinion. We should be excited. I'm very excited, so let's give it a go."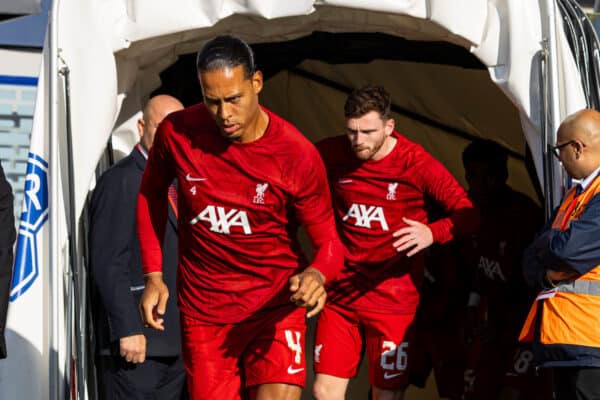 Supporters' nerves might well have been eased had Liverpool looked slightly more defensively solid during the pre-season period.
Van Dijk conceded that is an area he and his teammates must work on, revealing that meetings focusing on defending better have recently been held at Kirkby.
He continued: "Defending and attacking you do altogether. If you watch it very black and white then obviously when you concede goals it is the defenders or the goalkeeper's fault.
"But the way in which we conceded the last couple of goals, the balls in behind were not defended well and we discussed that.
"Especially yesterday and the day before we had a long video meeting and looked at the last line. It was very helpful, obviously the way you are positioning and obviously you have to be ready for the balls in behind and when teams smell the danger is there they will go for it.
"I think today [against Darmstadt] was a good test, unfortunately with the goal they scored, we weren't ready for the ball in behind but after that we tried to do much better and I think it worked.
"But it shouldn't be happening after we concede a goal. It is what I said: there is work to do but, overall, there were so many good things in today's game. It was a good opponent, very intense, direct, it was a good test for us just before the PL starts.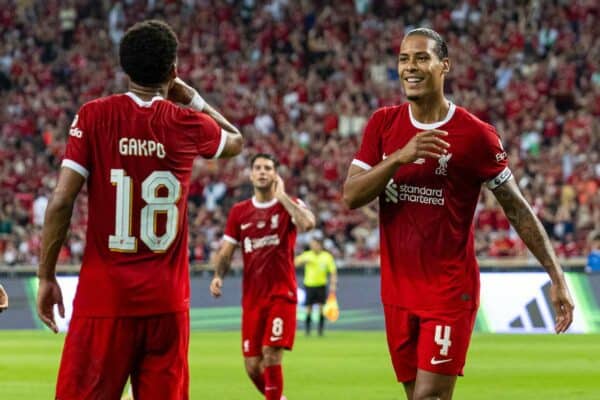 "It was a good meeting the other day, very clear and very direct and that is what we need in order to be successful. That is what we try and be day and it started from the moment we had the meeting from tomorrow and on again."
The new skipper also shared his belief that a change in pre-season schedule this summer has worked wonders in terms of preparing the players better for a long and difficult campaign.
He added: "I feel it was a good pre-season, I think it worked quite well to have the first camp in Germany and then in Singapore.
"I think we all feel much fitter than we were at this point last year, at least that's my feeling, obviously there is still work to be done on the pitch with the way we play and defend, so let's keep that going and make sure it is perfect for the Premier League and the rest of the season."