Fluminense midfielder Andre "nearly joined" Liverpool in the summer transfer window, a well-placed journalist has claimed, and "may well" do in January.
Ahead of the Copa Libertadores final between Boca Juniors and Fluminense, Andre has spoken candidly about his decision to turn down a move to a "big European club."
"It was really [an offer] I couldn't refuse, the club, the league," the 22-year-old explained.
"Every player dreams to play for a big European club, [in a] big European league."
He added: "It was a really hard decision. I think that if I'd have accepted that offer, I don't know if I'd feel 100 percent comfortable with myself."
But with the end of the campaign looming in Brazil, the expectation is that Andre will then depart for Europe, with Liverpool a possible destination.
According to Brazilian football journalist Tim Vickery, who is based in Rio de Janeiro along with Fluminense, the tenacious midfielder "may well" end up at Anfield.
"[Andre] nearly joined Liverpool in the last transfer window and may well make the move in the next," Vickery wrote for ESPN.
His comments came in a preview for Saturday's final, in which he explained Andre's role in "balancing out the team" under Fernando Diniz.
"He has to chase, run and cover, often dropping back into the defensive line when Fluminense are chasing the game," he detailed.
Fluminense are described as "clear favourites," not least due to lack of goals in the Boca Juniors side, and the fact the final's 'neutral' venue transpires to be the Maracana, the Brazilian club's home stadium.
For those in the UK, the Copa Libertadores final – which kicks off at 8pm GMT – will be shown live on BBC Three, as well as being streamed on the BBC Sport website and the iPlayer.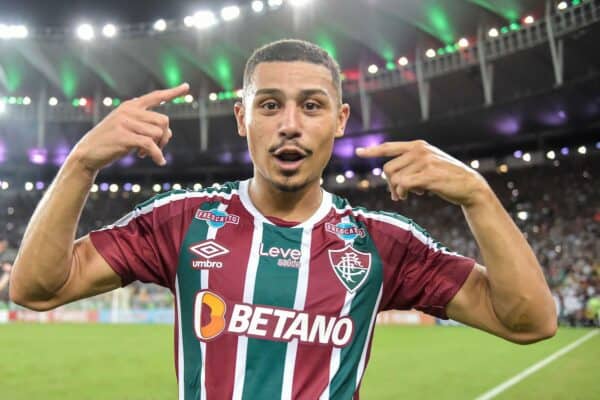 It could provide Liverpool with an opportunity to scout their potential January signing, with space already in Jurgen Klopp's squad if a deal is struck.
When the club confirmed their squad for the Premier League season, a non-homegrown slot was left open, with Ryan Gravenberch instead registered as an under-21 player.
This would in theory allow Andre to be added to the list without needing any changes in January, though it remains to be seen whether a transfer will be completed.