Jurgen Klopp says he is "really looking forward" to his first trip to Kenilworth Road this weekend and insists his side must be ready for the challenges it will present.
The Reds are preparing to face Luton for the first time since 2008 in what will be the first top-flight meeting between the two sides since 1992.
It will also be the first time Klopp has ever travelled to Kenilworth Road, a stadium he reveals he has "heard about" since their promotion from the Championship last summer.
Speaking ahead of the contest, the manager revealed he is excited about the prospect of visitng Luton's stadium for the first time and praised the club's unlikely rise to the Premier League.
"I heard about it, I didn't see it yet. It's one of the grounds I've never been to before so I'm looking forward to it," the boss told the media ahead of Sunday's clash.
"I see a smile in [the reporter's] face and it's great, stuff like this, but we have to somehow get into the dressing room and I heard it's not massive!
"It's a football game, so that's all I need, a pitch and an opponent.
"I don't know exactly how many of our fans can go there but they will, for sure, take all of the available tickets.
"I'm really looking forward to it, it's exciting and I love the story. I don't know but I don't think anybody expected Luton to get promoted last year."
It is the first time Luton have played in the top flight for over three decades and the visit of Liverpool represents their biggest game yet in the Premier League.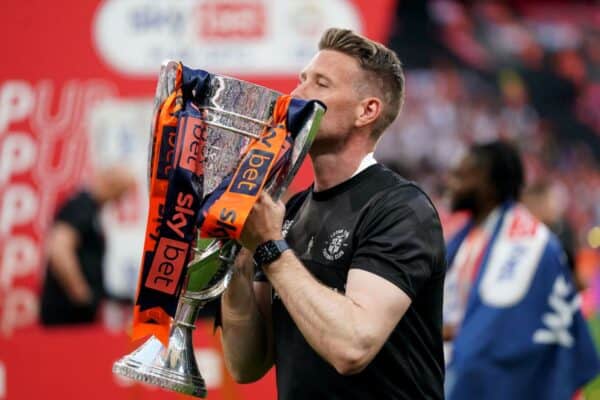 Klopp admits that the occasion will provide challenges for his team but insists that his side are "ready" for everything that is thrown at them.
"They will want to get everything out of this season and that means point by point, surprise here, take the points there and then trying to stay in the league," he continued.
"It's important to know before a game about an opponent, as much as you can, but that stops at a specific moment and then you go for it and then you have to play a football game.
"We will probably have to face a low block and that means we will have to deal with that, and we will probably face set-pieces with quality and that's where we have to make sure we are ready for that."