There was only ever one game I could feature for this week. It just has to be the Reds 5-0 demolition of the Blues at Goodison Park on the 6th November 1982, a game when Ian Rush scored four goals and that wasn't even the whole story.
Steven Scragg recalls that this was a "proper clash of generational culture. Flat cap era oldies who would have remembered the Elisha Scott and Dixie Dean era came face to face with the win it all, three stripes along their sleeves generation. Fantastic really."
I remember the period for wearing bobble hats on the terraces and Adidas Samba on my feet. It was a time when I never doubted the Reds, when they were invincible, in my eyes; almost like Gods, untouchable.
The Reds' visit to Goodison Park on Monday will be the 227th official fixture between the sides. While it has sometimes disappointed on the pitch, it is for me the first fixture I look for at the start of the season. It is filled with memories, good and bad. It is our game, our cities own civil war. It sometimes gets uncivil, but at least for me it will never be as nasty as the rivalry with United. If it was I could never have married a Blue.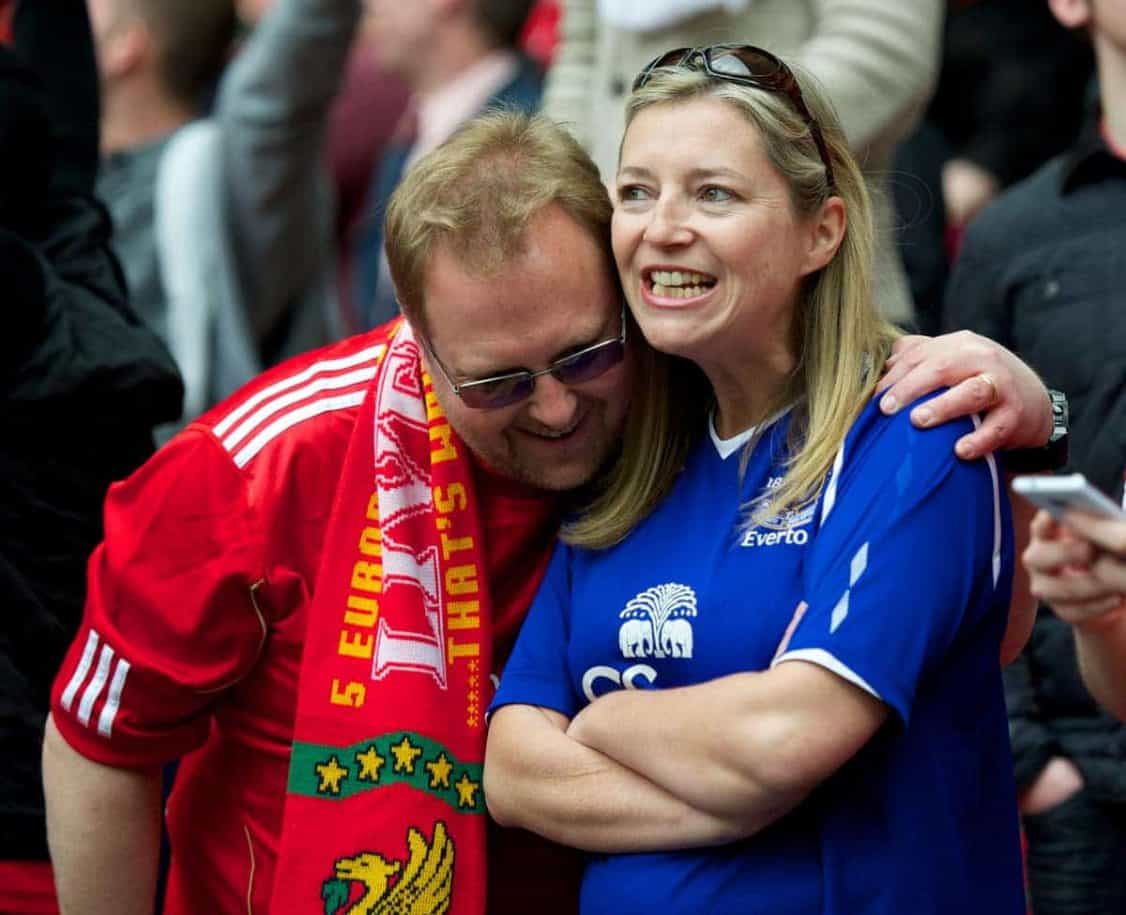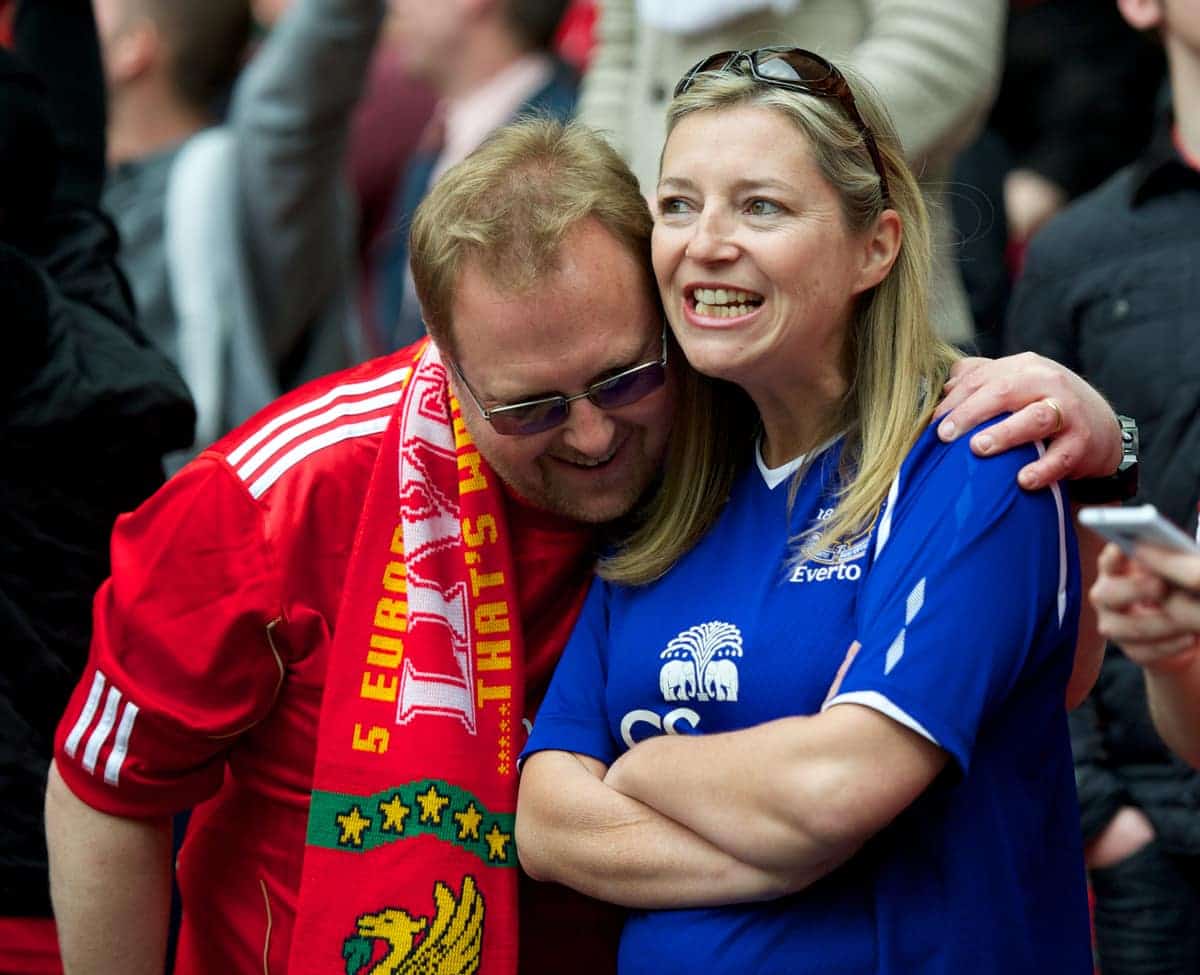 Growing up in Liverpool, no victory has ever tasted sweeter and no defeat felt more painful than the derby. To put it simply, I don't live with United fans and the only supporters I ever encountered as a kid, in the street or at school, were either Liverpool or Everton fans.
To go into school on a Monday morning, after the Reds had won the derby was like your own personal victory parade. After a defeat it was like the walk of shame. I never knew how to deal with the latter; I guess I just never got much practice back then.
Evertonians came up with novel ways to deal with their pain. We'll touch on excuses later, but some were truly inspired. Here's one from a long forgotten school mate and Everton fan.
Picture the scene. It's 8:30 in the morning, it's cold and we're all huddled together behind the school Sports Block.
A few of us are wearing Reds scarves and we've got in early to ambush our Blue mates, who are clearly in no rush to get in. We were keen to see one lad in particular.
He'd been to the game and had been vocally confident in the lead up to the match. To be fair to him, Howard Kendall was building a decent team and although it would go on to win two league titles, one FA Cup and a European Cup Winners Cup during the decade, they were no match for Paisley's red men in 1982. Still the derby does strange things to people and he had fancied his teams chances.
We didn't refer to Blues as bitters back then and I don't remember them calling us Red-Shite either. The stick we gave each other was merciless to be fair, but it was genuinely friendly. After all we were literally neighbours, classmates, workmates, brothers, sisters, parents and offspring and even husbands and wives.

The time is approaching nine and we're getting ready to go inside and avoid being registered as late, a crime that would result in a detention. I'm convinced that's the strategy the blue half have adopted, in order to delay the inevitable torture. The school's punishment could not be as severe as the one handed out by us.
Then up he walks, bold as brass and looking like he didn't have a care in the world. "Alright lads," he said.
Our jokes and insults were cocked and loaded. "What time is it?" I asked. "It's nine o'clock, let's go," he says. "No!" I replied triumphantly. "It's five past Southall!"
Ok it's not the best, but I'd heard it from my uncle and I thought it was hilarious. So did my mates. I'd been working on that line of attack all weekend and I think my Blue mate had spent his time doing the same with his defence.
"Oh yeah, the game," he shrugged, "and to think I used to support Everton." It took the wind out of our sails and we all burst out laughing and started patting him on the back. "Never mind mate," we soothed, with more than a hint of sarcasm.
Of course, he hadn't changed his allegiances, but he'd disarmed us enough to get into class unscathed. We left him alone after that, until dinner time at midday anyway.
This was a game that would be immortalised in song. It's one of the few, if not the only one that Liverpool fans sing about, even when they are not playing Everton.
That day, when we played the Toffees for a laugh and left them feeling blue, has been mentioned every game since, home and away, and it remains a rousing verse in the Poor Scouser Tommy song to this day.
Scratch beneath the surface of any Scouser, red or blue, and it still evokes a response and a slew of memories. Ian Golder, a Kop season ticket holder, remembers how he missed the game because he had to go to his uncles wedding.
Someone had sneaked a radio into the ceremony, but no one had the bottle to turn it on. He remembers walking outside later on and seeing two lads walking towards him. One was a Liverpudlian, the other a Toffee.
"What was the score lads?" The Red's beaming smile said it all. "5-0!" he roared. "Get in!"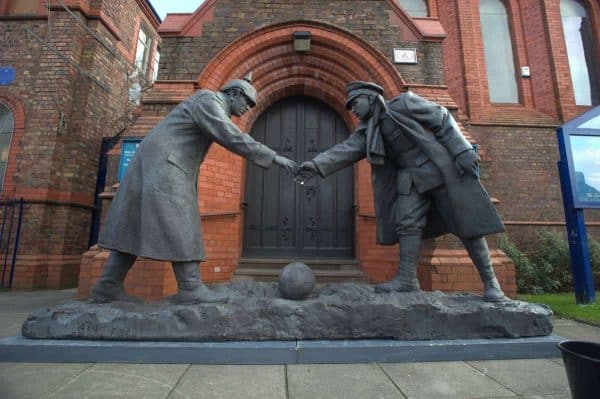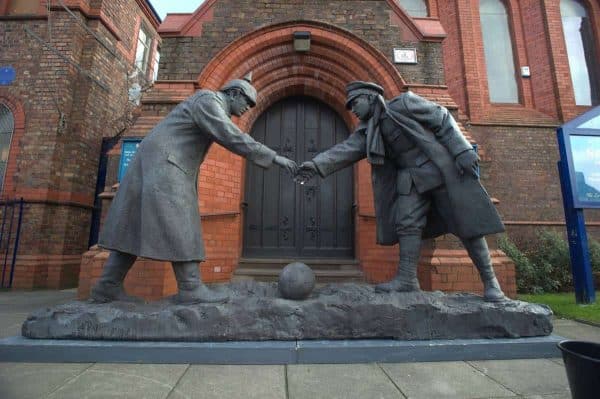 Another mate Kevin Dooley's memories are not as fond. Kev is a blue, who once had a season ticket for both Anfield and Goodison. He once explained to me that he did this because some of his best mates were Liverpool supporters and a few of them went to Goodison, when the Reds were away.
He's still a passionate Blue though and dreams to this day of vengeance. "Football wise I have only had one dream since that day, and that is to be able to sing back to all reds that infamous song of – one, two, one, two, three, one, two, three, four, five nil."
John Stulberg, another lifelong Red and season ticket holder, was just 13 on the day and crammed into the Park End. He has few memories of the fixture its self, but the emotions associated it with it have lasted a lifetime.
He smiles as he recalls: "I was near the front and my head was at pitch level and I was looking up to watch the game. Given the Everton 10 yard area had a huge bulge my view wasn't the best. It's more the total euphoria at their complete humiliation that I remember most."
1982 was a terrible time for working class cities like Liverpool. Nationally, almost 14% of the workforce were unemployed. Supporters who sing about signing on, as a way of mocking Scousers today, would do well to look at the history books and at how their own hometowns fared in the 1980s. Still, despite all that a new generation of Reds would ensure that they were decked out in the very best terrace wear.
Amidst the gloom of the Thatcherite era, football remained a potent ray of light; a way of puffing out your chest and saying screw you to the establishment. We didn't have much, but we had Liverpool Football Club.
The game kicked off at three o'clock, on a Saturday afternoon in November. Liverpool were top of the league, but only by virtue of goal difference over West Ham. Everton lay four points behind the Reds in 11th place, they'd finish the day in thirteenth. Unlucky.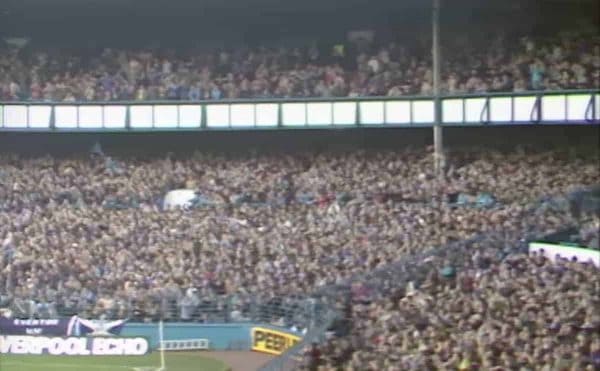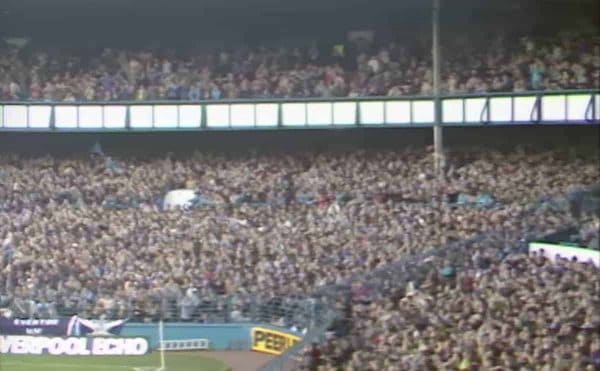 Goodison was packed to the rafters, with almost 53,000 Scousers crammed into the old ground. Reds and Blues mixed freely throughout the stadium. Lining up against Liverpool, in the Blues' midfield was Steve McMahon. He'd go on to be a Liverpool great, but on this day he would leave the ground with his tail between his legs.
Everton fielded former Reds hero David Johnson, who had yo yo'd between the clubs; first playing for Everton, before winning trophies with the Reds and then returning to the Blues. Kevin Sheedy would also make a substitute appearance for the home team, having previously worn the Liver Bird on his chest. That made three players in a Merseyside derby who had played for both teams. A quiz question if ever I heard one.
Ian Rush would etch his name into derby folklore. He scored four that day, but would end the season as a league champion with 30 goals to his name, in all competitions.
Rush opened the scoring after just 11 minutes. Hansen was brilliant that day and delivered a slide rule pass that the Welshman slotted into the bottom right corner, Southall, rushed from his line to stop him, but he could do nothing.
Then Dalglish went close, before having a perfectly good goal ruled out for offside. The referee gave the goal, but was overruled by the linesman. Evertonians celebrated like they'd won the league and Dalglish went nuts. Already this was shaping up to be a classic derby.
Then disaster struck for Everton on 37 minutes. Dalglish, sent through again by Hansen, was pulled back by debutante Glen Kealey; handing every Blue in the ground their excuse for the rout that followed. He saw red and never played for the Blues again.
Evertonian season ticket holder Harry Colquhoun, remembers: "Kealey couldn't handle Dalglish in that first 30 minutes and he was hopeless. It caused that much uproar amongst the fans, that the club had to get shut of him. I know Liverpool supporters call it the Rush derby, we call it the Kealey game."
Another Blue, Neil McMahon, bemoaned Kendall's decision to start the untested Glenn Kealey in such an important game and recalls his fury as the loanee handed the advantage to the arch enemy.
"It was bad enough playing the best team in Europe with 11 men, never mind ten."
Somehow Everton survived until half-time, going in at the interval down by only one goal. However they wouldn't be able to stem the red tide in the second half. Rush scored his second just six minutes after the restart with a deflected shot after another Alan Hansen assist. Then the floodgates broke open and swept the Blues away.
Dalglish broke free on the right four minutes later and clipped the ball across the box. Everton's defence crumbled and Mark Lawrenson popped up at the far post to poke the ball home. The scenes in the Park End were incredible as jubilant Liverpool fans went wild.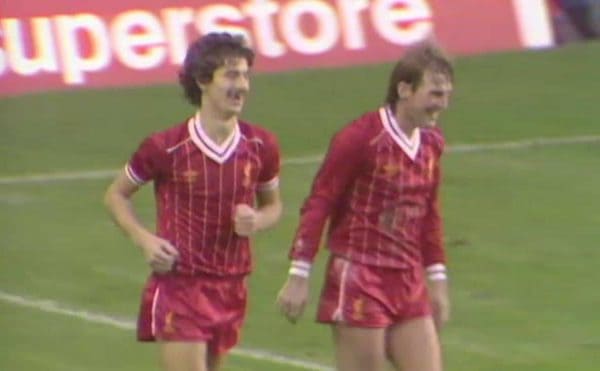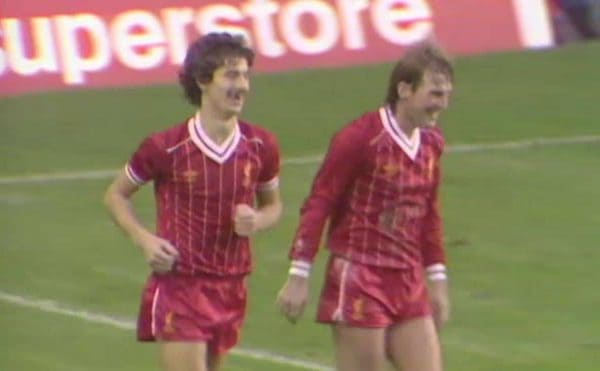 Then it got even worse for Evertonians. Dalglish, who had been imperious all game, sent Rush through again with a pass from his own half. Everton's line was high and Rush's pace got the better of John Bailey. He raced away and with only the 'keeper to beat crashed his shot off the post. The Blues' relief was short lived though as he pounced to score the rebound from a tight angle.
It was the first hat-trick in a Merseyside Derby, in the league, since 1935. The last one coming in a 6-0 hammering of the Blues at Anfield, in which Fred Howe plundered three; two of them coming in the last five minutes.
In one of those convenient historic symmetries that people like me love, Rush would score his fourth and Liverpool's fifth in the 85th minute. Sammy Lee grabbed the ball in the middle of the park, full of energy he burst forward before spotting Rush playing just off the defenders shoulder.
He sent an inch perfect pass up-field and the Welsh wizard was onto it in a flash. He took it around Southall in goal and finished superbly. 5-0, Blue weekends lay in tatters and history had been made.
Generations that followed would literally sing songs about this day. They probably always will.
---
It would be nice to create some new songs on Monday, but for now this one will do. So, on the 19th December, 2016, the travelling Reds will taunt their rivals across Stanley Park once more with tales of the day when Rush scored four and Toffee hearts were crushed. All you need is Rush, Rush, Rush is all you need.