The media lauded Liverpool's match-winning set-pieces and defensive resilience to grind out a "statement" 2-1 victory at Chelsea.
The Reds ensured of an immediate return to winning ways by digging out a crucial three points at Stamford Bridge to extend their perfect start in the Premier League.
Trent Alexander-Arnold's stunning free-kick and Roberto Firmino's header, both in the first half, proved enough to get over the line and ensure N'Golo Kante's strike was only a consolation.
It was a huge win for Liverpool and Jurgen Klopp will be delighted with the efforts from every one of his players to come through a very tough test after a European away trip with victory.
Here's how the media assessed a victorious afternoon at Stamford Bridge.
The media were in no doubt that this was a huge win for various reasons…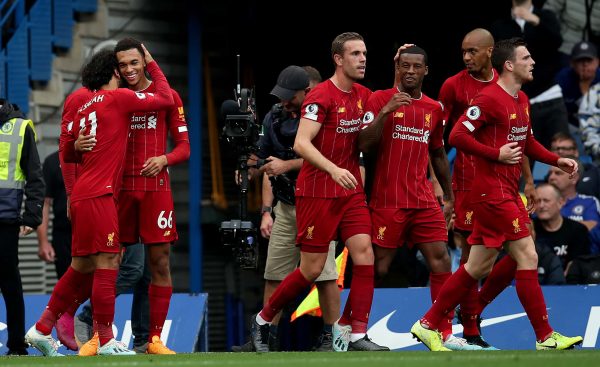 Writing for Goal, Neil Jones thought the importance cannot be understated as it provided a "statement" response to Man City's demolition of Watford:
"Consider this a statement from Liverpool.

"On a weekend where Manchester City scored eight, the Reds recorded what could, in the grand scheme of things, be just as significant a victory."
BBC Sport's Phil McNulty assessed this as the type of victory that is vital to eventually securing title glory, winning on days when performance level isn't quite at its best:
"Over the course of a long campaign, a season Liverpool will hope will end their 30-year wait for the title, it is victories on days such as this that will be vital, if not more so, than the days when opponents are blown away."
The Independent's Miguel Delaney suggested that the win carries extra significance as this was one of the eight fixtures that Liverpool dropped points in last season:
"This fixture was one of the eight games Liverpool didn't win last season, making victory all the more valuable, all the more emboldening.

"It represents the kind of progress required, even though last season's performance was possibly superior."
The Mirror's John Cross outlined the victory as one that will only reinforce belief that this really can be the year that the title returns to Anfield:
"It was tense, entertaining and a brilliant result for Liverpool, the significance will not be lost on Klopp because this is a statement victory, a victory which says they are ready to be champions."
Reporters were impressed by how the Reds found an alternative route to victory through set-piece prowess…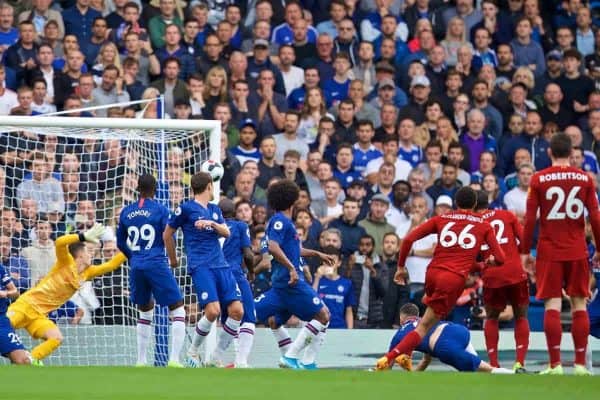 Jones was impressed by how the Reds used set-pieces to grab victory on a day the usually blistering attack didn't quite click:
"We are used to his team tearing opponents apart through speed and stealth, cutting them open with incisive, thrilling combination play. Here, they reached into their bag and pulled out a different weapon entirely. They got their set-pieces out.

[…]

"The trend continues. Since the start of last season, Liverpool have scored 34 goals from set-piece situations, which is at least seven more than any other team. They really have developed into the complete football team."
The Evening Standard's David Lynch wrote how Liverpool's use of set-pieces is an underrated aspect of the Reds' game:
"It does not get talked about as often as that much-vaunted front three, but the Reds' set-piece prowess is so often vital."
The Independent's Callum Rice-Coates lauded the quality that Alexander-Arnold and Andy Robertson provide from dead balls and crosses:
"It's hardly surprising, given the quality of delivery regularly put into the box by both Trent Alexander-Arnold and Andrew Robertson."

The Liverpool Echo's Ian Doyle praised Klopp for bringing more focus to set-pieces and maximising the Reds' threat from them before assessing this as a victory for the German's ingenuity:
"In recent years, Jurgen Klopp and his coaching staff have drummed home to their players the importance of dead-ball situations, the organisational and tactical aspect of setting up such plays utilising one of the many strengths of the Liverpool boss."
Doyle then went on to say that this focus has also led to a big improvement in Liverpool's defending of set-pieces, and praised the Reds for repelling Chelsea's late onslaught:
"Another welcome factor of putting the hours in with set-pieces is the ability to defend them.

"And such quality was required as the Londoners piled on the pressure during the final quarter with a succession of free-kicks and corners."
The media were more mixed in their views on the overall performance…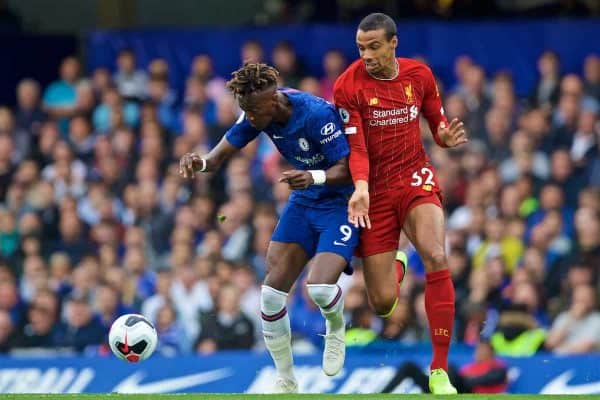 ESPN's Liam Wheeler thought Liverpool struggled to cope with Chelsea's speed and were not organised enough in dealing the Blues' left-side overloads:
"For all their attacking quality, there were moments when Liverpool struggled to cope with the pace and directness of the Chelsea attack.

"Both Mount and Abraham looked to be particularly troublesome for the hosts, while Marcos Alonso's overlapping runs created a real dilemma for Alexander-Arnold."
Lynch was critical of the midfield for a "chaotic" display and thought the game showed how the Reds could do with a player to offer control, like Jorginho for Chelsea:
"That is largely down to a chaotic midfield performance that offered Chelsea complete control, which they subsequently used to launch wave after wave of attack.

"How the Reds could have done with a cool head in the centre of the park, getting on the ball and slowing things down in the way Jorginho so often does for their opponents."
The Liverpool Echo's Paul Gorst argued against this, insisting that the midfield trio did a fine job in winning the battle to allow the creative players to flourish:
"A lack of a real, creative fulcrum in Liverpool's midfield sees the grafters sometimes unfairly maligned, but all three deserved immense credit for shutting down their hosts and allowing the front players and the full-backs to weave their magic."

Elsewhere, the Mail's Martin Samuel was extremely impressed with Liverpool's defensive resilience and thought the Reds' efforts to dig in was "hugely admirable":
"Liverpool's energy and defensive resilience told in the end, as it so often does these days.

"And there really is no such thing as a beautiful title win.

[…]

"So if free-kicks, plenty of hard running, and a whole lot of screaming from Jurgen Klopp were what was needed, so be it. If that got them over the line, then the end justifies the means. It wasn't always pretty, but it was hugely admirable."
Furthermore, Wheeler thought Klopp had a good afternoon all round—assessing that the boss was rewarded for an ambitious selection and made good use of his subs to see out the game:
"Despite the excellent form of Mount and Abraham, the Reds boss Jurgen Klopp opted for a positive approach and was rewarded for his optimism as his side earned a hard-fought win.

"With that said, that same mentality left his side a little exposed to a barrage of Chelsea attacks, but the German used his substitutions wisely as he looked to tighten things up at the back."
Finally Trent and Adrian were praised for standout individual performances…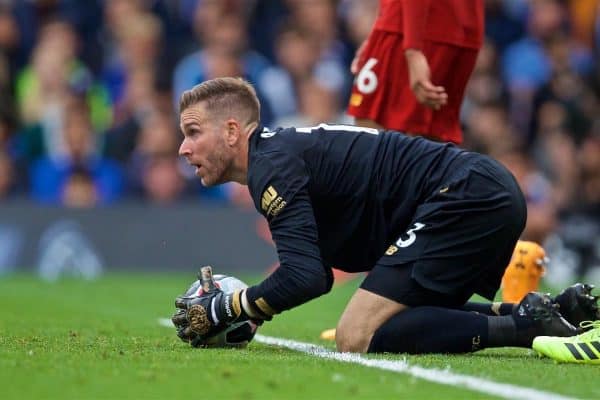 The Mirror's Liam Prenderville thinks Alexander-Arnold is undoubtedly one of the best attacking full-backs in the world currently:
"It took him just 14 minutes to do that at Stamford Bridge as Liverpool perfectly executed a free-kick.

[…]

"His defensive credentials have often been doubted but make no mistake, there are few attacking full-backs better than the Liverpool man right now."
Lynch heaped praise on Adrian for a "hugely impressively" performance, picking out the Spaniard's save to deny Tammy Abraham as the highlight of his display:
"Adrian was hugely impressive yet again here, with his one-on-one save from Tammy Abraham the highlight of another strong showing between the sticks."