Jurgen Klopp didn't disguise his dismay after Liverpool fell to a humiliating defeat against Man City.
Here are the key bits from Klopp's post-Man City press conference…
Only 4 "OK" performances

Liverpool win and lose as a team but not one player stood out against Man City.
Jurgen Klopp found little in the way of positivity from the match, saying: "If you look at the game, I think we had around about four performances who were OK.
"The two midfielders, Hendo and Fab, worked a lot, tried to close gaps. Cody [Gakpo] worked a lot, especially in possession, tried to close gaps, and Alisson of course.
"If you want to get something from here, then 14 or 15 players have to be on top of their game, and that was not the case, again."
"I'm not sure we would have won against 10 men"

Shortly after receiving a booking in the 33rd minute, Rodri could have been sent off for a second yellow card as he brought down Cody Gakpo when he tried to break through the Man City midfield.
The Spaniard avoided a booking but Klopp said he wasn't "sure we would have won with 10 men," even if Rodri had been sent off.
While there wasn't much contact from the opposition player on Gakpo, the midfielder couldn't have complained had he seen red.
Klopp added: "I didn't see it good enough. I realised the situation. Could he have got a second yellow? Yes, probably."
On his substitutions…

The German's substitutions have again been questioned after he waited until the 70th minute to make a quadruple change, that saw Andy Robertson, Mo Salah, Diogo Jota and Harvey Elliott all make way for Kostas Tsimikas, Roberto Firmino, Darwin Nunez and Alex Oxlade-Chamberlain.
Klopp didn't blame the incomers for the result, though, and said: "It's super difficult coming on in a game like this; we are in this situation all together.
"I don't think they were the problem now, today. They didn't change the game that's true but that's it."
On the performance

The manager didn't disguise his disappointment.
Klopp described Liverpool's performance as "too passive, too deep" and "too far away from everything."
He also said: "City could pretty much do what they wanted. We are rather lucky that they only scored one more, that's it now.
"It's super difficult here, if not nearly impossible, to come back from a two-goal deficit. But, we can make it a bit more difficult for them if you stick to the things you did in your good moments, and that was not there anymore and the difference was so massive."
"I know what I have to do"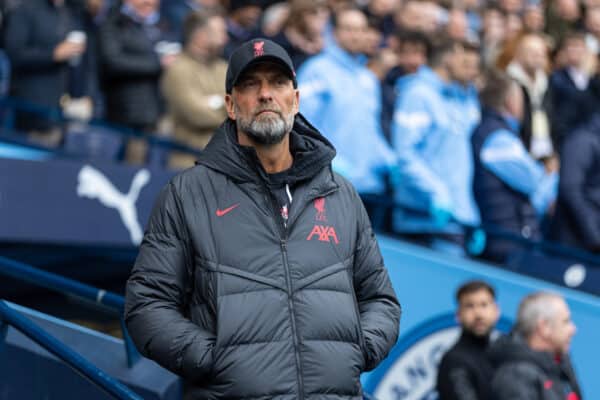 One journalist commented that Klopp seemed flat during his press conference and the German responded by saying that we needn't "worry" about him.
Klopp continued: "I watch things, I analyse things and then I go again. So, emotions are never my problem.
"They are in moments on the sideline my problem but not after a game So, I know what I have to do but I have to make sure that it arrives in the right places."