Pep Guardiola, whose Man City side took a big step towards the title in midweek, has thanked Liverpool for "pushing" his side to keep challenging.
A headline emerged on The Athletic on Thursday morning: 'This is Manchester City's era'.
"At least there has been a title race this time," the outlet claimed in promoting the article from journalist Daniel Taylor.
On Wednesday night, Man City cruised to a 4-1 win over Premier League leaders Arsenal to move within two points of Mikel Arteta's side with two games in hand.
Arsenal have taken three points from their last four games, starting with their 2-2 draw at Liverpool, and Man City are now expected to wrap up the title with time to spare.
At least there has been a title race this time.

But the truth is we are in the Manchester City era.

Who stops this?

There are only two scenarios that might prevent #MCFC turning their dominance of English football into something with even greater substance.

— The Athletic | Football (@TheAthleticFC) April 27, 2023
The Athletic seem to have conveniently forgotten, in the narrative, that City only clinched the title with minutes left on the clock last season.
In 2019/20, they finished 18 points behind Liverpool; in 2018/19, only one point above.
Last season it was just one point separating the two sides, with Man City having come back from 2-0 down against Aston Villa to win 3-2 on the final day.
Guardiola, at least, has not forgotten Liverpool's role in the 'Manchester City era', explaining how Jurgen Klopp's side "pushed" City away from complacency.
"We were lucky as a team, I have to be honest, the way Liverpool pushed us in the previous seasons," he told BT Sport after Wednesday's victory.
"The next three games are really really important."

"Game by game and we will see what happens."

Pep Guardiola is remaining coy about Man City's title prospects despite a crucial victory over Arsenal… pic.twitter.com/vzi4Sg4Kwy

— Football on BT Sport (@btsportfootball) April 26, 2023
"After winning [the title] with 100 points, 98 points, you can say 'OK, it's enough', but we realised Liverpool pushed us.
"And in this season, Arsenal. They [won] 50 points in the first leg [of the season], I could not expect arriving here in that position.
"Once we are there, we try to win – like all of us when we played. Why should I stop? It's not necessary."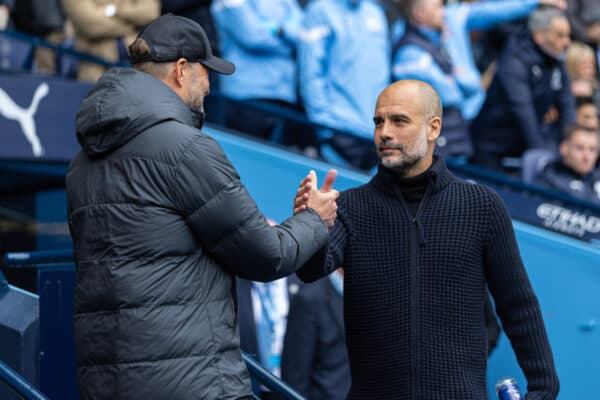 Guardiola can often find himself bringing up Liverpool unprompted, and more often than not it attracts ridicule or at least bemusement from those on Merseyside.
But this was not paranoia; it was respect shown to a rival at a time when the media seems to have forgotten their role.
At least there has been a title race this time, eh?!