The dominant Liverpool sides of the 1980s were arguably the reality of Shankly's vision for the future of the club – a ruthlessly, stylish footballing machine that held a monopoly on winning trophies.
The teams of Paisley, Fagan and Dalglish were the evolution of the great Scotsman's '˜pass and move' legacy, producing the visual representation of Shankly's famous quote'¦ '˜If you are first you are first, if you are second you are nothing.'
It was during this era of success, across the calm waters of the Mersey, that a youngster from the Wirral began a love affair that would ultimately see him live the improbable dream, and play for Liverpool Football Club.
Whether it was through playground impersonations of his hero Kenny Dalglish or the triumph of winning the National 5-A-side tournament with Birkenhead Boys Club, Jason McAteer's ambition, like millions across the globe, was to pull on the famous red shirt and experience the pride of running out to the roar of the Kop.
His performances as a youngster enticed countless scouts and it was not long before the teenager was playing in the non-league with Marine. With his tireless work ethic and raw potential, McAteer continued to develop and attracted the attention of Bolton Wanderers.
It was at Burnden Park that McAteer began to establish himself as one to watch, and his role in a series of giant-killing Cup runs forced him into the national spotlight, giving him the platform to impress his boyhood team.
On September 7, 1995, the lifelong dream became reality. Roy Evans parted with £4.5Million to bring the 24 year old to Anfield, where he spent three years with the Reds, a time that McAteer confesses, has been the highlight of his career.
Almost eleven years to that poignant moment in his life and we are sat in the reception area of present day Prenton Park. The veteran Captain of Tranmere Rovers is taking time out from Tranmere's League One challenge, to speak exclusively to ThisisAnfield.com about his days at Anfield.

"If you ask any footballer if they play for a team they supported as a kid, it's a dream come true. It doesn't happen a lot. It's a very special moment. But I think with Liverpool, with Kenny Dalglish being my hero and Liverpool being my team, when I signed it was great. It was like Jim had fixed it for me for the whole time I was there," he says, his eyes wistful as his mind wanders back to his time at Anfield.
"It was just fantastic and I met some brilliant players and legends that became friends, like John Barnes and Robbie Fowler. I enjoyed everyday. 'Obviously some days were disappointing, like when you didn't play or when Roy Evans left and Ronnie Moran went, but we were a very close bunch and it was just great – a dream come true."
Almost immediately after putting pen to paper for the Reds, the Eire international became a first team regular, deployed by Evans in an unfamiliar position at right-wing – despite making his name as a dynamic attacking midfielder.
However, McAteer was just happy to play for Liverpool Football Club and enjoyed two highly impressive seasons as part of Evans' exciting, but inconsistent side.
The Wirral-born midfielder has fond memories of those times and vividly remembers the few occasions he felt the rush of scoring for the Reds. "My first goal was against Rochdale in the cup. We won 7-0 and I got the seventh. All my goals for Liverpool were always in 5-0, 6-0 victories and I'd get the
last one – which meant nothing!
"There was one sweet one I remember against Arsenal when Robbie Fowler missed a penalty on purpose! I don't think he wanted me to score that, but I wasn't going to miss it!"
McAteer left Anfield without winning a trophy and regrets that the sides he played in came so close to title glory and FA Cup triumph. Some sceptics believed this was due to the off the field behaviour of the players, resulting in the Media's creation of the Spice Boys tag. McAteer feels the players of that era endured some unfair criticism.
He said: "I think we under achieved. I don't think we had any luck, in fact we had no luck but we worked hard and we were honest. We stuck together as a team but unfortunately certain journalists really had it in for us and gave us a hard time and we were fighting against that all the time.
"Man United and Liverpool were both teams in transition and both starting with kids and trying there best, and they had more luck than us and ended up winning all the trophies.
"But you can't say we didn't try because we did."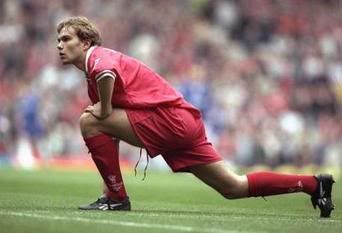 Despite missing out on silverware at Liverpool, McAteer will be remembered as part of a truly exciting side, one that took part in two of the most memorable games to ever take place at Anfield.
"I played in both the Newcastle 4-3 games and I got man of the match in one of them too. They were incredible experiences but I'd have to say that every game at Anfield is special.
"You used to leave your car at the ground, go to Melwood for your dinner, then get the team coach to the ground'¦ it's a very special tradition, or at least it was, I don't know if they still do it. Then just before three o'clock you run out and the This is Anfield sign is there, and the fans sing You'll Never Walk Alone. Then you look up and you see the Kop'¦ it's amazing. The whole thing from 11am in the morning to 6pm at night… it's special."
McAteer's Liverpool career came to a premature end when he was forced out of Anfield by the French revolution in 1999 something that he admits still hurts to this day.
"My worst moment in football was having to leave Liverpool. I wasn't a fan of Gerard Houllier, I didn't think he was Liverpool at all. The playing style and the way he went about his business with the team weren't what you expect from Liverpool Football Club. The changes he made there and the ideas of how he felt football should be played weren't what the club has been built on."
As McAteer prepares to lead Tranmere Rovers in their attempt to scale a significant rung on the football League ladder, he is still a keen Reds follower and is delighted with the impact made by Rafa the Gaffer.
"Rafa Benitez has come in and he's got a tremendous man management and he gets the best out of the players. He's an honest person who has worked hard for for what he has achieved.
"I watched the final in Istanbul for Sky Sports News and I'm ashamed to say I wrote Liverpool off at half-time – although deep down I knew they would do it!" he says laughing.
With his time at Anfield now consigned to the history books McAteer believes the club is now in good hands and singles out the local heartbeat of the side as the key to further success.
"I was made up when they won the Champions League. It is a fantastic achievement. I'm made up for people like Jamie Carragher and Steve Gerrard.. They're not just a credit to themselves, but a credit to football.
"They were coming through when I was there and made their debuts too. You knew they had something about them and would go onto great things. They have stood the test of time and the transition of Liverpool because they've had a lot of ups and downs at the club over last 6 or 7 years.
"They are the future of the club and good luck to them and Rafa."
Article Copyright ThisIsAnfield.com and Paul Hassall.