This weeks issue of Kop Treasures is brought to you by forum member Colin Henderson (Great Dane) as he takes us back to his first Liverpool match when he travelled to Highbury to see Liverpool in 1987….
Kop Treasures
Issue 6
Written by Colin Henderson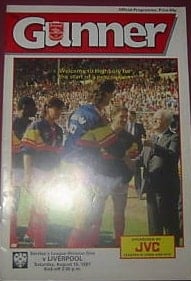 Arsenal 1-2 Liverpool
First Division
Date: August 15th, 1987
Venue: Highbury
Attendance: 54,703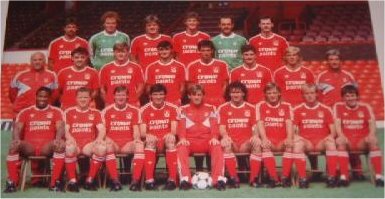 After many years of following Liverpool from afar, catching glimpses from the very limited TV coverage in Scotland, I finally got the chance to see them in the flesh after I joined the Army, stationed near Reading. Working as a recruit instructor, I became aquainted to one of the recruits who to this day I only know by the name of "Scouse".
I bumped into Scouse on the morning of the 15th August 1987 whilst walking through camp. "How's it going Scouse, what are you up to?" I asked. "I'm off to Highbury, fancy it?" was the reply.
So off we went to Reading train station to make our way to London. Already buzzing as we got on the train, a group of Americans were just getting off and offered us the table full of beer they had left, this day was just getting better by the minute. Arriving at Highbury, with the free beer taking full effect, we proceeded to try and get into Highbury. Now, without tickets this was going to prove difficult.
After spending the first 45 minutes fruitlessly trying to gain access to the ground, I decided to try and dupe a particularly young looking WPC by quickly flashing my Army ID card in the hope we might gain access through a now open main gate. Imagine our drunken delerium when she waved us through… straight into a stand full of Arsenal fans. As it was standing in those days, it didn't take long for us to become separated, and I proceeded to concentrate on finding my new mate.
After a short while, with the game going on in the background, I managed to catch sight of him. Excellent I thought, now to attract his attention.
Only one problem, his only known name to me was "Scouse". F**k it I thought, I'd had a few and was feeling brave so started shouting out to him. Finally getting his attention, and with several Gooners giving us verbals, we snaked our way towards the stand with the Liverpool fans in.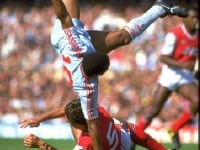 We somehow managed to climb in amongst the Liverpool fans with a bit of help, and settled down to watch the final few minutes. With the scores even at 1-1 after John Aldridge had opened the scoring in the 9th minute. The game was looking like finishing level until with only 2 minutes remaining, Stevie Nicol rose to bullet a header firmly into the back of the Arsenal net. I was ecstatic. The game finished 2-1 in our favour, and at the final whistle we made our way to the nearest boozer to celebrate the day, ending up having a good skinful with some of the local Gooners.
So there you have it, my first time at a Liverpool match, an historic one at that as Barnes and Beardsley both made their debuts…. More to be remembered for the day out really, as I only actually got to see about 15 minutes of football, but still very memorable.
Team: Grobelaar, Gillespie, Venison, Nicol, Whelan, Hansen, Beardsley, Aldridge, Johnston, Barnes, McMahon. Goals: Aldridge (9), Nicol (88).