Issue 5 of Kop Treasures has been written by Neil Dunkin, author of Anfield Of Dreams: A Kopite's Odyssey From The Second Division To Sublime Istanbul.
Kop Treasures
Issue 5
Written by Neil Dunkin




Liverpool 3-3 AC Milan
(3-2 on penalties)
UEFA Champions League Final 2004-05
Date: 25th May 2005
Venue: Ataturk Stadium, Istanbul
Attendance: 70,024

Two hours before kick-off, I entered the Ataturk Stadium with my son Russ, next to the VIP entrance where cries of "Diego, Diego" from Italians alerted us to Maradona's presence. He was chatting to admirers and looked considerably slimmer, fitter and smaller than the 20-stone tub of lard that had filled the front pages of newspapers.
Shunning the offer of his trademark "El 10" autograph (know where you can stick your hand, Diego Armando), we toiled up steps higher than our old Kop's on Walton Breck Road to the top of the West stand. We found ourselves above the media section, halfway line below, affording a grand overview of the stadium, although not quite in the different time zone from the pitch that one Galatasaray supporter had warned us about. Despite our early arrival, the waiting hours raced by until three sides of the stadium were saturated with Liverpudlians and both teams walked out for the 9.45pm kick-off. By now I was feeling queasy, not from the altitude but the excitement.
To everyone's surprise, Kewell was in the starting line-up '" a bold stroke by Rafa who had noted how PSV's wingers ran Milan ragged in the semi-final. The scene is set for a Reds triumph '¦ until 53 seconds of the match have elapsed. AC mount their first attack, Traoré commits a clumsy foul and Maldini volleys the free kick in. The quickest goal ever in the Champions Cup, in Maldini's seventh final. Bit of a choker.
José Mourinho has declared the Reds will have no chance if they concede first. Now we'll see '" and worse is coming. Obviously not 100 per cent fit, Kewell has to go off, replaced by Smicer who can only stand and admire Milan's sumptuous football, orchestrated by Ricardo Izecson dos Santos Leite, alias Kaká. Ghosting through our defence in their all-white change strip, the Rossoneri set up Crespo twice to make it 3-0. A treble whammy.
We are being outclassed and when the ball strikes Nesta's elbow as he lies on the grass, Baros makes a nonsensical penalty appeal. That sums up our desperation. Beforehand, squinting through my red-tinted glasses, I believed we were destined to win; by the half-time whistle, the Fates have deserted us. Conscious that in three finals, against Ajax, Barcelona and Steaua Bucharest, AC prevailed 4-0, I dread a worse humiliation in the second half '¦ 5-0, 6-0, a record thrashing.
I start praying. Come on, lads. Get a goal, just one. Make the scoreline respectable, give us some pride, then we can put it down to experience and go home. My stream of introspection is halted by the singing of a hymn. I've no inkling where it begins '" North, West or East stands '" but it radiates into the black ether, making time stand still as 40,000 lives are condensed into three metaphysical minutes. From the core of their being, those sentimental, self-pitying, maudlin, hooked-on-grief Liverpudlians begin a You'll Never Walk Alone like I've only heard once before, at the FA Cup final with Everton after Hillsborough.
Not louder than ever, not more passionately, but with a visceral, ethereal, spiritual intensity that transcends the moment. Every line of its lyrics resonates with meaning, kindling hope in our hearts, reassuring us that a golden sky and the silver song of a lark will vanquish the dark and the storm. With one voice, 40,000 believers are combining to articulate their dream and the world is bearing witness.

A tear-in-the-eye declaration, a defiant throw of the dice, further testimony to Liverpudlians' "strange brilliance", in Paul McCartney's perceptive words. We might be down and out but our Scouse spirit refuses to be broken. Please, please let our team hear us in their dressing room. This empowering anthem must '" must '" lift our bloodied troops who Rafa is contriving to rally. In a foreign language, not the Spanish he'd feel comfortable with, he is invoking a higher force to motivate his men, all "in shock", says Dudek.
"Don't let your heads drop," Rafa tells them quietly. "We are Liverpool, you are playing for Liverpool. Don't forget that. You have to hold your heads high for the supporters. You have to do it for them. They have come a long way. Don't let them down. You cannot call yourselves Liverpool players if you have your heads down. "If we create a few chances, we have the possibility of getting back into this. Believe you can do it and you will. Give yourselves the chance to be heroes." Out in the stadium, the final words of You'll Never Walk Alone have faded away, replaced by the North Stand jesting, "We're going to win 4-3". Them Scousers again, laughing in the face of adversity. You can't help smiling.
The rest of the break is a blur, a confusion of images and sensations that do not really register, a subliminal haze that only disperses when Liverpool come out for the restart. Our midfield has been reinforced by Hamann in place of the injured Finnan. Now Gerrard will be able to push forward '¦ The rest of the night is fact, fable, fairytale, fantasy, fiction.
From Liverpool River in Australia's Arnhem Land to Liverpool Bay in Arctic Canada, they will have heard about the Red storm, three dazzling goals during six minutes of madness. Almost on the penalty spot, Gerrard sends a towering header into the corner of the net. 3-1. Game on! Smicer's 25-yard drive zings past Dida. Vladi, in his last game for the Reds, has scored a second! 3-2.

Storming into the box, Stevie is tripped by Gattuso. Alonso places the penalty low to Dida's right. The keeper judges well, palming it onto the post, but Xabi follows up to blast into the roof. Our placid playmaker, who says, "I prefer not to hate anyone, I prefer to just love Liverpool", has made it 3-3. Yes, 3-3. I repeat: 3-3.
Making Lazarus look like a legless gimp, the Reds have refused to die, clawing themselves out of the grave dug by Milan. The most remarkable fightback in any European final. Ever. On the precipitous West stand, I feel numb as the game moves into nailbiting extra time. AC are dominant and in the 117th minute, Dudek pulls off a preposterous point-blank double save from Shevchenko, the most flabbergasting act of goalkeeping I have ever observed, a righteous hand of God rather than Maradona's thieving one. Truly the save that shakes the world.
Sheva, the goalscoring machine who treasures a pair of Rush's boots, just cannot get the ball in the net. Crespo holds his head; now he knows the Milanesi will not win. "I knew that save was the moment we said bye-bye to the cup," he admits later.
The lads hang on '" "running on empty", in Gerrard's phrase '" until the referee gives the last blast on his whistle. All down to penalties. In the centre circle, Carragher is waving his fist at Jerzy, getting him pumped up, but after going through an emotional wringer, I feel strangely unconcerned, detached from the shoot-out, as a chemical reaction occurs in my body and brain. Where once we'd been dead and buried, now a supernatural force has taken possession of me, the fans, the team, floating us inexorably towards that cup. An unstoppable momentum is carrying the resurgent Reds to victory.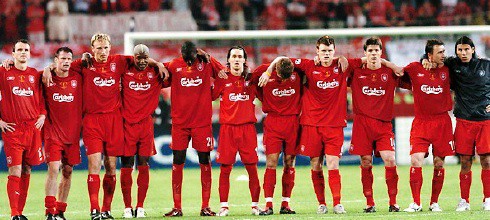 The penalties begin. Serginho blasts over the bar: 0-0. Hamann slots in: 0-1. Dudek saves from Pirlo: 0-1. Cissé scores coolly: 0-2. Dudek dives but Tomasson's weak kick goes in the other corner: 1-2. Dida saves from Riise: 1-2. Kaká scores: 2-2. With me murmuring that Dida always dives to the right, Smicer fires home: 2-3.
The moment of truth. Shevchenko has a final chance to keep Milan in the shoot-out. If he doesn't score, they lose. As he trudges to the penalty spot, he looks like he's walking to the gallows.

With the clock showing 12.29am and 500 million watching, he runs up and strikes the ball sharply, straight down the middle. Jerzy, diving away from the trajectory, stretches out his left arm and gets his fingertips to the ball. Saved! 2-3! LIVERPOOL CHAMPIONS!
After 11 goals, all at the same end, the Italian end, we have won! From their thrones on high, the 96 smile down. You've been with us every step of the way. As every Red goes demented, Russ and I hug and dance, scream and howl.
Strangers you've never seen before in your life grab and squeeze and kiss you. Human warmth, the very essence of Anfield. Scousers who've carried the ashes of fallen mates all the way from Merseyside to share this beatific moment cast them towards that great Anfield in the sky.

Tears are shed by grown men, even in the media section below where one broadcaster breaks down: Liverpool old boy Michael Robinson. Jerzy, who only realises his save from Sheva has won the final when team-mates rampage towards him, is mobbed by them.
Like an Ashworth Hospital inmate who's just succeeded in scaling the wall after 30 years' plotting, Carragher gambols across the pitch, mouth agape in disbelief, socks around ankles, legs of elastic, and careers past Dudek in a maniacally wide arc to fans along the touchline to freak out with his people.
Glorious, glorious delirium! Beyond belief, beyond reason, beyond logic. My last European Cup journey in 1985 had warped into Heysel's horror. This night of atonement has purged those frightful memories, the power and the glory have exorcised those demons. We are all in a state of grace.
On the terraces, every Red man and woman basks in celestial rapture, the deities sanctifying them and their heroes. Europe's finest side and finest supporters: an unbeatable partnership has brought victory.
Team: Dudek, Finnan (Hamann), Carragher, Hyypia, Traore, Alonso, Garcia, Gerrard, Riise, Kewell (Smicer), Baros (Cisse).

Discuss this and others in this series here