Liverpool were drawn against Sparta Prague in the Europa League second round having topped group K, and will travel to the Czech capital for the first leg on 17th February.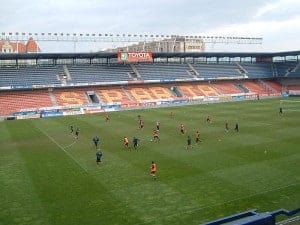 If you haven't arranged your travel to Prague yet, to save you spending hours looking online for cheap flights, we have found the following flights available:
Liverpool – Prague
As there are no direct flights to Prague from Liverpool, you'll have to catch a connecting flight elsewhere first. While there are airlines offering this, the trip works out at around 13 hours each way; however we did find the following with KLM Airlines flying out on Wednesday 16th February, returning on Friday 18th:
Liverpool-Amsterdam-Prague:
Dept Arrive Operator Flight No:
0600 (LIV-AMS) 0825 KLM KL1034
0925 (AMS-PR) 1050 KLM KL3121
Return
0700 (PR-AMS) 0840 KLM KL3120
0920 (AMS-LIV) 0945 KLM KL1035
---
Manchester – Prague
You can fly directly from Manchester, but the only flights we could find are Thursday – Sunday, departing on the day of the match (Feb 17th), and returning on February 20th, so you might want to look for a hostels, apartments or hotels, to get your head down for a few days.
Dept Arrive Operator Flight No:
0655 1010 Jet2 LS 887
0300 1620 BMI Baby WW3573
Return
1720 1835 Jet2 LS888
2230 2355 BMI Baby WW3574
---
London – Prague
Getting there from London is a bit easier, with direct flights from Gatwick, Heathrow and Stansted airports, all departing on Wednesday 16th, and returning on Friday 18th.
Gatwick
Dept Arrive Operator Flight No:
0630 0925 Easyjet EZY5439
1805 2105 Easyjet EZY5495
Return
1000 1105 Easyjet EZY5494
2145 2250 Easyjet EZY5496
---
Heathrow
Dept Arrive Operator Flight No:
0705 1005 British Airways BA854
1105 1405 British Airways BA852
1435 1735 British Airways BA856
Return
0845 1000 British Airways BA853
1100 1215 British Airways BA855
1500 1605 British Airways BA859
---
Stansted
Dept Arrive Operator Flight No:
1340 1635 Easyjet EZY3067
Return
1030 1130 Easyjet EZY3064
1705 1805 Easyjet EZY3068
---
Airport and City Information
The airport is about 25 minutes from the centre of Prague, and there are plenty of buses from the airport rather than getting in a taxi and paying over the odds. If you want to get a bus; the following all head to the centre of Prague: 100, 119, 179 and 225, just look for any that say 'Centrum' on the front. If you do decide to get a taxi, agree a fee before you get in, otherwise you could end up paying double the price of what the fair should actually be.
At the centre of Prague is Wenceslas Square, which has shops, restaurants and a few bars on the main road; however it can get quite busy in the daytime. If you want somewhere to get dinner and a pint, don't head into the first place you see – instead look for some of the pubs down the side streets off Wenceslas sq, as the prices can be almost half that of a place on the main road. If you want something quick and easy, McDonalds and KFC are signposted on the side of buildings so you shouldn't struggle to find them, or there's a TGI Fridays at the bottom of the main street, but it works out at around £10 per head. Not far from TGI Fridays is a supermarket if you want to stock up on stuff rather than paying to eat out all the time, again this is signposted on the side of buildings so you can't miss it.
If you want a few beers while watching the Champion's League matches on the Wednesday night, head down to the beer factory on Wenceslas square; it's a bit of a trek up the main street but once you are there you don't have to queue up to get a drink as you pour your own pints at your table, and it is only about £1 a pint. There's a massive projector screen and a few smaller TVs showing the footy, and it's probably the cheapest bar around the centre. If you can't get a seat in there, just around the corner is an Irish pub called Rocky O Reilly's which has Sky sports, so you should be able to watch the games somewhere.
At night, you're probably better staying away from the main square, as this is when you will begin to hate Prague as you will get constantly hassled by staff of local bars and 'cabaret' clubs to go with them to their club. They either don't understand the word "no" or simply don't listen, and will follow you and pester you until you either give in and go with them, or go into a pub/restaurant. Any promises of free beers should be ignored; I can guarantee you will not get 5 free pints for going in, despite whatever the guys in the street tell you. The best thing to do is just ignore these guys completely, don't even speak to them and hopefully they will take the hint.
If you end up in one of the bars mentioned above, do not order a drink until you have seen the prices, if you just ask for a bottle of beer you will get charged around £10 for a 330ml bottle. Normally, a small can of local lager can be ordered, but this will be in small print on any drinks menu, so have a proper look before you ask for a drink.
Getting to the Stadium
Sparta's ground is around 2km from Wenceslas square, so if you don't fancy walking, a tram is probably your best bet. They go directly to the ground from the centre on Tram Line A (Hrad?anská). The following trams go to the Stadium: 1, 15, 18, 25, 26 and 57. If the trams are too busy, you can get a taxi, but again try and agree on a fee before you get in, or ask at reception of the hotel/hostel you are staying at to book one for you.
If you get a tram, watch out for anyone paying too much attention to you, as pickpockets normally operate in gangs on the trams, and tourists are a prime target for them. Usually, 2 or 3 people will try and stand close to their victim, and as soon as the tram hits a bump they will knock into them, and try and steal something at the same time, so try and stay in a large group if you can help it.
A new scam has become popular on the trams recently, where someone pretending to be Metro staff will ask to see your ticket, say it is invalid and then try and fine you 500 CZK (£19/20). If you have a valid ticket, tell them to call the Police or threaten to do so yourself – this should get rid of any con artists.
Additional Info:
In winter, Prague is colder than the UK, as average temperatures are just 1° for February during the day, while at night it can drop well below zero.
The currency is Prague is the Czech Koruna, below is a guide as to what you get for your GBP:
£5 = 145 CZK
£10 = 290 CZK
£20 = 580 CZK
£25 = 725 CZK
£50 = 1451 CZK
Should you need to contact the British Embassy for any reason, their phone number is: (420) 257 402 370.