Exiled Red Steven Speed shares his experience of hosting a Liverpool legend recently.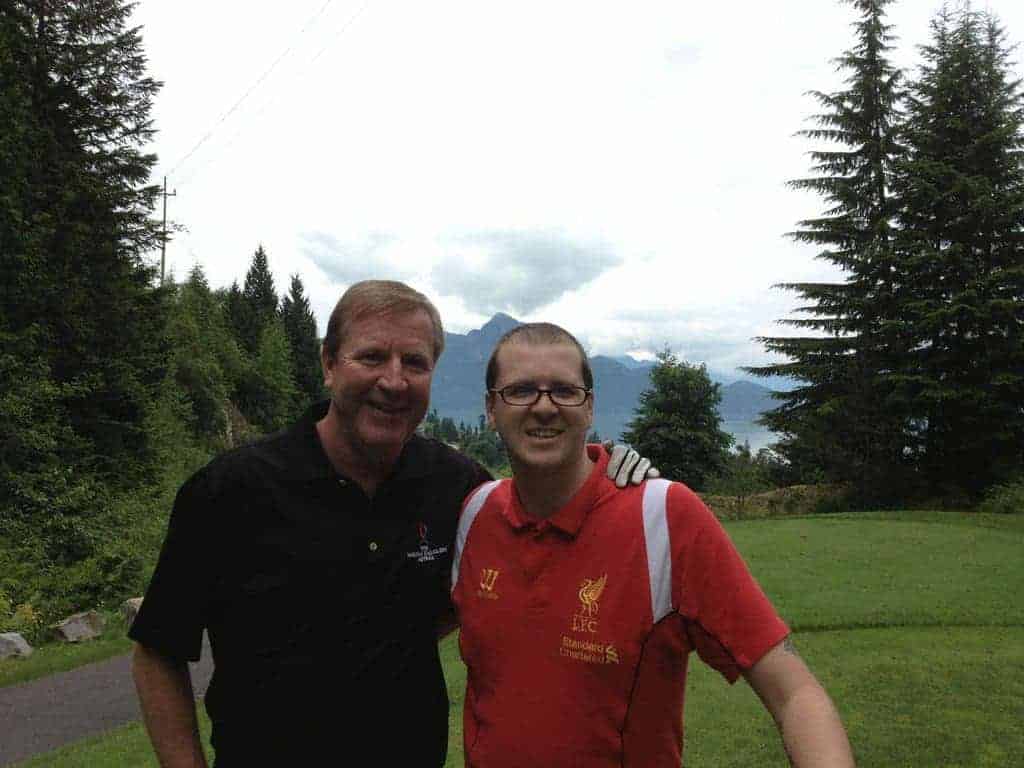 In late June this year I had the great honour of spending a weekend in the company of Liverpool FC legend Ronnie Whelan. In my capacity as president of the Vancouver Liverpool Supporters Club, I was able to hang out with him for the majority of his stay here when we brought him over to Canada for our summer event.
Ronnie arrived in Vancouver on the Friday night and we arranged a car service to pick him up from the airport and take him to his hotel in downtown. I was unable to go into town that night, but the rest of our executive committee, Andy, Andrew and Fraser, met him at the hotel. Despite travelling for thirteen hours and the jet lag, Ronnie was well up for a few pints, so the lads took him to the pub. They were joined by a few more members of the club and I sat at home jealous, as Ronnie had them all in stitches with his stories and banter.
The next morning I got to meet him myself as we went to play golf at one of Vancouver's most scenic courses, Furry Creek. I drove Ronnie to the course, a journey that took us just under an hour, during which time I was able to get to know him and hear some of his thoughts on various football topics. Ronnie was extremely easy going and did not act like a star in any way. He was down to earth and friendly, which made the journey relaxing and we were able to chat like friends, instead of me acting like a nervous fan (which I was inside). I asked him for his thoughts on Rafa Benitez, as he has been quite outspoken in the media about him. Ronnie's response was unrepeatable here, but when I inquired as to why he dislikes him so much, he told me that he was angry at Rafa for selling Xabi Alonso and replacing him with Aquilani.
We were joined for the round of golf by members of the supporters club, Kyle and Pat. Ronnie felt like one of the lads and joined in with the banter and good humoured ribbing, especially at my expense due to my awful golfing abilities. Despite the banter, Ronnie was very encouraging and actually gave me several great tips which made a massive difference to my game. It was quite a thrill to receive golf tips from a Liverpool legend and then have him congratulate me for making a good shot. It's not every day that this kind of thing happens to me!
On this particular course you have to use a golf cart and I had the honour of riding with Ronnie, who drove. He was hilarious driving the cart, pretending try and run me over at one point and weaving in and out to try and make me fall out. In between holes I was able to ask Ronnie questions about his career, which he was more than happy to answer. It didn't feel like an interview or anything though, more like two pals chatting.
He told me a hilarious story about the time he played golf in Florida with Steve Nicol, while they were both still playing for Liverpool and Nicol crashed his golf cart. I asked him what his favourite goal was and he told me it was the curler in the League Cup final against Man Utd. I brought up the screamer in the 1985 FA Cup semi final against Man Utd and he told me that goal, and the one against Russia for Ireland at Euro 88, were his most spectacular goals. I was then thinking of all the crackers he scored and asked if he ever scored a tap-in. He reminded me of the goal he scored against Portsmouth in the 1992 FA Cup semi final. He also told me about how he left Liverpool which was an interesting story I knew nothing about before he told me.
After the round Ronnie treat us to lunch before we drove back to Vancouver. We got stuck in traffic getting back, so the journey took a while, so I was able to tell Ronnie more about Vancouver and point out local landmarks and buildings. I got home and had to quickly change clothes, grab the raffle prizes and drive back downtown to meet Ronnie at his hotel an hour later.
I met him in the lobby and we walked the half a block to the pub. As we walked in, the place (which was packed with over 150 people) erupted as everybody stood and gave a round of applause while Ronnie and I walked through to our table. This was when Ronnie came into his own as a truly class act. He started walking around the pub and chatting to people and posing for photos and signing autographs. He didn't even worry about eating his dinner till later on as he was so keen on meeting all of our members, who were absolutely thrilled to meet him. This was the first time that anyone associated with Liverpool FC has come to Vancouver for a supporters event, so it was a really big deal, especially for our members who have never had the opportunity to attend a Liverpool game and see their heroes in the flesh.
One of our members, and a local sports radio host, Paul Chapman got up and gave a passionate speech about LFC Vancouver and how we are the best supporters club in Vancouver, as well as saying some kind words about me, before introducing Ronnie. Then Ronnie stood up and told stories. It was as good as any stand up comedy routine and he had everyone falling about with laughter from his hilarious anecdotes. He made fun about his own goal at Old Trafford and talked about how Bob Paisley would get opposition player's names wrong, calling everyone Dougie.
After his act we had a twenty minute break so Ronnie could grab a bite to eat and the supporters could grab a drink. It was then my own turn to get on the microphone, and give away some signed Liverpool shirts, which we raffled to raise money for Jamie Carragher's '23 Foundation'. We raised a fantastic $2,100 from selling raffle tickets. After the break, Ronnie went back on the microphone and answered questions from the crowd. Once again he was hilarious as well as informative, giving honest answers and opinions. He was full of praise for Brendan Rodgers and how he is moving the club in the right direction. He also praised Rodgers for the way he is trying to include the former players more with the club.
The event officially came to a close with a member, Jamie, who is a professional musician, getting up with his guitar and performing a number of Liverpool FC songs. He was backed up by the entire pub singing along and finished with an incredible version of You'll Never Walk Alone. I have heard this song sung so many times in the past, but outside of Anfield I have never before heard it sung so loudly and with so much passion as it was on this night. Ronnie told me the next day that it was one of the greatest versions of the song he had ever heard. Ronnie stayed until 2am, making sure he sat with everyone and signed autographs, once again proving what a truly classy guy he is, and a credit to Liverpool FC. When it was just a few of us left, Ronnie had us in stitches again, by telling us stories about Steve Nicol and the pranks they would play on him.
The next day Ronnie went for lunch with the other members of our executive committee, Andy and Andrew, before I met them back in the pub in the late afternoon. After a good laugh and joke about the previous day and my golfing abilities, it was time for Ronnie to leave. I drove him to the airport and during the drive he told me several times that he had a wonderful time in Vancouver and that the people he met were all absolutely fantastic. He loved it here so much that he was insistent he will be coming back, sooner rather than later. I have since exchanged several e-mails with him since he got home and he has again expressed a desire to come back to Vancouver for a proper holiday here. He has also told me again what a wonderful time he had and what a fantastic event we put on. I can honestly say that after my wedding, and my son being born, the Saturday when we played golf and hosted the big event was the third greatest day of my life so far. I am now honoured to be able to call Ronnie a friend and I am so pleased that he was able to come to Vancouver and hang out with us for the weekend.