Liverpool owner John Henry has made it very clear to Arsenal that they have no chance of buying Reds striker Luis Suarez.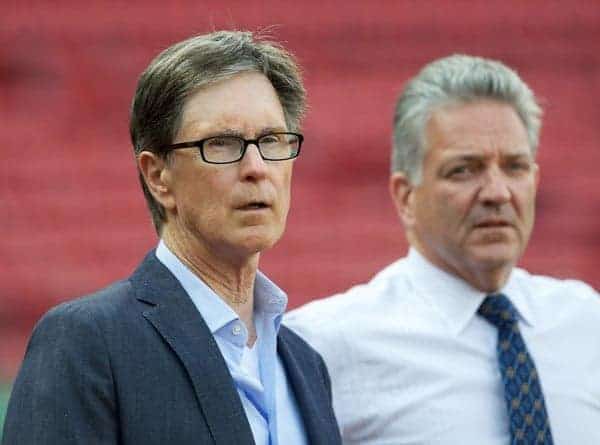 With the 26-year-old wanting to play for a club with Champions League football, Arsenal, who are yet to qualify for the Champions League 2013/14, have had two bids for Suarez rejected by Liverpool.
Henry says he has spoken personally with Gunners' chief executive Ivan Gazidis and told him "unequivocally" that Liverpool will not sell Suarez to the North London side.
Henry is quoted in Friday morning's Telegraph as saying, "We are not going to sell Luis. It's a football reason. It's not finances. At this point, so late in window, with everyone who's already moved or isn't moving, we do not have time to replace him.
"So for football reasons we can't – and especially to Arsenal. We've made that clear. I have said to Ivan Gazidis in a personal conversation that we will not sell to Arsenal. It is unequivocal, but that doesn't seem to slow them down so I can't wait to see what the next bid is.
"We're not in Europe this year and have not been in the Champions League for a while. To sell to a rival for those Champions League positions, or one of them, would be ludicrous. Whatever the bid is, we won't sell him. We need Luis. Hopefully this will pass."
The news comes in a week in which Suarez has turned to the press to help him force his way out of Anfield, falsely claiming that he had a £40million buy-out clause in his contract.
Earlier today Suarez claimed he was still hoping for an amicable agreement in letting him leave to join Arsene Wenger's side at the Emirates.
Now Henry, who was in Norway for Liverpool's 4-1 victory over Valerenga on Wednesday night, has put his foot down to stop the transfer saga from escalating further.
Henry also spoke about the way Arsenal have conducted business, pushing forward bids based on the myth that Suarez had a buy-out clause in his contract, which was ruled out by the PFA's Gordon Taylor on Wednesday evening.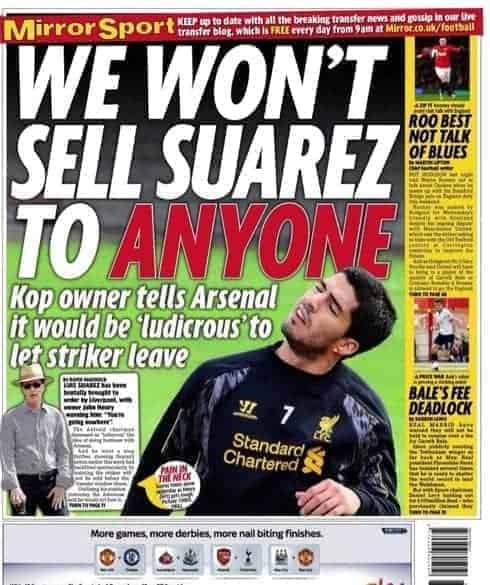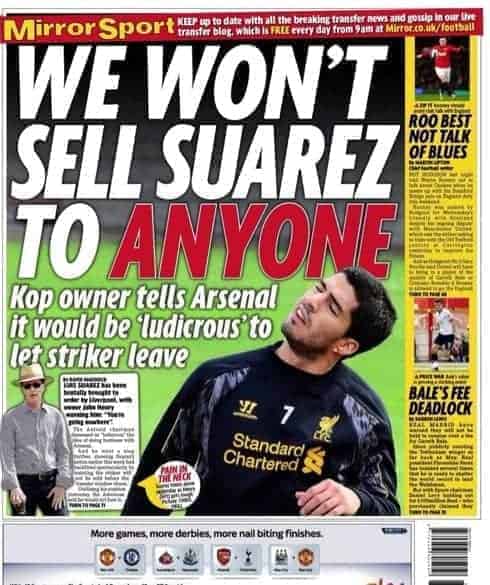 Henry now hopes that Suarez can put the saga behind him and move on, reconciling with manager Brendan Rodgers, who has forced the Uruguayan international to train alone this week following his lacklustre attitude in pre-season.
"That's going to be between the manager and player," he added. "The manager is upset, as he should be, the supporters are, Luis is, but that's going to be between those two and his team-mates. He's one of the best players in the world. I have no reason to believe he won't continue to be.
"If you look at the full context of what's happened here, it's jarring to all our supporters. The club has stood by him so strongly at a time you could question whether the club should have stood by him, but they did.
"There's a saying in baseball about loyalty to the uniform. There's a ­certain feeling you get when you put on a uniform as a baseball player and I'm certain it's the same for most football players. When you put on the uniform it's pretty special. I'd imagine for most footballers to put on the uniform of Liverpool Football Club is a big moment."
Earlier in the day we brought you four of our top Liverpool FC writers and their views on the Suarez saga and what next for the Reds, should he leave.
[table id=18 /]