It's been a strange start to the season for Brendan Rodgers' Liverpool and already the manager is talking about the January transfer window.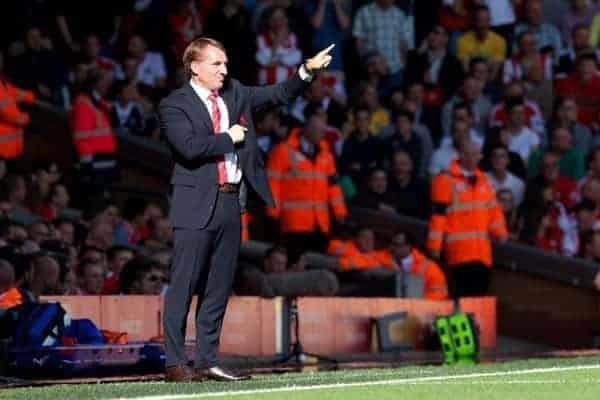 Think Brendan Rodgers and you think of a manager with a clear philosophy, a system he knows he wants his team to play and an ability to coach and develop players, especially younger ones. Those are large reasons he was given the Liverpool manager's job 15 months ago.
So how come, just 5 League games and 2 League Cup games into his second season, Rodgers appears to have lost all direction?
"We have to make sure we stay up in the top six in the league and keep fighting," said Rodgers after the 1-0 defeat at Old Trafford on Wednesday night. "Hopefully we can reinforce again in January."
Merely seven games in, having brought in seven new signings in the summer, and yet the manager who was been brought in to develop players is already looking towards the January transfer window.
A year ago, you could understand such a quote, but now it's puzzling to say the least. We all knew where the squad needed strengthening in the summer, not that a defensive midfielder was signed.
Rodgers has made some odd decisions over the past month or two. He signed two centre-backs for a combined fee of around £24m, then played Martin Skrtel in every game since after hardly playing him for the six months prior.
Then there's the change of formation, last night completely throwing his idealised 4-3-3 formation out the window and going with a 3-4-1-2 shape. Usually such tactical changes are best implemented during a pre-season, or after thorough work on the training ground. You can safely assume neither had happened here, with the Southampton defeat only four days ago.
Personally, I felt the formation last night worked pretty well, but it's odd that a manager who has preached his philosophy so strongly to all of a sudden completely change his tune. What's caused this change? Is it because he feels it's the only way the side can accommodate Suarez and Sturridge?
Rodgers is a manager who has a reputation for trusting young players, "they'll run through a brick wall for you" he famously said a year ago. Yet this season he has done far from that. He's preferred to play Kolo Toure out of position than Andre Wisdom at right back and he refuses to drop Steven Gerrard despite the skipper looking in desperate need of a rest.
Now his side are out of the League Cup, the chances for Raheem Sterling, Luis Alberto, new £7m man Tiago Ilori, Andre Wisdom and the likes are going to be very, very slim.
The League Cup should be a competition that is used for two things; the opportunity to rest key players who need resting – see Lucas, Gerrard and Sturridge last night; and give opportunities to young squad players – such as Sterling, Alberto and Ilori last night.
The League Cup should not have been a priority for Liverpool this season. In fact, 100% of the club's, and manager's, focus should be purely on finishing in the top four which is incredibly crucial for the short and long term future of the Football Club.
Last night, the team selection should have reflected that we face a tough game, made tough by the sacking of Di Canio, at Sunderland on Sunday. Even just resting the trio of players named above would have been sensible.
Perhaps here would be an apt time to bring up the matter of fitness levels this season and how Rodgers' side are still without a second half League goal and half the squad look completely worn out. Were they over-trained in pre-season?
This isn't an attack on Rodgers, but some of what he has been doing of late is out of character, either that or the last 14 months were. Here is a manager who prides himself on coaching and developing players, yet he's gone from a year ago rightly saying we didn't have the numbers in the squad, to now saying we don't have the quality in the squad.
Perhaps the questions raised above are harsh on Rodgers? After-all, a manager can't be blamed for Enrique leaving his man unmarked six yards out on a corner, Lucas constantly giving the ball away in midfield, or Daniel Sturridge not having a right foot.
Nonetheless, Rodgers shouldn't have wasted so much effort collectively on a competition that has literally no significance to the overall single goal of the Football Club at present – to get back into the top four. Hopefully now he will be forced to focus on this, and won't repeat the same mistakes in January when the FA Cup starts.