Kenny Dalglish recently said that by reaching two Cup finals in 2012 his team had over-achieved. He was sacked after finishing eighth – 17 points off fourth place.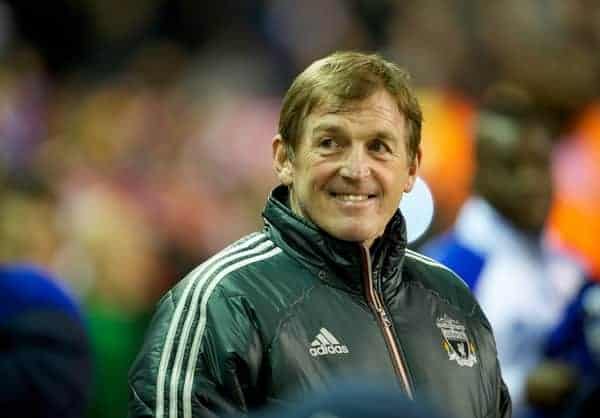 "What those boys achieved in 2012 was fantastic," Dalglish told The Liverpool Echo. "To win the Carling Cup and to get to an FA Cup final was beyond any expectations. People will turn around and say we finished eighth in the league, but how many points would you swap for three Wembley trips?"
This opens up the debate over where Liverpool's priorities should lie; it's crucial they get back into the Champions League is surely the aim of all?
We got the views of the This Is Anfield writers to find out if they agreed with Kenny, or whether finishing fourth have been prioritised over cup runs?
Aaron Cutler
The manner of Kenny's departure still rankles but with hindsight has come a greater understanding of FSG's decision.
Reaching two cup finals was a big achievement and one that is harshly overlooked. The reds had gone six long years without a trophy and it was Dalglish who ended that drought. Had he not, both fans and press alike would play on the barren years as they do present-day Arsenal.
Football is about silverware – do kids grow-up dreaming of a fourth placed finish or lifting cups under the arch? The answer is obvious but kids and purists do not run football clubs, men in suits do. The latter crave Champions League football/revenue above all else. If cup success is thrown-in as part of the bargain, all the better, but a place at Europe's top table takes priority.
Sadly Dalglish was unable to strike a balance. Our Wembley visits were not supplemented by a fourth, fifth or even sixth placed finish which hinted at a means to an end. Combine that shortfall with a torrid end to the season and some high-profile transfer failings and FSG were given ammunition. Many fans lamented his dismissal but more and more are now accepting that Brendan Rodgers is (slowly) progressing with his vision.
So in short Dalglish was by no means a failure but nor did he overachieve. If anything he was stuck in the middle – itself ironic as his failure to balance league and cup success proved his undoing.
Joseph Copeland
For a club that demands silverware, 3 trips to Wembley in a single season is nothing short of outstanding. The last time I checked, you're supposed to try and win every competition you participate in.
Sure, Champions League qualification might be the ultimate goal going forward, but there is something special about a Cup run for a club. Who can say that had we ignored the Cups and focused on the League that we would have gone Top 4?
For Liverpool, a club that is desperate for any type of success following a difficult few years, silverware was the only immediate relief. Look at the dramatic 2006 FA Cup triumph. That was an iconic moment that will forever be remembered by anybody connected to the club. Any team can get hot and make one magical trip to Wembley, but for Liverpool to do that TWICE and reach two Finals is something to proud of.
The league results were not what we would expect from this club, but players, fans, owners, etc. all want to win trophies. Kenny Dalglish put his team in a glorious position to do so. So should he be praised for the Cup success? Yes. Should he be criticised for his mediocre League finish? Without a doubt. What will fans remember most from that year? The penalty shootout win over Cardiff? Or how about beating Everton in the FA Cup Semifinal? I will never blame a coach for adding to the trophy cabinet.
In 10 years, nobody will wonder if we finished 4th, 6th,or 8th, but perhaps they will go back to the pulsating victory over Cardiff City and tell their kids they were there. Any trophy is a good trophy in my book.
Tom McMahon
I agree with Kenny that the cup campaigns that season were an amazing achievement, as winning trophies is the ultimate aim of Liverpool FC and the club mustn't lose sight of that (yes, I'm looking at you Arsenal). However, I disagree with him in regards to the team overachieving. The league is a good barometer of a sides quality and consistency, so when you factor in the vast amount of capital that was invested into the squad, an 8th placed finish was incredibly underwhelming and simply not good enough.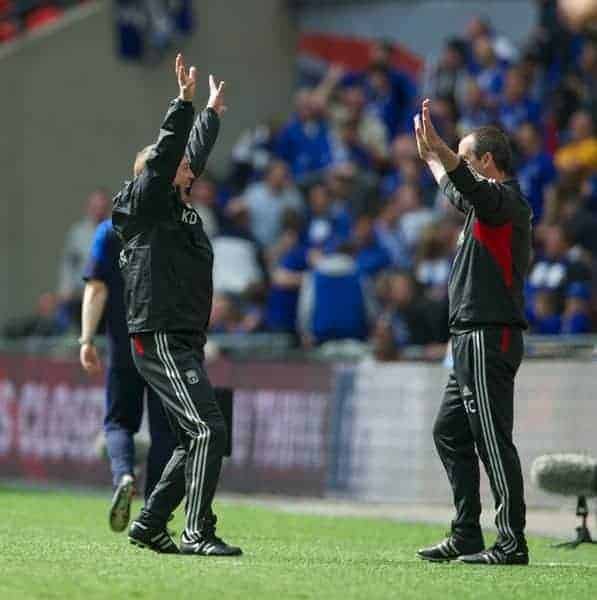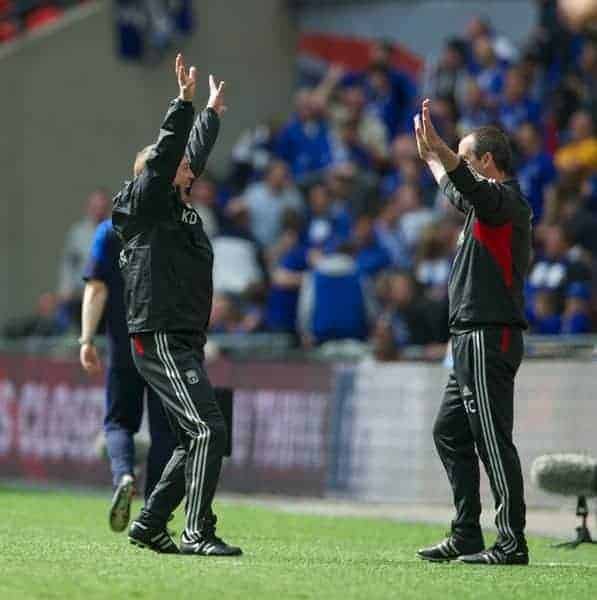 Marco Lopes
Dalglish's comments are intriguing in that they are fundamentally divisive, not just in the Liverpool fan-base, but ultimately in a consideration between the values of modern football and the glory days of old. I used to think the same as Kenny; there is little point in an open top bus parade to celebrate the "crowning" achievement of being 4th best in a race where the victor receives the true spoils. My opinion has changed, and many others have, too.
Given the latent weaknesses in that squad that season, and in particular, some of the non-Liverpool standard players it possessed (Downing, Spearing, Carroll, Adam…), one could see the merit of Kenny's argument that they over-achieved. But the truth is, they didn't, and given how much money was spent to gear Liverpool up for the season ahead, they should have done better.
In 2011-12, Spurs and Everton finished above Liverpool that season with arguably comparable squads. The prior season, Kenny's caretaker spell nearly got Liverpool into 5th place. Liverpool was weakened over that summer, but it was largely because of poor spending (as we've all lamented to death). One should then consider the various unusual tactical decisions, team selections… why did Maxi Rodriguez play such a small part in the team? When Lucas picked up a long term injury, why was an adequate replacement not signed in the January window (something we still have concerns with)? Raul Meireles had been useful in the caretaker spell – why was he not correctly replaced? Why was Jordan Henderson poorly used in various different positions without success? All these questions pose various implications to the lack of league success that season.
As for Kenny's notion about how many points one would swap for the Wembley trips – my answer is as many possible. I point back to my recent Liverpool wishlist piece: the explosion of the sport's financial growth has affected how clubs prioritise competitions and the way they build and apply squads in their respective campaigns. One only needs to look at the financial significance of the Champions League – matchday revenue, broadcasting revenue, commercial revenues, reputational leverage, attracting quality players – to understand how suddenly a simple table placing surpasses a glorious day out at Wembley.
Those Wembley trips didn't help Liverpool in the long term (and probably even the short term). A team that lost all its Champions League group stage matches last season earned over 8 million pounds – I'd wager that amount comfortably dwarfs what Liverpool earned from their Carling and FA Cup runs of that season. The currency of Liverpool is still trophies (as opposed to money), but it needs to be the right trophies (the Premier League and the Champions League). The club has to build to compete and win those trophies because it is only those that matter. And to do that, the club relies on the finance and the prestige (amongst other sources of money, naturally) of elite European competition. Tease the Mancs all you want about the debts they accumulate every day under the Glazers – they still have significantly greater ability to generate money to stay competitive than Liverpool (check out my finances piece for more clarity on this).
King Kenny will always be just that – and his contribution to the club cannot be questioned. But in this situation, I disagree with him, especially about the priorities. This season, Liverpool have a favourable fixture list, have started strongly despite mixed performances, which they can only improve on. All the foundation is there to kick on up the table. It's not about missing out on Carling and FA Cups – it's about making the steps that need to be made that build the club to the point where it's challenging consistently for the open top bus parades that really matter; the ones that get sung about, the ones that create legends and the ones that defined Liverpool Football Club in the first place.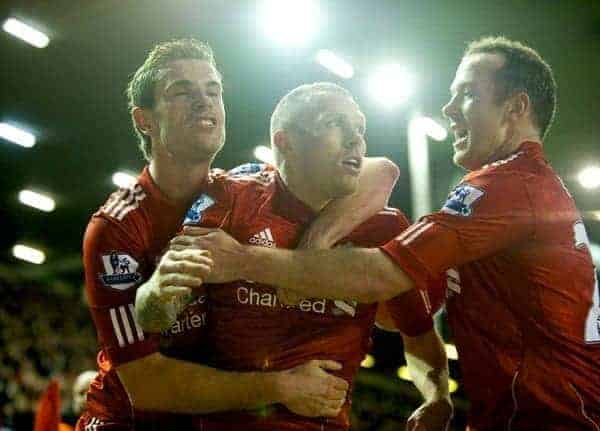 Neil Poole
In 2012 we finished 8th on 52 points; 4th placed Spurs amassed 69 points. Would simply reprioritising the league over cups have been enough to make up a 17 point deficit? I seriously doubt it. Whilst the team could certainly have finished higher I don't think that team was good enough to finish fourth.
In light of this, and specific to that year, I believe Kenny was right to prioritise the cups. Even taking the two finals out of the equation I would not swap that feeling I had standing in the Gods in Wembley after beating Everton in the FA Cup semi final. To say I was relieved doesn't come close to it. I was truly elated. Gloating isn't pretty, but it sure is fun! I'd have shrugged my shoulders if we'd finished 5th.
However, and overall, if there's a good chance of finishing 4th I would prioritise it over cups. It's sad that money is so important. Nonetheless the Champions League brings riches; those riches and the Champions League status attract better players; and those better players can help you to build a team that will consistently win cups in the future.
John Ritchie
Dalglish took over Liverpool just after a time when the club had suffered a sort of near heart failure due to the work of Hicks and Gillett. FSG's took a gamble, their approach was to inject a large sum of money in order to buy their way out of the problem rather than take the time to recover, heal and sort out the mess that was left rather than papering over the cracks. The gamble never paid off. This approach effectively stalled the recovery, the illness remained, indeed from a squad point of view, it got much, much worse.
It's worth noting that it will nearly be 5 years in January since Liverpool once competed with Europe's elite and every Liverpool fan I know would gladly swap playing Mansfield Town in the FA cup if it meant playing Atletico Madrid in the Champions League.
Kenny's comments are true to a degree 'people never remember you finishing fourth' but it depends on what's the greater good. Finishing fourth can lead to wonderful things, just look at how we qualified for the Champions League that lead us to winning it in Istanbul.
I'll always remember that League Cup, but I'd gladly swap it for having Liverpool back competing alongside the best of the best so long as the caveat is and will always remain that finishing fourth is not a trophy, but getting back into that elite group gives you a greater chance of winning many more. Whilst the club is outside of that European elite, getting back into the European Cup should be the number one priority.
What do you think? Let us know if you agree with Kenny or disagree?
[poll id="143″]