The Reds have signed some wonderful players over the years, but there have also been some who never reached the heights many predicted of them. Henry Jackson picks his five most disappointing LFC signings.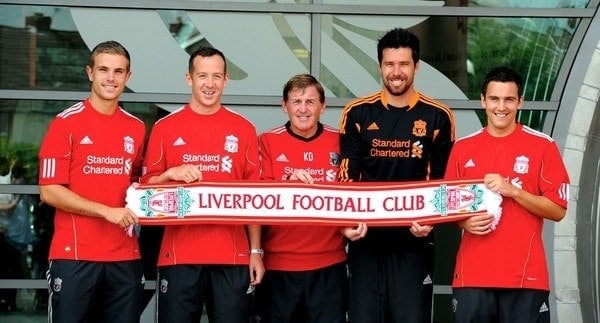 5. STEWART DOWNING (£18.5m from Aston Villa– 2011)
The signing of Downing didn't exactly delight Liverpool fans, but he was still expected to be a good signing by Kenny Dalglish.
The winger was seen as someone who could add pace and threat to the side from wide areas, but invariably he looked severely lacking in confidence. He tried hard, but simply never justified the vast fee the club paid for him, scoring just seven goals in 91 appearances.
The 29-year-old was sold to West Ham this summer after two poor seasons at Anfield.
4. EL HADJI DIOUF (£10m from Lens- 2002)
Diouf had enjoyed a terrific 2002 World Cup for Senegal, and many thought he was going to be a great signing by Gerard Houllier.
Having scored twice on his debut it was downhill from there, and Reds fans were left wondering why on earth Diouf was bought instead of Nicolas Anelka.
His lack of threat down the middle saw him shifted to the right wing, where he was equally ineffective, and he ended up more famous for his despicable behaviour rather than his talent.
3. ROBBIE KEANE (£19m from Tottenham– 2008)
When Rafa Benitez signed Keane from Spurs many thought he would form a fantastic partnership in attack with Fernando Torres. It didn't work out that way whatsoever.
It took him until 1st October 2008 to score his first goal for the club, and he increasingly found himself on the substitutes bench – missing several open goals didn't help his cause!
Keane simply never got going, and was sold back to Spurs after just six months at Anfield. Some will argue he wasn't given time by Benitez, but he was still very disappointing.
2. ALBERTO AQUILANI (£17.1m from Roma- 2009)
Xabi Alonso departed Liverpool in the summer of 2009, and Benitez needed to replace the Spaniard with a midfielder of similar quality.
He drafted in Aquilani, but injuries meant he didn't make his debut until late October that season. Although he was clearly talented, he lacked the fight and physical presence to be a success in England.
The Italian's lack of impact was a key part of Liverpool's downfall that season, and he made just 28 appearances for the club.
1. HARRY KEWELL (£5m from Leeds– 2003)
Although the Australian was a bargain, there has still never been a more disappointing signing by the club.
The Reds had lacked a top quality left winger for years, and Kewell was seen as the missing link in the side. He was superb at Leeds, was still just 24 and ticked all the boxes.
He looked a shadow of the player he had been previously, however, and injuries hampered him constantly. He was substituted because of injury in both the 2005 Champions League Final and 2006 FA Cup Final, and seemed to lose a huge amount of confidence.
His Reds career actually lasted five years, but it's hard to think of many great moments from him during that time.
Who do you think is Liverpool's most disappointing signing?