Aaron Cutler profiles one of Liverpool's all-time greats, God himself.
Every kid needs a hero, someone to inspire, imitate and idolise. For myself and thousands of other Liverpool supporters who grew up in the 90s that man was Robbie Fowler. On the surface The Toxteth Terror was an exceptional striker, probably the best finisher this country has ever produced. But to us he was so much more. To us he was a kindred spirit, a direct link between The Kop and the first team. To us he was God.
I began watching my beloved Liverpool at the start of 1996/97 season, shortly after an FA Cup Final defeat to Manchester United. I had just turned seven years old and found myself drawn to the game and team my father obsessed over. A lifelong red, my dad did not hesitate to indoctrinate me. One of my earliest memories is previewing a home game with Arsenal and him allaying any doubts I had about the result by promising they could not handle Fowler.
Ironically Robbie failed to the score that evening, his great mate Steve McManaman instead helping himself to a double. Nevertheless the confidence Fowler bred stuck with me and I soon realised why he was held in such high esteem. That year he plundered 31 goals, the third successive season he had recorded 30 plus. He also notched his 100th strike for the club in a 5-1 trouncing of Middlesbrough, in which he scored four. That master class in finishing meant he reached the landmark one game quicker than Ian Rush, testament to his early brilliance.
To an impressionable kid who had quickly become obsessed with all things LFC, he was all-powerful. Not a game would pass; it seemed, without Fowler helping himself to yet another goal. It became standard practice. One of the most memorable that season came in another 4-3 epic against Newcastle, where he leapt above Phillip Albert and Steve Watson to head a 90th minute winner. The hero of the hour, yet again.
Inspired I soon found myself copying his every move. His name and number decorated both kits, I wore Puma King Boots that matched his, at one point I even donned a plaster across my nose!
I also began to appreciate the special bond Fowler held with Liverpool supporters. Though too young to properly understand the significance of his shirt in support of sacked Dockers, I knew it was symbolic, a sign of unity. There was a reason, beyond his talent alone, that he received the heartiest cheers whenever that first X1 was announced.
The fans identified with him, realising he was cut from the same cloth – only living their dreams. He was also mischievous … dropping his shorts in celebration, name dropping Gary Neville when asked about things he loathed … devilish yet harmless behaviour in which our support joyfully revelled.
Liverpool finished fourth that season and were mounting a title charge the following year when disaster struck in February. Fowler sustained knee ligament damage in the 90th minute of the Merseyside Derby at Anfield after colliding with Toffees keeper Thomas Mhyre. Not only would he miss that summer's World Cup but a gut-wrenching seven months of football. A defining moment, many argue things were never quite the same.
During his absence Michael Owen took the world by storm and became the latest wonder kid on the bloc. No longer golden boy, Robbie endured an arduous road back to competitive action and public reckoning.
Finally recovered he scored twice on his comeback against Charlton the following September and added another 16 before the season's end. In spite of this people began to question his general fitness and whether injury had robbed him of that razor sharpness. The looming departure of Roy Evans also brought-about a changing of the guard and a break-up of the 'Spice Boy' culture to which Fowler was integral.
Controversy too plagued the 24 year old during this period, when high profile fall-outs with Graeme Le Saux and Everton supporters bought successive suspensions. To the dismay/confusion of many, such events only served to endear Fowler further to his public. Enacting a snorting celebration at the Anfield Road End was provocative yes but also a sweet riposte to those who had cruelly attempted to besmirch his reputation. God was far from holy and we loved that. Too many footballers had adopted a boring, calculated, almost generic image with no hint of personality (Shearer, Owen anyone?). Fowler was the total opposite. A proud scaly-wag he refused to revert to type.
Such unruliness bewildered the incoming Gerard Houllier, who took it upon himself to oust Fowler from his throne. Journalists were asked to write critical pieces, photos were staged to suggest disobedience in a smear campaign. The Frenchman resented his striker's status, knowing such popularity made him untouchable come a planned clear-out.
Robbie was again sidelined through injury for much of the 1999/00 campaign, featuring just 14 times. Upon his return to fitness Emile Heskey had been signed and the darling of The Kop was blatantly relegated to third choice striker.
Despite the club accepting bids from Aston Villa and Chelsea he stuck around and fought for his place, withstanding some rough treatment from Houllier along the way. It proved the correct decision as a trophy-laden season lie ahead in 2000/01.
Fowler captained the Reds to Worthington Cup glory that February, scoring a spectacular half-volley and earning Man of the Match in the process. He also came off the bench as Arsenal were beaten in the FA Cup final and scored a terrific solo goal in a pulsating UEFA Cup defeat of Alaves. With a remarkable cup treble secured, only a Champions League berth remained; something that could be won or lost away at Charlton on the final day of the season. A jaded Liverpool were completely outplayed for the opening 45 minutes, only for their number 9 to turn the game with both a superb overhead kick and sweeping finish. Classic Fowler.

Still controversy reigned. A well publicised row with assistant manager Phil Thompson saw Growler exiled for two weeks at the beginning of the following campaign, again calling his future into question. Once recalled he notched an awesome hat-trick away at Leicester in October but was sold little over a month later. Leeds had stumped-up £11m for his services and this time, no doubt scarred and beleaguered, Robbie bid farewell.
That proved a bitter blow for swathes of Liverpool fans, some of whom vowed to turn their back on the club in disgust. I am not ashamed to admit I cried. I was 12 years old and the hero of my youth was leaving. I had always gained greater satisfaction from Liverpool winning if Fowler had scored. I could not imagine the club without him. As far as I was concerned he had been forced out and I never forgave Houllier for that.
Contrary to popular belief Fowler fared well at Leeds, pitching 14 goals in 30 games. Sadly, the off-field turmoil that engulfed the club forced a fire-sale and most of the squad's top earners were sold as damage limitation. By 2003 Robbie had joined Kevin Keegan's newly promoted Manchester City.
It is fair to say he struggled at Eastlands, both with fitness and form. After a very slow start he showed signs of his former self in the 2004/05 campaign, netting 11 times and being voted in the fans top three players of the year. That year also saw him register his 150th Premier League goal – one of only eight players to reach that milestone. Obvious to all however was a longing for Liverpool, his one true love without whom he was never the same.
Rafa Benitez had since become Reds manager and led the club to Champions League glory in 2005. Fowler was in the crowd that evening and jokingly asked the Spaniard to sign him during the winners after party. Remarkably that dream became a reality seven months on when the Reds were on the lookout for another striker. Handicapped by a lack of funds, Benitez approached City with a view to re-signing the fans favourite on a free transfer.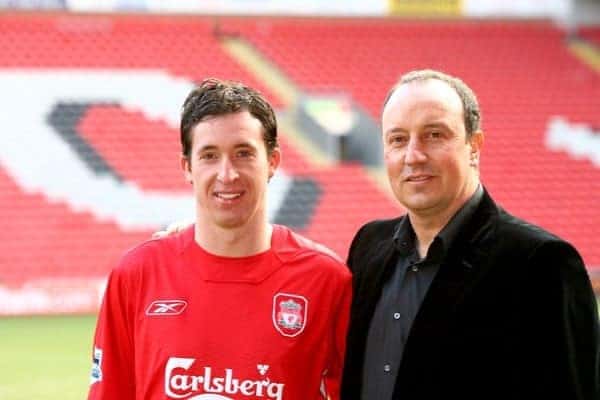 To everyone's surprise the deal was put into motion immediately and on January 27 Fowler found himself in a car outside Anfield ready to seal an emotional return. With next to no regard to wages or contract length he out pen to paper that night and returned to his vehicle to let out a scream.
When news broke fans across the world rejoiced at the Second Coming. Banners were unfurled, new shirts printed and pints sunk in celebration. It may seem an unlikely comparison but personally it rivalled Istanbul for the greatest high I've felt supporting Liverpool. Fowler was a Liverpool Legend who should never have been allowed to leave. Now he was back at his spiritual home. Some things are just meant to be.
The homecoming itself was a sight to behold, a home game with Birmingham City. Introduced as a 63rd minute substitute the ovation was thunderous, a moment to make the hairs on the back of one's neck stand to attention. A fairytale return was almost capped with a last-gasp overhead kick only for a linesman to rule offside.
In spite of that disappointment he ended the season in decent form, scoring in three consecutive Premiership games that April. He also scored on the final day of the league season away at Portsmouth to earn a contract extension.
He began the following campaign in the side and with the number 9 rightly adorning his shirt. But before long he fell down the pecking order behind the likes of Dirk Kuyt, Peter Crouch and Craig Bellamy who all vied for starting roles.
Despite this his return of seven strikes in ten starts represented the best goals to game ratio of the four, while his finishing capabilities put them to shame. He may not have been as mobile as his former self but nobody rivalled him when it came to the art of goalscoring. Nobody ever has.
As the 2006/07 season drew to a close it became patently obvious Fowler would not receive another contract. Nevertheless, he was afforded a fitting send-off at home to Charlton on the final day of the league season, ten days before the Reds headed to Athens for another European Cup final. Having been substituted at half-time of his previous farewell (six years before), a 90th minute withdrawal to a standing ovation was more in-keeping with his status. As they did this past May with Jamie Carragher, The Kop stood to a man to applaud one of the few modern day Legends.
Fowler went on to have spells with Cardiff and Blackburn before heading to Asia to play for North Queensland Fury, Perth Glory and Muangthong United. He is still to officially retire but is more likely to be seen in an ambassadorial/punditry role than a playing one these days.
Every kid needs a hero and Robbie Fowler was mine, he still is. With the possible exceptions of Steven Gerrard and Luis Suarez he remains the finest player I've seen in my time supporting Liverpool. He was the best finisher of his generation, capable of scoring any type of goal from any angle. He was an intelligent footballer, with far more skill than people give him credit for. He developed his game with age, becoming a regular creator of chances as well as a veteran predator. There was both dynamite and magic in those Puma King (and latterly Nike) boots. On his day nobody could live with him, just ask Messers Keown and Bould.
Inexplicably overlooked, he should have led the line for England far more than 27 times but then again Liverpool was always his main priority. And for that we loved him. He was one of us, a local lad with an immense talent. Someone who never forgot his roots or his cheek.
A Scouser, an Icon, a Legend. God.