Luis Suarez has once again gone on record as saying he has changed his ways, and is now focussed on helping Liverpool qualify for the Champions League.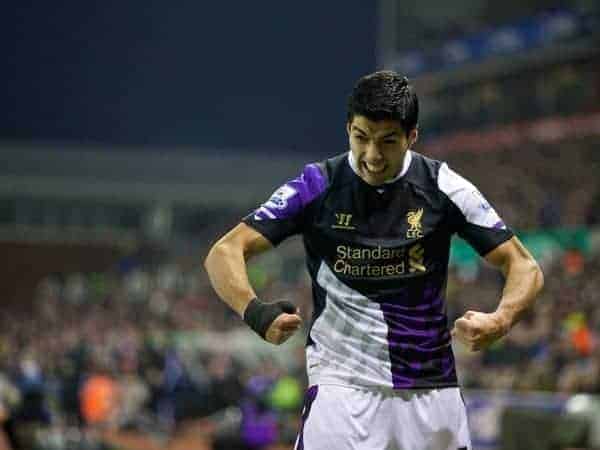 The Uruguayan international was on target twice for the Reds on Sunday as they beat Stoke City 5-3 at the Britannia Stadium — the club's first victory there in the Premier League.
Suarez has now scored 22 goals for Liverpool this season, all in the league, making him the top scorer by a clear nine goals from Manchester City's Sergio Agüero.
Now Suarez appears a more mature, and better player, sweeping aside defenders and hungry to help Liverpool challenge for the top honours.
"When you are a child, you imagine a lot. Now many people or players speak about that and it's unbelievable for me," he told the club's official website.
"And also for Liverpool, because in the last two or three years we have not played very well and not demonstrated our level. Now we are back to that.
"You work hard for the supporters and the people. It's important because the last few months were a little difficult for me. Now I've changed and it's okay."
Liverpool's win at Stoke at the weekend moved them back up to fourth, and currently sit six points off the top spot after 21 games.
Whilst it is very close for the top four Champions League spots, Suarez believes the progress of the club has shown everyone that the Reds would be a force in UEFA's elite competition, should they qualify.
He added, "It's very important because we know that in the last two years we haven't demonstrated that Liverpool can play in the Champions League.
"Now we are playing very well and we have the level to play in the Champions League. We have really good players and if we continue at this level, we can do it."
Brendan Rodgers's side next host Aston Villa at Anfield on Saturday afternoon with a win necessary to keep up with the chasing pack of Arsenal, Man City and Chelsea at the top of the table.
Liverpool vs Aston Villa gets underway at 5.30pm on Saturday, 18th January 2014. It's live on Sky Sports 1 in the UK.