With Luis Suarez back grabbing headlines for the all the wrong reasons, Ben Twelves ask; does the Uruguayan have a future at Anfield?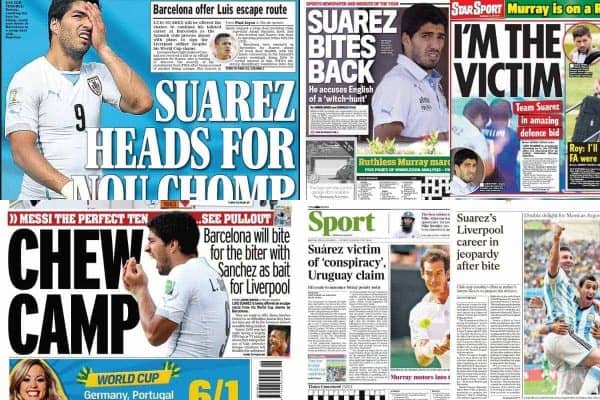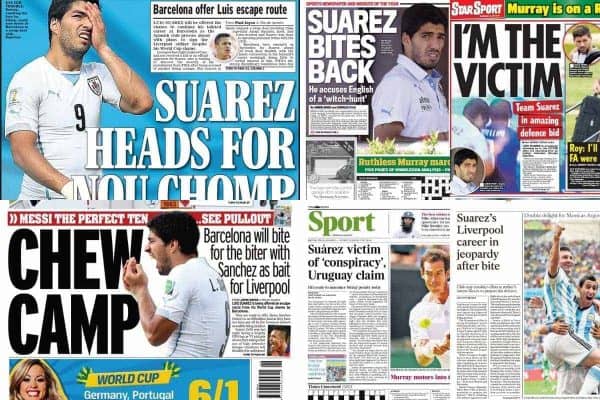 Fourteen months on from when Luis Suarez was hit with a 10-match ban for the incident with Branislav Ivanovic and we are back at square one. It is completely deflating to be back here after a season of nothing but pure football loving for our flawed genius, who had seemed to have turned a corner and won over even his most fierce critics.
Suarez picked up the Football Writers' Association player of the year and the PFA player of the year awards as a result at the end of a memorable campaign. He was praised for letting his football do the talking which saw him turn his detractors around and he paid tribute to his family, Brendan Rodgers and his Liverpool teammates for their help making it happen.
Everything was going so swimmingly with Luis, or so it appeared, but here we are again and how painful and gutting it is. Watching the game live on ITV4 over the bore-fest that was England meant I saw the incident as it happened in real time. A feeling of immense disappointment and emptiness that we were back at this point once more was overriding for the remainder of the game.
His goals and performances throughout last season finally had everyone talking about him for being the world class talent he is. At the time of the incident yesterday, Uruguay were facing elimination but were still in the World Cup and well in the game. Time was running out, but they had a man advantage. It was working in Luis' favour but bizarrely, he did it again.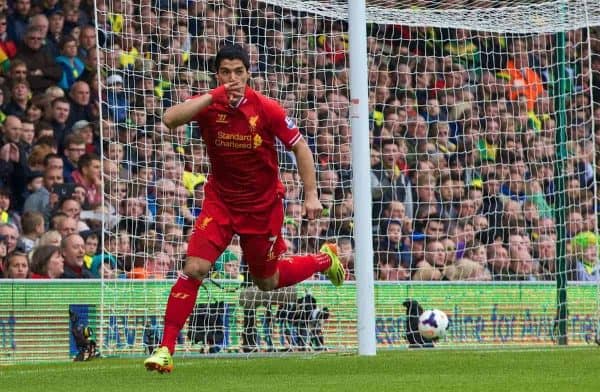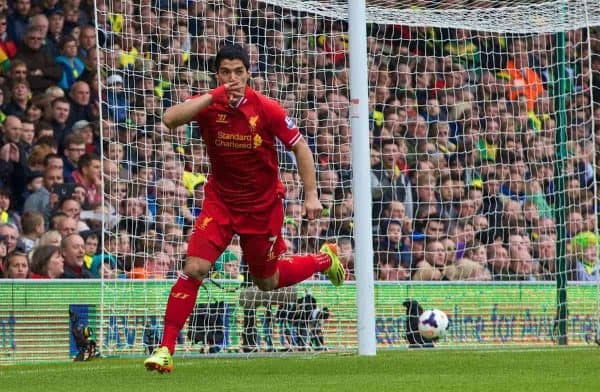 All I could think was why? How could he do it again? What about Liverpool? It makes no sense as it didn't both times previously either. This time though, it could potentially change a whole lot more and have seriously bigger consequences than before that will depend on both the size and effect of the impending ban.
Suarez's club future was always going to be up in the air this summer but this has added a whole host of sub-plots to it. From previously preparing to do everything in our power to keep him at Anfield, do we now have to do the opposite?
Can Liverpool Football Club afford to keep someone who could impact on commercial and sponsorship deals? The events of April 2013 saw discussions take place with concerned club partners who signalled their unease at being associated with a club where reputation and image was being brought into question by Suarez's actions.
It will be interesting to see how Liverpool respond if any ban impacts on club football which hopefully it doesn't. If club level remains unaffected after a ban is handed out, it could be viewed as the perfect time to cash in on Suarez, that's assuming Barcelona or Real Madrid would still want him.
Re-reading art. 136, there's a possibility Suarez could be banned at #lfc. "If the infringement is serious, including but not limited to…"

— Dave Phillips (@lovefutebol) June 24, 2014
So there appears discretion in art. 136 (if the offence is sufficiently 'serious') for Fifa to ban Suarez & seemingly then extend that ban.

— Dave Phillips (@lovefutebol) June 24, 2014
I think both would still want to sign him as despite his behaviour, he is a world class footballer. I also think one of them will now get their man. I think it's almost becoming impossible for Liverpool to keep the Uruguayan and the only way I see him staying at Anfield is if he feels deep down that he owes the very people that backed him, helped rehabilitate him for a period of time and get him to a performance level where he is attracting the attentions of giants such as Madrid and Barcelona.
It has recently been claimed that he wants to stay and experience European nights at Anfield but he may no longer get a say in whether that can become a reality. I hope it can as after all, he is a big reason why we are back in the Champions League and why the commercial partners of Liverpool are set to have their brands splashed around on the top European stage.
Adidas – Suarez's boot sponsor – have reportedly called meetings in Brazil where they will discuss their future involvement with the 27-year-old and it wouldn't be a surprise to see  similar situations happen at Liverpool again, with shirt sponsor Standard Chartered and other partners possibly re-considering their investment in the club for a second time.
Adidas execs holding meeting here in Rio about its relationship with Luis Suarez

— Dan Roan (@danroan) June 25, 2014
"Adidas is aware of the issue involving Luis Suarez. We await FIFA's full investigation into this matter and will respond accordingly.''

— Dan Roan (@danroan) June 25, 2014
If, heaven forbid, Suarez does receive a global ban and can't play for a club side what happens then? Can we as fans expect the club to sit patiently and pay his reported £200,000 weekly wage until he can play again? I don't think so.
Of course, a ban impacting club football is almost certain to scupper any possible sale so he would remain on Merseyside. If that comes to fruition, reports this afternoon suggested that Liverpool could be within their rights to sue Suarez over a breach of contract, something that would hopefully be avoided but would be deserved if it came to it.
#LFC could sue Luis Suarez for breach of contract if the striker is banned for biting, top lawyer says: http://t.co/2eKN3ivnew

— Liverpool Echo (@LivEchoLFC) June 25, 2014
After the biting incident with Ivanovic, I wrote here on This Is Anfield that Liverpool should not sell for reasons based on morality and that the club had to do everything in its power to keep him. But this time around, there's a tiredness surrounding having to defend the Uruguayan and I do wonder if it's a battle the club will wholeheartedly fight. For the player he is I hope they do, but business and commercial reasons could influence the opposite.
Where Luis Suarez and Liverpool are concerned, it feels like the end is near. It's a huge shame that it's likely that there will be an end to the turbulent but remarkable three year period for Suarez on Merseyside but it sadly does feel that his departure is almost inevitable.