A sigh of relief met the full-time whistle at Anfield on Sunday as Liverpool held on for a 2-1 victory over Southampton in their opening game of the new Premier League season.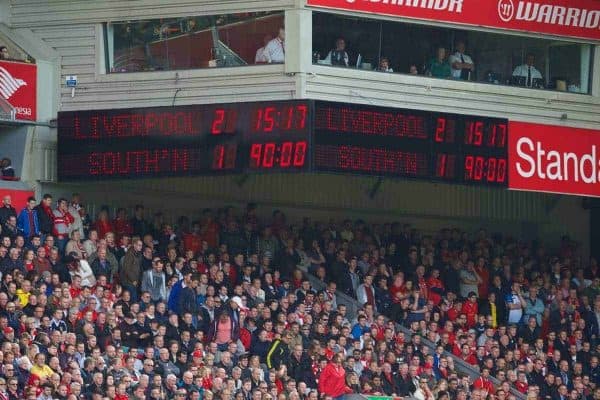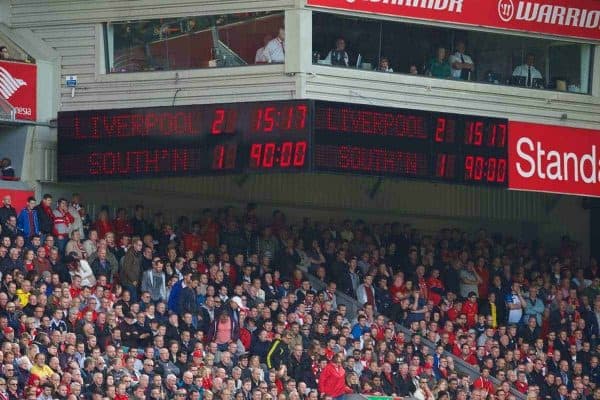 Raheem Sterling's first half goal was cancelled out when Nathaniel Clyne crashed the ball past Simon Mignolet shortly into the second-half.
Great team win today..happy to get season off with 3 points!! pic.twitter.com/JdYlo41sqt

— Raheem Sterling (@sterling7) August 17, 2014
The visitors had chances to take the lead, before substitute Rickie Lambert's introduction caused problems in the Saints defence as Daniel Sturridge scrambled home the winner from close range with 11 minutes left.
Teamwork always makes the dream work. Great 3 points. Dug in deep and got the result in the end. I'm a happy fella!! pic.twitter.com/f9Su1idn1K

— Daniel Sturridge (@DanielSturridge) August 17, 2014
With feelings of déjà vu from the opening game of last season — a 1-0 victory over Stoke in which Mignolet made a late penalty save from Jonathan Walters — it was important Liverpool started the season with a confidence-boosting three points.
There were plenty of positives to take from the game, but also work to be done with next Monday's visit to Manchester City on the horizon.
We've rounded up a selection of reaction from Liverpool fans on our forums and Twitter.
What were your thoughts on Liverpool's victory over Southampton? Who stood out and who didn't? Let us know your thoughts in the comments section below, or in our forums.
Genius wrote:
Migs saved us, just like stoke last season
Hope in your heart wrote:
Phewww, I've certainly one or two more grey hairs today…

Fact is, we got away with the three points against a very strong and motivated team (possibly the Koeman effect), and that's the most important thing. But BR has a load of work on his hands to make this team work as a unit. We aren't there at all for the time being.

MoM: Mignolet for two outstanding saves in the first half, and one world-class save towards the end.
https://twitter.com/beccaparry10/status/501026809451118594
basil1492 wrote:
A wins a win and the 3 points were the main thing today, few different players will be playing next week anyway with possibly Moreno, Can and Markovic being available. Manquillo impressed me the most though, did a great job and i loved how many important clearances SG made. Migs saved the day with a few great saves, the last one being absolutely top class.
Henderson my MOTM. Lovren looked class too. Still 3 big players to come back and we got the win. Great to be back! pic.twitter.com/4fR8Pcjcgs

— Joe Musker (@JosephMusker) August 17, 2014
liverpool_singh wrote:
Happy with the 3 points but absolutely livid at the performance and tactics! Rodgers needs to have a word with himself. There is no Suarez around this season to rescue us time and time again so he shouldn't be expecting to cruise through the season with questionable tactics.

Sterling MOTM.
LFC-Orlando wrote:
They fought so hard, S'mpton, and we earned an amazing victory. Our manager made the right adjustments when needed.

And to those who say his set up was wrong with the 4-2-3-1, I say, we could have been down 1 in the first half, not 1 up.
https://twitter.com/M_Sweeting/status/501026945136877568