After scraping past QPR with a dreadful and disjointed performance in London on Sunday afternoon, Ben Twelves calls for Brendan Rodgers to drop the unsuited formation and switch to a more comfortable set up.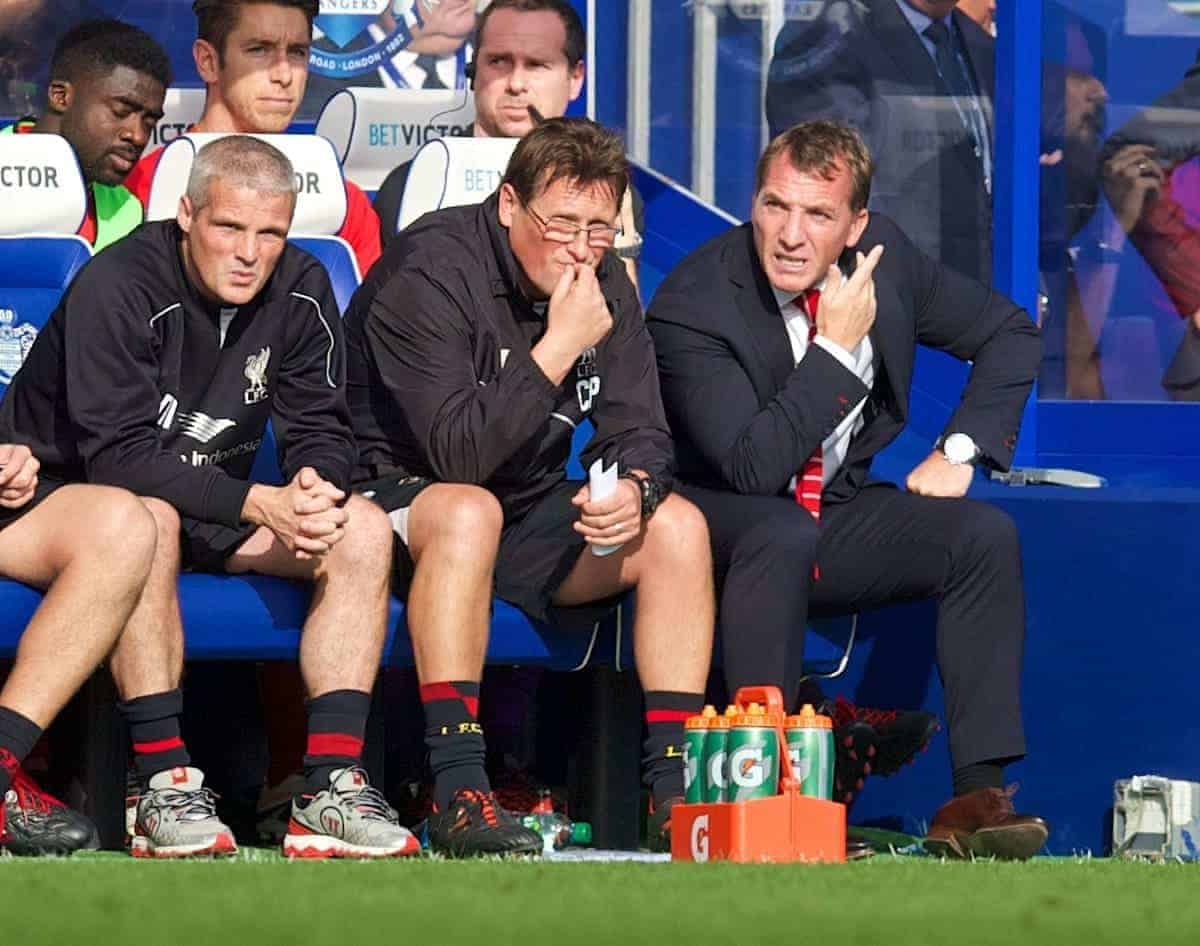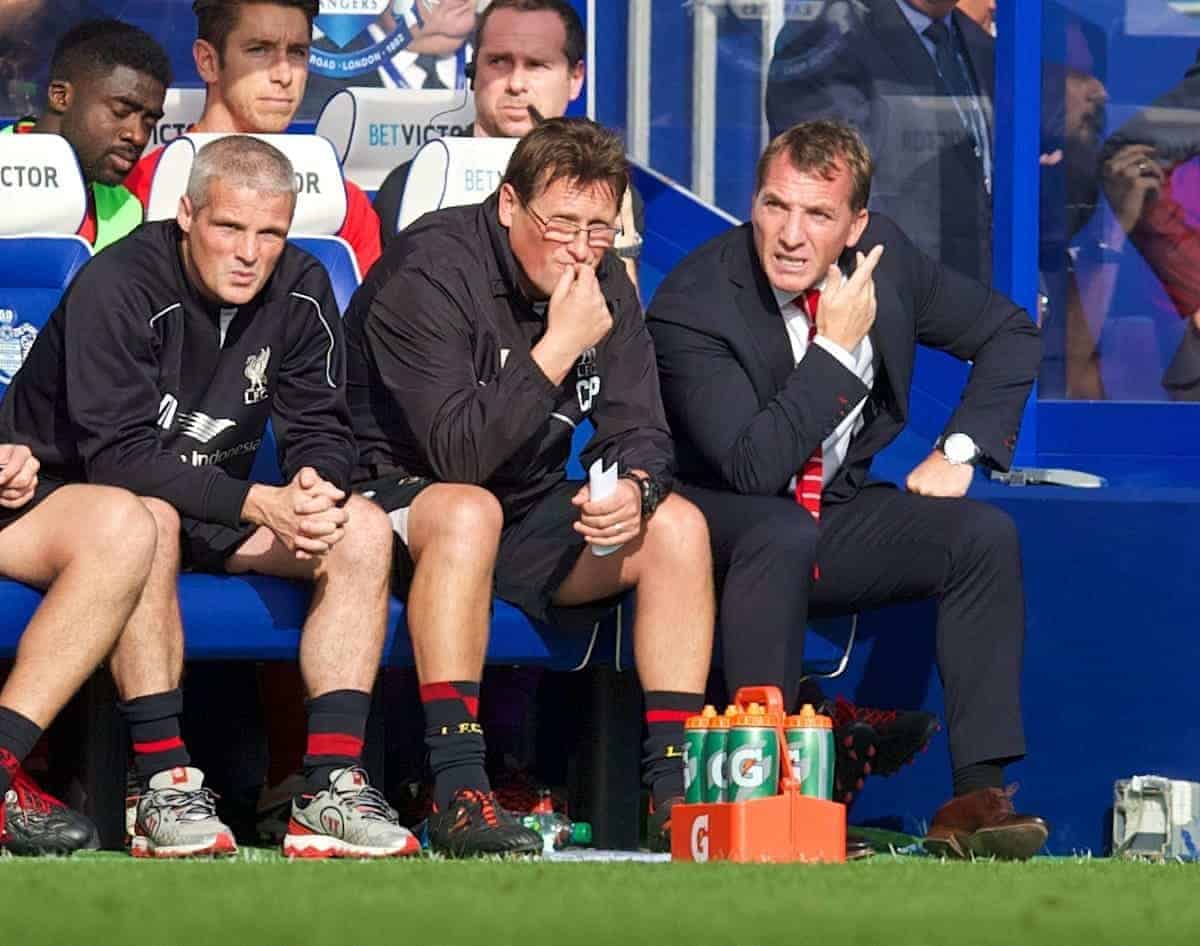 Brendan Rodgers' Liverpool defied all reasonable logic to somehow escape from Loftus Road with a 3-2 victory on Sunday afternoon – a result that we all would have taken at the start of the game but with a performance that we most certainly wouldn't.
Sunday's showing was the worst display from a Liverpool team in recent seasons despite heading back to Merseyside with the three points, with everyone except Simon Mignolet under performing and struggling to get to grips with both settling personnel and the system – of which is currently the strangely preferred 4-2-3-1 shape.
Rodgers: "I like to win, and win in a way that reflects how we work on a daily basis. That was nowhere near what I expect." #LFC

— Neil Jones (@neiljonesgoal) October 19, 2014
Defensive cluelessness continues to plague the Reds regardless of the back four selection but equally alarming is the increasingly disjointed nature of the teams' performances in the final third, in the rigid formation that Rodgers had to abandon at half time on Sunday such was its hindrance.
When a team is struggling for form and results, usually the first thing is to go back to basics, reproduce what you're good at and once again move forward but this doesn't seem to be happening at Anfield currently and it has to be questioned as to why with such sluggish performances.
What Liverpool have proven to be good at, is playing with a compact diamond shaped midfield and two forwards but the Liverpool boss is yet to revert to what works best, choosing to stick with a formation that doesn't suit any of his key players.

Yes, injuries have played a part in being slow to revert – especially with the absence of Daniel Sturridge and Joe Allen – but there's enough options within the squad now to have revisited what's most effective, with Fabio Borini and Rickie Lambert in the squad for exactly that reason.
So why has the Northern Irishman continued to persist with a shape that fails to maximise the potential of the squad?
Unsuitable System
4-2-3-1 has been deployed too many times already this season, but its continued use must simply come as a result of having a wealth of options who can all operate between the opposition lines of midfield and defence.
However, of the attacking midfield options – Adam Lallana, Lazar Markovic, Raheem Sterling, Philippe Coutinho and even Jordan Henderson – not one is a natural pick to play in a wider position which the formation entails.
The subsequent uncomfortable performances that have followed from new recruits Lallana and Markovic – who have been asked to play either side of the '3' more than anyone since arriving – should come as no surprise with both of the summer arrivals more comfortable when operating centrally.
Gerrard behind Balotelli for LFC. @br_uk pic.twitter.com/4aXNfRVd80

— Matt Ladson (@mattladson) October 19, 2014
Also, the two man midfield helps no one either – completely sacrificing control of middle of the park. Jordan Henderson' energy and penetrative running is restricted, and Steven Gerrard's position in front of the midfield is by no means something that should be utilised from the beginning of games.
An already dreadful defensive set up receives even less protection from the flat midfield – once Gerrard moved deeper, supply to Bobby Zamora was stifled – as more space between the Liverpool lines opens and there's even less pressure on the ball as a result.
In attack, the immobile Mario Balotelli has to operate on his own despite looking better with a strike partner and admitting to preferring that himself.
Balotelli says lone striker role at #LFC has not suited him and Gerrard at same level as Pirlo http://t.co/C7tDqsDPXU pic.twitter.com/Fu0ZGeeub1

— Telegraph Football (@TeleFootball) October 16, 2014
Diamond Switch
The current shape benefits no one, but with Rodgers having a wealth of options to be able to play between lines, it's logical to assume that's why reverting to the diamond has yet to suffice – as the shape restricts to just one player to operate between midfield and defence.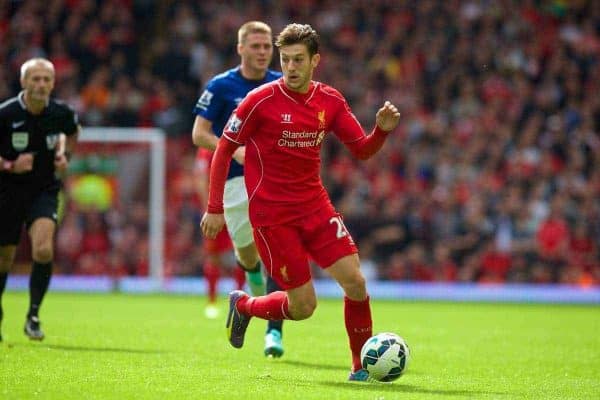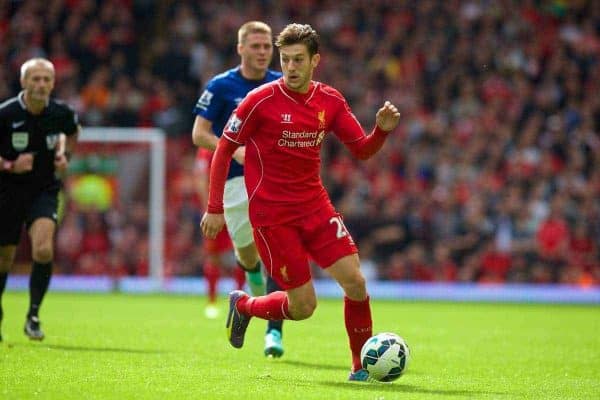 With only room for one of these players, new arrivals brought to the club in order to improve squad strength and the first XI will end up sitting on the bench, perhaps explaining the managers' desire to stick with the unfavourable system to keep them in the starting XI.
However, performances don't have to continue to be so frighteningly dreadful and the way to address that is by using the midfield controllers and within the squad, combined with the more intricate attackers in a selection that won't see forwards starved of service – in the diamond shape.
Philippe Coutinho – who looks to be returning to form after a slow start – fits nicely into the midfield three, creating room for Lallana or Markovic to play at the tip of the diamond and thus still factoring in a new arrival.
Coutinho's pass for Sterling (for third goal) was reminiscent of the Arsenal game last season. Need them 2 linking more. Key to LFC.

— Matt Ladson (@mattladson) October 19, 2014
Sterling can then partner Balotelli – but play with a freer role to roam and pick up the positions Sturridge would drift into – and also with his raw pace to run in behind opposition defences to latch on to Coutinho's through passes.
Conclusion
It's understandable as to why Rodgers is continuing to display patience over the 4-2-3-1 system, but such a set up completely wastes a lot of the control, explosiveness and intricacy from central areas within the Liverpool team.
Considering how bad the Reds have been at times, only a wonder goal has prevented us from sitting in the top four, but before we do start to get caught and our luck runs out, Rodgers must revert back to the shape that suits his team best, starting on Wednesday night against the European champions.